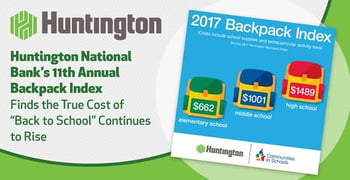 Experts share their tips and advice on BadCredit.org, with the goal of helping subprime consumers. Our articles follow strict
editorial guidelines
.
In a Nutshell: Despite a tax-dollar-supported public school system, sending your children back to school isn't cheap. Huntington National Bank recently released its 11th Annual Backpack Index, which shows that the costs of sending a child back to school continues to rise. The index breaks down costs for elementary, middle, and high school levels, illustrating how much typical parents spend on supplies, extracurricular activities, and testing fees associated with college-bound students. Huntington has teamed up with Communities In Schools to help support low-income schools each year as part of its ongoing commitment to enabling education.
The end of summer brings longer evenings, hotter weather, and children coping with the fact that it's almost time to head back to school. It's not just the kids who are upset, though. Back-to-school shopping lists can be a big drain on a family budget, which can get parents down in the dumps, too.
Every year, the cost of sending a child back to school seems to increase. From purchasing clothes and supplies to funding after-school activities, expenses can quickly escalate to the point where a tight wallet gets even tighter. For the 11th consecutive year, Huntington National Bank has compiled its Backpack Index, which aims to find the true cost of sending your child back to school.
The index does not include clothes shopping, but it does look at the cost of supplies, potential test prep fees, and extracurricular activities. Huntington does this as a service to its customers and community members. It has partnered with Communities In Schools, the nation's largest dropout prevention program, to provide tips and hints on ways to save money and still have your child prepared for the new year.
"Essentially, we take school supply lists from elementary through high school," said Samantha Pagliaroli, Corporate Communications Intern for Huntington National Bank. "Then, we go to a major retailer and look at the average price of those supplies. The actual supplies for each grade don't tend to change as the years go on, but the prices do tend to increase."

The index found that the average price of sending a child back to elementary school rose 1% in the last year to settle at $662. School supplies and other expenses for a middle school student rose 4.6% to $1,001. The costs associated with a high school student actually decreased by $9, but still totaled $1,489.
The rise in costs as students get older has a lot to do with the increase in technology as well as the higher level of extracurricular activities that students tend to participate in. With high schoolers also prepping for important tests, the fees that come with those activities are also factored in.
From Crayons to Calculators, Not All Costs Are Equal
Any parent who's shopped for an elementary school student is familiar with the lists of needed items — crayons, scissors, pencils, a box of tissues. Those are staples in any classroom and get used nearly every day. With some thrifty shopping, you can typically find most of those items heavily discounted at certain times of year. As your child grows, though, the required items become more expensive, and rarely go on sale.
"A lot of the supplies you see, especially when you are in the elementary and middle school ages, tend to be the same," Samantha said. "Scissors, folders, binders, rulers, that kind of stuff. All of that is expected. As you get into high school, that's when you get into more expensive supplies like the TI-84 calculator (which runs anywhere from $60-110 online). You start needing required reading books.
"In addition, you start to see fees ramp up as the kids get older because they're taking tests like the SAT and ACT, which tend to have higher costs associated with them. When you get into middle and high school, musical instrument rental tends to get added in. That can be wildly expensive."
Education Expenses Aren't Limited to What Happens Between Class Bells
Often, the cost of after-school activities can be more expensive than school activities. Samantha's research found that musical instrument rental can run anywhere from $200 to $300. And that's before the music stand and band fees are added. Pay-to-play sports, the largest expense each year in associated fees, range anywhere from $150 to 375. That's where Huntington suggests some creative budgeting to cut back on the fees.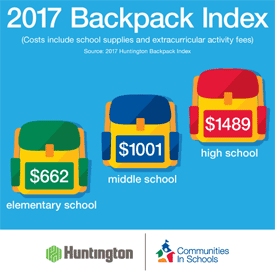 "With musical instruments, families can share," said William Eiler, VP Regional Public Relations for Huntington National Bank. "They can also put out word in their neighborhood and say, 'Who has an instrument that they're not using this year?' because instruments can be used for many years."
William also shared a secret that he's found from his time working on the index. He said that many school districts don't advertise it, but they will offer breaks in fees if you have more than one child participating in a program. If you have two children, even at different levels, in band or in a sport, the school district may reduce the fees.
"It's not automatic. You have to ask for it," he said. "In many cases, they'll give you a break."
A Community in Action — Finding Ways to Cut Costs without Holding Your Child Back
Other options can save you money when sending your child back to school. In the elementary years, you can work with other parents to complete your supply lists because buying in bulk can bring substantial savings.
While you may not need all 10 boxes of tissues, you can delegate different items to different parents. You buy the tissues, they buy the 10-pack of glue sticks. Another parent can buy that mega-pack of scissors. Once it's all purchased, you divvy up the items and complete your child's list.
Sometimes, teachers have items leftover from the year before that weren't used. If money is really tight, you can ask during the Meet the Teacher before the year starts what supplies they might still have. In many cases, teachers will be willing to share from the overstocked supplies for their new student.
In return, you can offer some of your time volunteering in the classroom. That often includes cutting papers, stapling graded papers to a display wall, maybe filing some tests. Either way, you can save money and show interest in your child's education at the same time. William also suggests that shopping can become a year-round family game.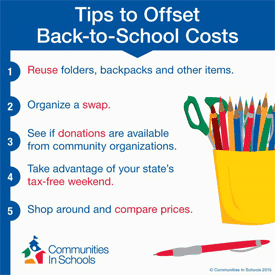 "If a family makes it a project, several months before school starts, to shop for bargains and going to the store with the lowest prices, it can be like a fun family project," he said. "You can save a lot of money if you're a good shopper."
During the first week of school, large retailers tend to offer massive discounts on back-to-school items. They want to get rid of excess stock and that $1 folder can get as low as 10 cents. Talk to your child's teacher and let them know that they will have their supplies a few days late. In most every case, it's not a problem.
William also suggested checking with church and other community organizations, which often have resources in place to help families that are struggling to pay for their child's supplies.
Starting the Year with Smiles, Not Worries
Thanks to Huntington's Backpack Index, parents won't be caught off guard by the price of supplies and extracurricular activities, but the bank goes even further to help those in need. Its partner on the project, Communities In Schools, supports low-income schools by donating supplies, and Huntington adopts and supports a low-income public school in each of its markets each year.
Although the cost of sending your child back to school tends to rise every year, that doesn't mean that your stress level has to do the same. A new year can also be a stressful time for your child. They don't know their new teacher; they'll have to make new friends. What if the curriculum is too hard? In many cases, their first impressions of a new grade will set the tone for the entire year. A smile goes a lot further than a frown.
Although your child may want that Minions backpack or Spider-Man folder, show them that the cheaper plain-colored items are a blank canvas that can be anything they want it to be. Decorating your backpack, folders, and book covers can be a family event that creates memories long after the folders are crumpled down at the bottom of the backpack come June. Those memories will help to fuel a great start to the new year.