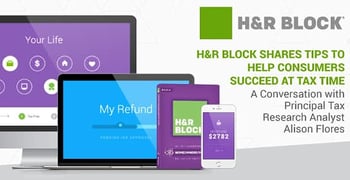 Experts share their tips and advice on BadCredit.org, with the goal of helping subprime consumers. Our articles follow strict
editorial guidelines
.
April can be one of the most dreaded months of the year for consumers who owe tax bills to the IRS. On the flipside, tax time can provide a much-needed respite for filers who expect a refund to help with bills or other debts.
Whichever side of the coin you fall on, H&R Block provides services for you. The company analyzes and files returns, offers do-it-yourself software, and has five different options for filing your taxes for free.
On top of those services, the company also maintains a tax information center, with calculators, tools, and a host of answers to frequently asked questions related to tax preparation.
We recently had a chance to sit down with Alison Flores, Principal Tax Research Analyst at The Tax Institute at H&R Block, to get some tips and insight into ways consumers can best be prepared for this tax season.
Who should use H&R Block's simple online filing and who should go to a nearby location to work with a tax preparer?
"Generally, what it boils down to is personal preference. Some people are comfortable diving in and doing it themselves, and some people feel better when they have the assistance of a professional.
You also have to factor in complexity. The simpler the return, the easier it is for someone to do it on their own. We recommend that people with more complex returns seek out assistance."
What should people be looking at before choosing a tax preparation company?
"When choosing a tax professional, it's important to have someone who is experienced and available year round. That means you'll have a person who knows what they're doing and has expertise in the things important to your return.
For example, if you have a rental house, you want to go to a preparer who is experienced with reporting rental income and deductions.
Year-round availability helps if you are contacted by the IRS in the summer or a non-tax time. That person should be available to help you out when you need help."
What are some common deductions that are often missed?
"The most commonly overlooked tax benefit is the Earned Income Credit. About 20% of people who are eligible for this credit don't claim it. This credit is for lower-income workers who have wages or self-employment income.
There are a lot of reasons the credit may not be claimed. One of the reasons is because the person's income is so low, they may not be required to file a tax return. But if they file, this credit is refundable. You could owe no taxes, file a return, and the IRS would send you a refund.
People sometimes also miss it because there are several eligibility factors. The credit depends on your income, the type of income, how many kids you have, and other factors. You could ineligible one year and have a baby and be eligible the next year.
A lot of people also know they can have deductions that are bigger in the itemized deduction area. If you own a house, people know they can deduct their mortgage interest. They may not realize smaller things, though, like personal property taxes. The most common one forgotten is the property taxes you pay on your vehicle or your boat. That's deductible, and people don't realize it. They may not even keep records on it.
Are there any benefits to filing taxes early?
"In the past, one of the biggest benefits of filing early was that you didn't have to worry about identity theft or fraud — like someone filing using your Social Security number. One of the primary benefits of filing earlier is that you know the IRS has your return and you're the only person who filed under your Social Security number.
Plus, once you have everything you need to file, the sooner you file, the sooner you'll have your refund usually. But a change we've had in the last two years, people who get the earned income tax credit or additional child tax credit have a refund delay. This is a new thing, and the IRS is not allowed release their refund until the last week of February. That was done with the intent of decreasing fraud where people try to steal refunds."
What happens if someone can't afford to pay their taxes?
"The one thing we recommend is that they go ahead and file their return. That helps you avoid interest and penalties accruing unnecessarily. A lot of times, people can qualify for setting up an installment agreement. That means setting up a payment plan with the IRS to pay a little bit every month until it's paid off.
That's just one of a few different options the IRS provides for paying back tax bills over time."
What resources does H&R Block offer to help consumers this tax season?
"We have our More Zero Do-it-Yourself program. You can go online or buy the software to complete your taxes. We also have locations all over the US. There should be an office within five miles of just about every American.
We're here to help, year round. You can go online or check out our software any time."