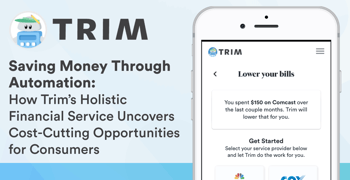 Experts share their tips and advice on BadCredit.org, with the goal of helping subprime consumers. Our articles follow strict
editorial guidelines
.
In a Nutshell: With today's online subscription services and other automated bills, consumers may easily lose track of what they are paying for each month. Trim helps solve this problem by identifying recurring monthly payments and canceling them on the customer's behalf. The company can also negotiate lower cable and internet bills for its users. Trim's overarching goal is to deliver financial health by taking the burden of dealing with finances out of the consumer's hands via automated services. To that end, the company's latest offerings include an automated high-yield savings account and a service aimed at reducing users' credit card debt.
I'm a real genealogy buff. I mean to say, I was a genealogy buff. For about a week. Several years ago.
A conversation with a relative sparked my interest in learning more about my family tree, and I signed up for one of those premium online genealogy services. In my thirst for knowledge about my family's history — our struggles, our victories — I logged onto the website approximately twice, then promptly forgot about my quest.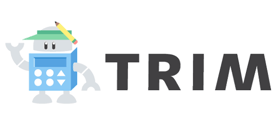 My family tree remained uncharted, but about a year later I noticed that I had been paying for the genealogy service each month through automated billing. I'm sure my anonymous ancestors would not have been proud.
Now, thanks to Trim, those long-forgotten subscription services can easily be unearthed and canceled, so they no longer quietly chip away at bank account balances. But Trim does more than that.
Billing itself as a financial health company, Trim can not only automatically analyze your accounts to find long-lost recurring subscriptions, it can cancel subscriptions, negotiate lower rates on some bills, and even find better car insurance.
"It's not true that people want to deal with finances; people hate dealing with money," said Trim CEO Thomas Smyth. "We didn't see any products in the marketplace addressing this issue so we wanted to create something to help the average person."
Connecting Accounts to Assist Users in Achieving Financial Health Through AI Capabilities
"Our big idea is that we're going to automate people's entire financial lives in order to improve their financial health," Smyth said. "As a financial health company, we should be judged on our results. Are we making people healthier or not?"
Smyth acknowledges that this is a tall order, which is why when the company launched in 2015, it started with a feasible mission to cancel those unwanted subscriptions. Since then, the company has worked to expand its services toward its ultimate goal.
Much like my ancestry quest, Smyth said he saw time and again that, with many financial apps, people would log in once or twice then forget all about it. "Why would you look at pie charts about how you spent too much money last month when you can log on to a different app and look at kittens?"
He said it's flattering that Trim's original idea to find and cancel unwanted subscriptions has spread like wildfire and has been copied by many other companies in the financial space, but Trim aims to do more.
"As Trim grew, we started to tackle bigger financial problems, surrounding all aspects of your financial life. Now we're working on the hard stuff," according to the Trim website. "How do I get out of debt? Do I have enough money in my emergency savings fund? Will I have enough money to retire someday? Am I financially healthy?"
Trim provides a straightforward onboarding process for new users with options to create an account via Facebook or through email. New users then connect a bank account and Trim gets to work. Trim employs bank-grade security, two-factor authentication, and read-only access.
Canceling Unwanted Subscriptions and Negotiating Lower Cable and Internet Bills
Every Trim user gains access to a personal finance dashboard, personalized spend alerts, overdraft fee detection and dispute services, as well as Trim's capabilities to automatically find and cancel old subscriptions.
Smyth said once Trim identifies those recurring payments, the user is presented with a cancel button. If he or she selects it, then Trim will communicate the cancel request to the provider.
Users who want to access more features can step up to Trim's premium plans.
"Everybody gets frustrated feeling like they are paying too much for cable or internet," Smyth said. "These are systems where pricing is not transparent at all, and you don't know if you're getting the same deal as your neighbor. You're probably not."
Trim team members negotiate with these service providers on the customer's behalf to try to get the best pricing available.
"First, you provide us with the information we need about your service provider account and current bill by either uploading or sending us a bill, or logging in through our platform," according to the Trim website. "Once we have that information, we get to work on finding better plans and promotions. Don't be alarmed if you are notified that someone is calling about your account — that's most likely us."
If Trim is able to save the customer money, the fee is 33% of the annual savings achieved. For example, if Trim saves someone $10 per month for 12 months, the fee would be $40.
Once a user provides Trim with bills or service provider credentials, the company will continue to negotiate savings on an ongoing basis.
Smyth said the bill negotiation service is the only offering from Trim that is not automated because the company found that having a human negotiating on the customer's behalf was more effective than a software program.
Automating Savings and Reducing Debt through Lower APRs and Payoff Plans
Recently, Trim has made big moves toward achieving its overarching goal of providing avenues to financial health by launching its debt reduction service and automated savings service.
"We always talk to our users as much as possible, which is where all of our good ideas come from," Smyth said. "We found that people were very frustrated about their credit card debt and recurring interest charges. We saw a big opportunity to play a serious role in helping people in this space."
Smyth said the company offers free tools for customers to create a plan to get out of debt, such as a debt calculator and savings estimator. For customers who step up to the premium plan, Trim will help to execute debt reduction measures on behalf of the user, beginning with establishing a payoff plan and working to reduce APRs.
"On the debt payoff side, what we've found is having some encouragement and access to our team of experts can really help catalyze users' momentum," Smyth said. "It really helps them get on a path to actually make a dent in their outstanding debt."
Smyth said that, although the debt payoff service only launched a few months ago, the company is already seeing results among customers' credit card balances.
Premium Trim users can also access a Simple Savings plan, which is a high-yield savings account with automated weekly transfers from your chosen checking account. Again, Trim works with users to establish a savings goal, and the user can determine how much to deposit each week toward the goal.
A Mission to Simplify Savings for Consumers Through Additional Functionalities
To date, Trim has saved users more than $20 million by automatically taking care of their day-to-day finances, according to the company website.
Keeping in line with Trim's goals to continually expand its services, Smyth said the company now has its sights set on broadening its offerings to further help those in credit card debt.
"The more we talk to folks, the more opportunities we see to drive faster payoff rates and lower interest rates along the way," he said. "That's our primary focus right now, and we'll have a lot more to announce on that in the future."
The next time I dive head first into a new quest and subscribe to online services, at least I know that Trim is there to help remind me to cancel those subscriptions when I inevitably become distracted by online cat photos.