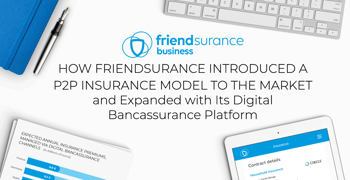 Experts share their tips and advice on BadCredit.org, with the goal of helping subprime consumers. Our articles follow strict
editorial guidelines
.
In a Nutshell: Beginning in 2010, Friendsurance put a new spin on modern insurance by introducing its P2P model. The Germany-based company facilitates a community-minded insurance structure that pays out a percentage to customers if they do not use (or use very little) insurance in a given year. Friendsurance maintains rich, accurate data to deliver the best customer experience possible. The model's success has led to its being duplicated elsewhere. The company's latest offering under the Friendsurance Business moniker delivers its secure, efficient digital insurance services to banks and insurance companies as a white-label solution.
"Centuries ago, people protected each other in small groups," said Friendsurance Founder and CEO Tim Kunde. "In village communities, the individual got support when his house burned down. This was trusting and efficient. However, the financial possibilities were limited."
Most people would agree that today's insurance companies provide a valuable service. If damage occurs to your vehicle or home, the insurance company can deliver funds to help mitigate the damage or replace items as necessary.

The system is less personal than the village community support network of old, but modern insurance companies can cover much higher costs than was possible in those days.
Of course, some people have been diligently paying their monthly premiums and (thankfully) haven't had to file a claim in months or even years. In those cases it can kind of feel like — well — maybe you should be getting some of that money back since you haven't needed to tap into the insurance company's resources.
Friendsurance agrees.
The German company launched its peer-to-peer insurance model in 2010 and brings the community insurance idea into the modern age by providing the best of both worlds — a collective insurance structure that pays out when the funds are not used.
Friendsurance Spearheaded a Collective Insurance Model Funded and Paid Out by Consumers
"The Friendsurance peer-to-peer insurance model combines the strength of large insurance companies with the benefits of small groups, rewarding staying claims-free within those groups and making insurance more affordable," Kunde said.
Kunde provided a quick rundown of Friendsurance's innovative model.
Friendsurance customers pay into a collective pool of money. If there is little or no damage resulting in claims among the group over the course of a year, all group members will receive a bonus out of the funding pool in January of the following year.
The company offers a series of innovative insurance solutions with the aim of making insurance more customer-friendly. As an independent digital insurance broker, Friendsurance currently serves 150,000 customers and works with 175 insurance companies.
If there is a claim, the new deductible is paid out of the pot. Everything beyond that is paid back to the insurance company, as usual, Kunde said.
In the event that the money in the pot is not enough to cover a claim, or the number of claims surpasses the funds in the pot, the company uses what it calls reinsurance provided by the Huebener Insurance Company. The reinsurance is paid in advance from small amounts taken from the collective pool.
"The claims-free bonus not only creates added value for insured people but also for insurance companies. We partner with a number of insurance companies in Germany, and they benefit from increased customer satisfaction and customer loyalty," Kunde said, referring to its white label version of its platform it offers businesses.
He said not only does the bonus for customers boost customer satisfaction, but it also creates positive incentives against insurance fraud and therefore lowers the frequency of damage claims.
"Besides the P2P insurance, customers really appreciate the insurance platform we offer them with their digital insurance folder and more," Kunde said. "We learned that customers care just as much or more about managing insurance that is fast and easy, as they do about receiving cash back."
The Company's Approach, Including Accurate and Secure Data, has Spread Across the Globe
"When Friendsurance launched its peer-to-peer insurance model in 2010 it was completely unique," Kunde said. "Since then, more than 30 similarly structured insurance companies have emerged across the world."
He said a new segment has been established in the insurance world specifically for P2P insurance companies, of which Friendsurance remains the leader.
"In 2017, Friendsurance Australia was launched through a license with Friendsurance Australia Pty Ltd, offering the first peer-to-peer bike insurance down under," Kunde said. He said the company is looking forward to bringing its services to other parts of the world but doesn't presently have any plans to launch in the U.S.
Part of the success of the Friendsurance P2P model is owed to the company's approach to customer data, Kunde said.
"Rich and accurate data is crucial to make insurance claims faster and easier for everyone," he said. "And those easiest insurance solutions are also the most successful."
Data safety and security are also key pieces to the puzzle.
Kunde provided an example of how Friendsurance helps to ensure the safety of customers data alongside convenience, in cooperation with R+V Versicherung, one of Friendsurance's German insurance partners.
"The customer's bank account is scanned for insurance contracts. If insurance transactions are found, the contracts will be displayed in the overview right away," he said. "Thus, the customer doesn't have to look for the insurance number and company name in their physical insurance folders to get started."
Friendsurance Business Brings a Convenient, Efficient Infrastructure to Banks and Insurance Companies
The popularity of Friendsurance's innovative P2P model sparked the interest of more traditional insurance companies, which led to the launch of the company's most recent iteration — Friendsurance Business.
The mission of Friendsurance Business is to see the digitization of insurance services for banks or insurance companies and their customers.
"In 2017, we started to offer a Digital Bancassurance Platform to other companies as a B2B2C model," Kunde said. "This opens new revenue streams, cross-selling potential, and customer satisfaction for insurance companies."
Friendsurance's first partner was Deutsche Bank, which has a huge presence in Europe and is among the top 20 largest banking institutions in the world.
"With our scalable, secure and highly modular software solution, we enable banks and insurance companies to meet evolving customer needs when it comes to digitization and insurance services," according to the company website.
The platform features convenient frontend solutions such as a quick and easy, all digital sign-up process for customers. It also includes analysis of customer needs and optimization of current insurance plans. And all contracts are managed online.
On the backend, Friendsurance Business features paperless processing, which includes "proprietary technology for issuing policies, handling payments, and customer claims," according to the website. The backend technology is also easy to integrate with other third-party applications.
Friendsurance Business currently works with most of the major insurance companies in Germany. And Kunde said it is in discussions with numerous banks and insurance companies all across Europe about implementing its Digital Bancassurance Platform to deliver a quality insurance experience to even more consumers.
Between Friendsurance's P2P model and Friendsurance Business's white label solutions, the days of customers feeling like they're throwing money away by paying into insurance policies without ever seeing their money again may be coming to an end.