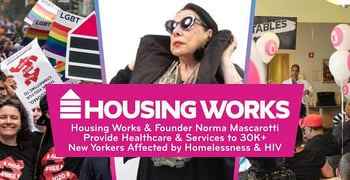 Experts share their tips and advice on BadCredit.org, with the goal of helping subprime consumers. Our articles follow strict
editorial guidelines
.
In a Nutshell: For nearly 30 years, Housing Works has been engaged in a mission to end homelessness and AIDS through relentless advocacy and lifesaving services. The organization is a New York City institution of altruism and a venue for those in need to recieve assistance. Providing access to quality housing, healthcare, HIV prevention information, and legal protections from stigma and discrimination are among Housing Works' primary aims. And the nonprofit is successfully connecting New Yorkers with these services each day, regardless of their ability to pay.
For some, it's easy to find things like homelessness and AIDS as problems that only affect other people. But both crises can happen to anyone. AIDS does not discriminate along class or income lines – homelessness, too, can sometimes happen to even the most financially stable. Dealing with just one of these misfortunes is a monumental undertaking. Yet many unfortunate people are forced with somehow managing both.
Being homeless is difficult no matter where you are. However, in large metropolitan areas where services, like soup kitchens and shelters, can be limited due to large demand, homelessness becomes an even harder burden. The National Alliance to End Homelessness recently reported 564,170 people in the U.S. are living without a home. Roughly 25% of this group are children, with 4% of the entire group HIV positive.
There can be unfair and negative stigmas attached to homelessness and AIDS. People may lose their jobs due to discrimination, fatigue, or hospitalization caused by their illness. These individuals can also come under immense financial stress due to health care costs. According to the North American Housing & HIV/AIDS Research Summit, 50% of people living with HIV have experienced some sort of housing instability.
For nearly 25 years, Housing Works has been providing advocacy and lifesaving resources for the homeless and individuals affected by AIDS in New York City. The nonprofit's efforts help people who need it most find stability and peace of mind. For Housing Works, it's all about creating meaningful and fulfilling lives for the people it serves. The organization consistently accomplishes this by providing comprehensive services, including access to quality housing, healthcare, HIV prevention information, and legal protections, to New Yorkers.
A Mission to Reach Those in Need in the Right Ways
Through advocacy and by providing lifesaving services, Housing Works operates with an ultimate mission to end homelessness and AIDS. Though its principal focus is helping those who are homeless and living with AIDS, anyone of any age affected by any number of pressing issues is welcome to employ the organization's services.
In addition to HIV/AIDS advocacy and treatment and housing services, Housing Works provides a robust set of offerings that include legal assistance, job training, dental care, behavioral health and substance abuse counseling, and case management, among others.
The organization's means of financially supporting itself is rather unique. Housing Works operates a chain of 12 thrift shops, a large bookstore, and cafe, a catering company and a screen-printing business.
The income from these thriving enterprises significantly lowers Housing Works' dependence on other sources of financial support like grants and donations. These funds also account for 25% of their $44 million annual operating budget.
Quality Healthcare Regardless of Ability to Pay
The dedicated members of Housing Works understand that simply providing quality healthcare and a stable living situation for those who need it most is not enough — good health and a place to live are just the foundations for which to have a happy, productive life. Housing Works prides itself on helping everyone, regardless of ability to pay.
The organization's thrift stores and bookshop offer employment opportunities to help people return to the workforce after being unemployed for extended periods. The simple act of having a job can provide a much-needed sense of purpose and acceptance. Housing Works also provides formal job training and legal assistance.
Housing Works' healthcare offerings are as extensive and comprehensive as some of the nation's more established and noteworthy systems. In addition to their social services, Housing Works offers healthcare resources like primary care, wellness and prevention, dental care and an AIDS Adult Day Healthcare program.
1. Primary and Preventative Care to Support Healthy Lives
Many people experiencing hardship may go months or years without proper healthcare. During this time, minor issues can become major ones or can go undetected and untreated, creating a domino effect. Housing Works reminds its clients that, "Primary care is the first step toward a lifetime of total body wellness." And the organization's services are thorough and effective enough to certainly get people on the right track.
Housing Works' primary health care program includes everything from annual physicals, mental health services, smoking cessation counseling, and HIV and STI testing, counseling, and care.
Primary care services also include Hepatitis C screening, treatment, and prevention in a "judgment-free environment." There is also an extensive women's health program. Women are offered annual exams, ongoing support, GYN services as well as transgender specialty care, including access to hormones and professional referrals.
The impact of homelessness is, without question, most detrimental and confusing for children. Housing Works understands adults aren't the only ones who must navigate the uncertain and often dangerous life of living without a home. That's why the organization offers a Family Care program that ensures everyone receives treatment "appropriate for their age and phase of growth." The Family Care program features immunizations, essential pediatric and adolescent medicine, immunizations, and school physicals, among others.
Though the social climate has shifted somewhat in recent years, those identifying as transgender face enough scrutiny and discrimination as it is. When homeless, these individuals can truly have nowhere to turn. Housing Works' Transgender Care program offers harm reduction counseling and care coordination as well as primary and hormone care, pelvic wellness exams, and PAP tests.
Another program Housing Works offers is wellness and prevention. At the core of these efforts is education, addressing acute and chronic illnesses, screenings, and exams. Specific services include PrEP, a daily drug regimen for HIV-negative individuals at risk of contracting HIV, a syringe exchange, and addiction treatment.
One's dental health can typically determine his or her overall physical health. Housing Works provides a dental program that makes "your comfort a priority." The dental program offers dentistry for specialized populations, fillings and restorative work, root canals, dentures, bridges, crowns and more.
As we've noted, HIV / AIDS awareness, advocacy, and treatment are at the core of everything Housing Works does. It offers an "AIDS Adult Day Healthcare program for members (18+) of our community living with HIV / AIDS that are eligible for Medicaid."
Services include medication support, creative art therapy, geriatric groups, supportive case management, nutritional support, and more — all provided and overseen by experienced social workers and mental health counselors. The program also offers in-house referrals to other services.
2. Counseling Services Focused on Overall Well-Being
Although immensely critical to one's overall well-being, physical health is only half the goal. The stressors someone experiencing homelessness and/or suffering from AIDS are far greater than those of us with relatively stable lives.
For someone already experiencing problems with addiction or mental illness, homelessness can only exacerbate these issues. Housing Works' Behavioral Health and Substance Abuse program provides a top-notch combination of "clinical expertise with community building, so that every patient – regardless of circumstance – feels at home."
Services include access to collaborative psychologists, psychiatrists, and social workers dedicated to integrated care, one-on-one counseling, couples therapy, counseling programs specific for HIV-positive individuals and much more.
Housing Works also provides supportive services depending on an individual's specific needs. Supportive counseling for HIV/Hepatitis C testing and awareness counseling to people who use drugs and are sexually active are also available. Again, the goal here is not to stigmatize or place blame but to provide effective resources that benefit not just the individual but also the community in which he or she lives.
3. Aiding Youth in Underserved Communities
Though the causes of homelessness and poor health are as numerous as they are complex, education is always the first step to prevention. Housing Works "connects youth (age13-29) with compassionate healthcare in a judgment-free environment."
Housing Works focuses its youth efforts primarily in New York City's underserved communities and stresses general and sexual health. The Youth Program offers care coordination to make housing and healthcare more accessible to everyone.
The Youth Program also seeks to promote open communication to support individuals struggling with substance abuse as well as providing housing and helping people to find stable employment.
Resources to Ensure Long-Term Stability & Success
Housing Works' offerings are so exhaustive that people experiencing any kind of hardship can find services and resources in its offerings beyond healthcare and housing. The organization strives to not just help people survive, but thrive.
Housing Works provides legal services when clients enroll in its case management program. Legal experts offer help with housing, public assistance, family law, wills, and consumer laws. Of course, Housing Works takes on "cases that are important to the HIV-Positive community and have the power to change precedents for all."
Getting necessary medication shouldn't be a hassle for people already dealing with extraordinary circumstances. That's why Housing Works provides affordable access to medications that are conveniently located at each of its sites. This ensures clients won't have to go out of their way to fill prescriptions.
Housing Works also provides training for a number of different real-world occupations. What's more, the organization guarantees full-time employment and a living wage for all graduates of the program. This kind of pledge is exactly the kind of outreach that people experiencing hardship need to begin to turn their lives around.
Continuing a Tradition of Altruism to Serve the Greater Good
With nearly 30 years of helping people live better, more fulfilled lives, Housing Works remains fully dedicated to its mission.
Housing Works has conducted 7,000 HIV tests since 2011, have an 83% success rate for those individuals enrolled in the Undectables Viral Load Suppression (when HIV is no longer detectable) program and have connected 100% of its clients to effective, affordable care. What's more, "95% of patients would recommend [Housing Works'] services to a friend."
In its 2016 – 2018 strategic plan, Housing Works lays out ambitious goals to expand and bolster its already effective methods of outreach. It has begun to provide its services to residents of both Puerto Rico and Haiti and will continue growing in those areas.
Housing Works also plans to extend its services even further beyond HIV / homeless populations to "launch new programs and services to meet the needs – and engage – more marginalized New Yorkers affected by poverty, discrimination, housing instability, drug use, and disenfranchisement."
Housing Works serves as a model for communities of any size looking for innovative, meaningful ways to help those who need it most.