Experts share their tips and advice on BadCredit.org, with the goal of helping subprime consumers. Our articles follow strict
editorial guidelines
.
In a Nutshell: When operating a small business or side gig, a professional website and reliable hosting service are crucial for gaining visibility and converting clients. Many hosts offer bargain rates, but often these introductory prices can skyrocket when the initial contract ends. However, HostMetro hosting rates are fixed for the life of the account. This reputable hosting provider keeps its prices low by economizing its features and providing clients with education-oriented technical support that builds their expertise so they can troubleshoot problems on their own. For its fixed low prices, user-oriented tech support, and robust security features, we're recognizing HostMetro with our Editor's Choice™ Award as an affordable hosting option for entrepreneurs.
It's a truism of modern commerce: If you're going to run a successful business or side venture, you need a web presence.
If you're not online, you're getting overlooked, and the more expansive your digital footprint, the more chances you have of connecting with and converting new clients. But social media accounts alone aren't enough; entrepreneurs need their own websites to maintain better control of how their brands are presented.
Anyone shopping for a hosting provider will notice an abundance of deals on server space and domain services. But many of these are just introductory rates meant to draw people in. Once a client relationship is established, the price can rise drastically and unexpectedly, often straining already tight budgets.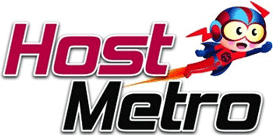 "This is a service that a lot of people need, especially in this modern society where everyone expects every company to have a website," said Hazel Dombrowski, Marketing Specialist for HostMetro, which offers low-cost, fixed-price web hosting packages.
"If your website is your business or your practice, it's not exactly something that can be sacrificed to save on your budget," she said. "And we don't think it should have to be."
For its commitment to quality and low-cost website services, we're recognizing HostMetro with our Editor's Choice™ Award as an affordable hosting option for entrepreneurs. The company offers low prices that are locked in for the life of an account, along with features that accommodate first-time web builders as well as more tech-savvy veterans of web design. Best of all, HostMetro also offers a site transfer service, so clients with an existing site can easily migrate and start saving money.
$2.95 Per Month for the Life of Your Account
When new clients sign up and select their package of services with HostMetro, the cost is locked in; there won't be any surprise rate hikes or random charges appearing on their bills.
"HostMetro was founded around the idea of fixed-rate hosting," Dombrowski said. "Even if we change the prices on our website to adjust for the industry and cost of living and other factors, we keep clients on the same rate that they signed up."
Over the years, HostMetro has managed to keep its prices competitive. Its Mega Max Plan offers three years of a basic hosting package for only $2.95 per month, which includes email and domain services. This price has held steady since 2015, when it rose ever slightly from $2.45.
"We bumped it up by a few cents, but that doesn't apply to people who signed up beforehand. They're still on the old rates because that's part of our price-lock guarantee," Dombrowski said. "Some of our clients from a very long time ago actually signed up under discounts and are still receiving those lower rates."
For clients who need more than basic hosting services, HostMetro also offers a Super Max Plan. This package provides more server space, faster speeds, and greater customization. It also includes an SSL e-commerce security certificate, which encrypts sensitive data going to and from the site.
"It's still very affordable, and it's an option for a lot of people who need to run these bigger, bulkier, more powerful sites," Dombrowski said.
Whatever your website needs to operate at peak performance, HostMetro can accommodate your needs. And, once you're a client, you'll enjoy many years of online visibility with affordable web hosting and no budgetary curveballs.
Features and Scalability Fit Users' Needs
Beyond surprise rate hikes, another problem with many web hosting services is an abundance of features that users may not need.
In fact, those offerings can be overwhelming when all you really want is a domain name and a basic website. One of the ways HostMetro keeps its rates low is by keeping its services lean. This allows it to stay efficient without sacrificing versatility.
The host even has built-in options for those who need assistance in building their first website.
"We have web builders available for people who don't know how to code," Dombrowski said. "We have a couple different options, depending on how much control people want."
HostMetro is compatible with WordPress, which currently powers over half the sites on the web. According to Dombrowski, the system's convenience makes it a popular choice with MetroHost clients.
"It's so convenient, and it does everything for you," she said. "It makes your site mobile-optimized, and it's really simple and easy to understand, even if you're not technologically adept."
HostMetro accommodates more advanced users, as well. "We also have additional features, which we've tried to keep limited mainly to the ones people really need," Dombrowski said.
By remaining economical in its choices, HostMetro provides valuable services while avoiding feature bloat. This occurs when offerings become overloaded with features that are meant to keep the product looking fresh and keep it competitive on the market. However, the abundance of extraneous features can be confusing for people with simple demands from their web hosting services.

"We wanted to keep it slimmed down, simple, and tailored toward people with small businesses or solo practices that needed something consistent and affordable," Dombrowski said. "It's about finding the balance between something that works well and isn't going to cost way too much money."
Clients who establish a site and then discover they need greater resources will find it easy to scale up with HostMetro.
"We also have options available for people who, for example, are running an online store or an online business, and they need to be able to take transactions online," Dombrowski said. One example is the aforementioned SSL certificates, which can be purchased individually as needed. "You don't have to purchase it all at once," she said. "You can add it on later. You can decide to change the way your site works."
In sum, HostMetro offers enterprises lots of room to grow and develop. However, for first-time web entrepreneurs, getting established — let alone scaling up — can be daunting. Fear not, though, because HostMetro also provides robust support to help every client succeed in their online endeavors.
On-Demand Support and Education
HostMetro's support staff is on hand 24/7 via live chat, email, and through a US-based phone line to help people experiencing disruptions in service or any other issues that need to be addressed.
The HostMetro support experience may be different from what clients are used to. Most technical support involves telling a technician the problem and waiting for them to fix it. HostMetro, though, takes a more hands-on, educational approach.
"Our support staff, in general, tends to be a lot more focused around training and learning," Dombrowski said. A technician will still look into a problem and fix it, but they will also explain the problem to the client, explain how it was fixed, and offer advice on how the problem can be avoided.
"If people have issues, we don't want to just do a quick fix," Dombrowski said. "We focus on explaining what went wrong, how it went wrong, what it was doing, and how to prevent it in the future."
This kind of expertise comes from HostMetro's emphasis on continuous support training. Information technology is constantly changing and developing, so support techs versed in one particular area of expertise will help their fellows keep up to speed on new developments. In turn, every member of the support staff will be able to educate clients on emergent problems.
"Our support staff all goes through a really well-designed training process, and it's constantly ongoing," Dombrowski said.
For DIYers, HostMetro offers a knowledgebase that gives clients further access to self-help resources.
"We definitely wanted to offer our clients the option to fix it themselves," Dombrowski said. "Some people just prefer to address problems themselves, and we always want to make that available."
Being able to troubleshoot on your own is an important skill for anyone who manages a web property or presence on an ongoing basis.
"We want people to have that control instead of relying solely on us," she said. "We want them to be able to rely on themselves."
Security that Protects Your Online Venture
Regardless of your professional budget, you'll want to protect the investment you've made in your website. Again, HostMetro is well-prepared to help with that. Aside from technical assistance, HostMetro offers other features to help maintain your site's integrity.
One of these is SiteLock security. This technology scans client accounts for malware; if any is found, the account is quarantined to keep the malicious code from propagating and causing harm. "That definitely adds an extra layer to their site security," Dombrowski said.
Another is HostMetro's backup features. "We take baseline backups for all the accounts on our servers, just to be safe," Dombrowski said. "But we also offer more advanced backup services so that people can back up their site."
If a site is ever compromised, users can just reinstall a saved version, making it easy to get up and running again after a security breach.
With its reasonable, locked-in prices and efficient features, HostMetro is an outstanding choice for no-frills web hosting. Thanks to its education-oriented support staff and security features, HostMetro can help you build and maintain a site that is strong enough to last as long as your business endeavors.