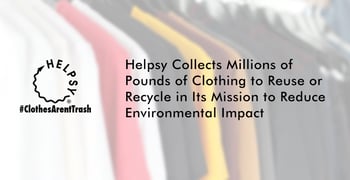 Experts share their tips and advice on BadCredit.org, with the goal of helping subprime consumers. Our articles follow strict
editorial guidelines
.
In a Nutshell: The clothing industry produces an astonishing amount of greenhouse gas emissions and a garbage truck's worth of clothing is incinerated or dumped in a landfill every second. Helpsy is on a mission to reduce the environmental impact of the clothing industry by collecting and helping to recirculate used clothing back into the population. It maintains 1,000 used clothing pickup locations across the Northeast. The company works with partners who resell the clothes to retail or recycle them for industrial rags and other uses. It also works with retailers to buy and reuse their excess clothing and offers home pickup services in some areas.
What do you do with your old clothes?
My family generally donates them to Goodwill or to a family in need. It feels good to know that somebody else will get some use out of shirts, pants, and shoes that have gotten too small or otherwise outlived their usefulness in our household.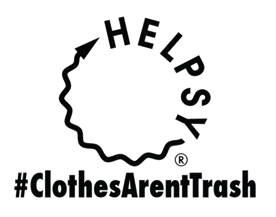 Despite our — ahem — noble efforts to help those less fortunate, there is another, even bigger reason not to throw old clothes in the trash: saving the earth.
The clothing and fashion industry has ramped up production in recent years, hitting stores with the newest and latest trends much more frequently than in decades past. And a lot of today's new clothing is made from polyester or acrylic — basically, plastic.
The environmental impact of producing new clothes is staggering. The United Nations Environment Program states that the clothing industry is responsible for about 10% of global greenhouse gas emissions. And it consumes more energy than the aviation and shipping industries combined.
Additionally, one garbage truck's worth of textiles is sent to a landfill or incinerated every second, according to the U.N.
Helpsy is a company on a mission to help alleviate the textile industry's environmental toll on the earth by reusing and recycling clothing and raising awareness about the importance of not buying new.
"Helpsy is really kind of a fascinating melange of a lot of things," said Co-Founder Dan Green. "It's a very mundane, blue-collar, utility type of business combined with a real social mission and interesting work with nonprofits. There's a lot going on all the time."
How Helpsy Works from Collection to Redistribution
Green, along with Alex Husted and David Milliner, launched Helpsy with the simple mission to keep clothes out of the trash.
"The average American is discarding about 100 pounds of clothes a year," Green said. "It's been growing pretty dramatically. In 1999, it was 44 pounds per person. This is a relatively new problem, which is very unusual in waste disposal."
Clothing is one of the few things that Americans are consuming more of every year in a very measurable way, Green said.
At Helpsy, Green and his colleagues work to get clothes back in circulation and increase the number of wears per clothing item, he said.
"To do that, we have to solve a matching problem between where the clothes come from and where somebody is who wants that particular item," Green said.
The company maintains a network of 1,000 collection bin locations across the Northeast, from Pennsylvania to New Hampshire, and has a fleet of trucks that service the containers and keep them clean and empty.
Helpsy also engages in school drives and charity events to help collect used clothing and keep it out of landfills.
"We're collecting and sorting clothes that are straight from the consumer and, therefore, considered higher quality than the clothes that have already been picked through at a thrift store," Green said. "We are selling them to primarily domestic clients who are sorting them for sale to domestic and overseas thrift stores."
According to the company, about 75% of the clothing it collects is reused or upcycled and about 20% of it is recycled.
"It is first sorted by our partners and divided into grades," according to Helpsy. "The higher grades are resold to thrift stores in North America and other second-hand markets around the world. The lower grades get turned into rags for industrial use or things like stuffing and insulation."
Other Services Include Home Pickup and Helping Companies Get Rid of Excess Product
Green said Helpsy's other, less visible services include working with companies to get rid of their excess product.
"Products fall off the truck in a sense," he said. "You're selling 1 million coats a year through your store with this brand. And then 20,000 of them go astray because they were gray and gray ones didn't sell that year or someone lost a packing slip. That stuff eventually goes in the trash."
Other times, stores may have a closeout sale and end up with extra products that it doesn't have a way to get rid of.
Whatever the reason, companies are often left to incinerate or toss out extra clothing.
Green said Helpsy can pay the manufacturer for the clothing — or donate money to a charity in the manufacturer's name in some cases — and help get the clothes back in circulation rather than sending them to the landfill.
Some companies are still reluctant to have their products resold in a used market because they believe it would devalue their brand. And these companies still burn their excess clothes. In other cases, if a company imports a product and destroys it, they can get a rebate on the tariff, Green said.
"There's a reason companies do these silly things," he said.
But Green said that the tides are shifting. Beginning in 2021, this tactic will become illegal in Massachusetts.
Helpsy is also making it easier than ever for everyday consumers to get rid of their unwanted clothing.
"The newest thing is the home pickup service in New York City. It's pretty exciting," Green said. "We did a few hundred of those in just one week. The program is also rolling out in Boston whenever the COVID-19 situation dies down. And we're also bringing it to New Jersey."
The free service is as simple as putting your garbage out by the curb. Complete details about home pickup can be found on the Helpsy website.
Disrupting the Industry and Giving Clothes Longevity
"There's really nothing bad or damaging to the environment about buying clothes as long as you buy used clothes," Green said. "The environmental impact of collecting these clothes, sorting them, transporting them, bringing them back to retail — all those things are pretty minimal relative to the cost of creating new stuff."
As Green mentioned earlier, the environmental cost of clothing production and disposal is a relatively new problem, and therefore, many consumers are not aware of the issue.
But if Helpsy has anything to do about it, everybody will know about it and have the resources to help solve this problem.
"There's a lot that we're combating, and, unfortunately, most of the stuff you read about environmental social responsibility in the fashion space is paid for by people who are very strongly motivated to do the opposite," Green said.
He explained that a lot of greenwashing happens in the fashion and clothing industries.
For example, a company may launch a PR campaign about how it will recycle consumers' old sneakers and turn them into a running track for a school, or turn old blue jeans into insulation for a project.
"These things are complete BS," Green said. "They would be more helpful to sell the sneakers and pay for 20 tracks instead of using the soles for one track. Or selling the jeans and making a $1 million donation to Habitat for Humanity instead of giving them $50 worth of materials."
Green said that certain aspects of the clothing industry would be impacted by a big drop in the production of new clothes. But, he can envision a lot of labor-intensive and creativity-driven work in a future industry focused on repurposing used clothes, he said.
"Hopefully, it will pivot in that direction," Green said. "And if we succeed in our mission, then we're out of business, which is fine."