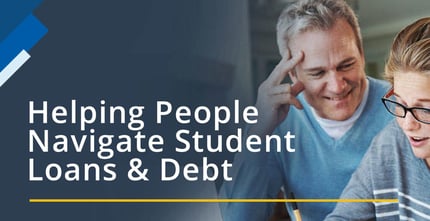 Experts share their tips and advice on BadCredit.org, with the goal of helping subprime consumers. Our articles follow strict
editorial guidelines
.
In a Nutshell: The student loan debt crisis was already a main focus for many, even before the COVID-19 pandemic. As the pandemic brought about new and unprecedented challenges, more questions arose about how to address the crisis, how students and prospective students should move forward, and what it all means for current borrowers. Edvisors provides valuable information on all this and more. The website has been providing in-depth guidance on all things related to student loans for more than 20 years. From seeking scholarships to understanding interest rates and filling out FAFSA paperwork, Edvisors is the go-to resource for student loan and financial aid information.
Student loan debt is one of the major financial challenges facing millions of U.S. residents today. At $1.6 trillion dollars, experts now refer to it as the student debt crisis.
In fact, student loan debt exceeds credit card and auto loan debt in the U.S., and is only surpassed by mortgage debt. It wasn't always like this. Student loan debt has tripled just since 2005.
This dramatic increase certainly signals that there are failings somewhere in the system. And lawmakers have been slow to take any action to alleviate the huge financial burden these borrowers carry. Many people who owe student loan debt did not even graduate from college, so they are stuck with paying loans for education and expertise they weren't able to complete.
With the COVID-19 pandemic hitting the U.S. hard in 2020, federal student loan repayment was put on hold temporarily. But plenty of questions remain about the future of student loan debt, how to address current debt, and how people preparing to enter college should approach student loans.
Navigating the challenges of student loans can be difficult for an 18-year-old freshman college student as well as a mid-career professional who is in repayment.
One of the most valuable resources we have found that addresses all things related to student loans and debt is Edvisors.
"For 20 years we have been known as one of the largest and most trusted resources to help you find your path to success," according to the company. "Everyone needs to find their own path, and we know that first-hand. Our team consists of diverse backgrounds and different experiences in our own higher education journeys."
We recently spoke with Elaine Rubin, Director of Corporate Communications at Edvisors, to learn more about the company's expertise and resources when it comes to all things student loan-related.
Making Informed Decisions About Student Loans and Exploring Scholarships
"Edvisors provides a lot of great tools and resources and free information for students and parents who are planning for and paying for college," Rubin said.
The website also provides valuable information about the repayment of student loans, she added.
"Sometimes paying for college goes beyond your college days," Rubin said. "If you still have student loan debt or anything that's hovering over you, you will continue to pay for college even once you graduate, so we focus a lot of information on that."
The Edvisors website is rife with helpful information on nearly every aspect of student loans and the considerations that should be taken into account when taking out loans. This includes the ability to compare private lenders, learn about the pros and cons of federal versus private loans, and access informative resources about preparing for college in general.
"We definitely put out a lot of information about what student loans mean and how student loan interest works," Rubin said. "I think it's pretty confusing. We get a lot of questions about it. Our site visitors and social media followers can ask us questions, and we're able to respond."
Edvisors also provides useful information on other ways to pay for higher education, such as scholarships.
"I always like to encourage students to put some time into scholarships — finding them and trying to win them," Rubin said. "And even look locally for scholarships. Ask your school and community organizations around where you live to see if they offer any type of scholarships."
Meeting the Challenges Presented by COVID-19
The challenges brought about by the COVID-19 pandemic in 2020 and into 2021 are too many to name. But higher education and the student loan situation, in particular, were the focus of a lot of attention.
Some colleges quickly pivoted to online classes while others pieced together a hybrid curriculum of in-person and online courses. Others delayed fall start dates as many questions about safety were being grappled with.
Of course, federal student loan repayment programs were put on hold to the benefit of millions of U.S. residents. Yet, many questions remain unanswered. But Edvisors has helped provide plenty of information and guidance as the unprecedented situation has played out.
"From the student perspective, there have been a lot of unexpected events happening," Rubin said. "Students were in the situation of uncertainty. One of the things about college life is students don't always attend school where they're actually from."
She said this presented a number of challenges in 2020.
"You might have brought all your belongings with you to school because when you started, you thought you were going to finish the school year," Rubin said. "But some schools basically shut down their campuses, and it left some students in quite a bind."
The Edvisors website offers a robust collection of information addressing a wide variety of questions students and parents may have about how the pandemic relates to school and their student loans.
"We are in an unprecedented state of emergency with economic impacts," according to Edvisors. "And during this time, many people have concerns about student loan repayment. Many of our social media followers have reached out to us with fantastic questions. If you are a student or student loan borrower, we want to make sure you have an understanding of your options."
The website offers the latest news regarding student loan debt in the pandemic and addresses a variety of scenarios, including information for enrolled students impacted by COVID-19, future student enrollment concerns, and student loan borrowers impacted by the pandemic.
Providing Guidance on FAFSA Paperwork
Another important component of the Edvisors website is the information it provides on FAFSA — the Free Application for Student Aid. Anybody who has dealt with FAFSA may get a slight tinge just thinking about it.
FAFSA is one of the most important components for securing financial support for many students — and it can be one of the most frustrating.
"Thousands of students and parents reach out to us asking for help to complete the FAFSA," according to Edvisors. "We picked up on the main areas of confusion to drive the creation of our 2021-2022 Guide to Filling the FAFSA, as well as other resources including videos to help you through."
Watch on
Rubin emphasized just how important FAFSA is for people seeking aid.
"For students — even those students who don't think they'll qualify — as long as you fill it out, you're putting yourself in a pool to be considered for not only federal student aid but also institutional aid from your school," she explained. "A lot of schools will offer financial aid to their students, especially low-income and middle-income students."
Rubin said the FAFSA also allows many people to qualify for an unsubsidized Stafford Loan.
"Federal unsubsidized loans tend to be beneficial and they really help if you need them," she said. "Obviously, borrow wisely, it's still a loan."
As with other aspects of student loans, Edvisors provides in-depth information on just about any question that may arise regarding FAFSA, including filling out the paperwork, important deadlines, and even how to seek more financial aid.
While the past year has been challenging for so many, college students, prospective students, and student loan borrowers have had to deal with a particularly unique set of circumstances. But, just as it has been for more than 20 years, Edvisors is there to help guide people through with its vast wealth of information.