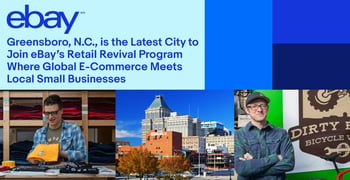 Experts share their tips and advice on BadCredit.org, with the goal of helping subprime consumers. Our articles follow strict
editorial guidelines
.
In a Nutshell: eBay launched its Retail Revival program in 2018 as a way to leverage the large company's technology, resources, and access to a global marketplace to help small, local businesses. The pilot program in Akron, Ohio, was deemed a success and Retail Revival programs quickly expanded to Lansing, Michigan; Halifax, Nova Scotia, in Canada; and Wolverhampton, U.K. In February, eBay announced that Greensboro, North Carolina, would be the latest city to join the Retail Revival program. Evidence points to Retail Revival having a positive impact on many small businesses in the participating cities so far, and eBay plans to continue the program in 2019.
The entrepreneurial spirit has always been at the heart of the American Dream. The idea that innovators and hard-working business people put it all on the line to follow their passions is built right into the foundation of Western capitalism.
The truth is a lot more plays into the success of a business than a good idea and can-do spirit. A good business plan, marketing, and demand for the product or service are just a few that come to mind.
The founders of 7th Floor Clothing — Frank Miller III and Preston Clark — started with the idea and the spirit, which led to the other factors falling into place, as well. Miller was screen-printing shirts out of his dad's basement when he and Clark decided to take a chance and preemptively print 100 Cleveland Cavaliers T-shirts for Game 7 of the 2016 NBA Finals.
When the Cavs won, the shirts sold out.
Akron's 7th Floor Clothing is exactly the type of business eBay had in mind when it created its Retail Revival program.
"eBay launched the Retail Revival program in January 2018, to help bring traditional brick-and-mortar main street businesses online and to new customers around the world," said Chris Librie, Head of Global Impact at eBay. The program aims to leverage technology and the power of eBay's global marketplace to support small, local businesses.
Akron, Ohio, was the first community selected to participate in the 12-month program. Just over a year later, Lansing, Michigan; Halifax, Nova Scotia, in Canada; and Wolverhampton, U.K., have all become participants in the growing Retail Revival program.
In February, eBay announced its newest addition to the program — Greensboro, North Carolina.
Greensboro Joins Akron and Lansing as the First U.S. Cities to Participate in the Retail Revival Program
"We went through a rigorous selection process, first looking at the local economies, population, the density of small business owners and retail environment for cities across the U.S.," Librie said. "Once we narrowed down our list, we held calls with city officials around the country and conducted site visits."
Librie said Akron and Lansing stood out to the company because of the cities' clear commitment to supporting entrepreneurs and small businesses, combined with their strong communities of makers and high densities of existing eBay users. Once the programs in those cities were up and running, eBay began searching for another U.S. city to work with and Greensboro also fit the bill.
Now, with Greensboro on board, eBay can help the city's local small business owners connect with eBay's 179 million active buyers.
"I am looking forward to our partnership with eBay and assisting our local entrepreneurs to expand their business to an online marketplace open around the clock," said Greensboro Mayor Nancy Vaughan. "The Retail Revival program will give local business owners and entrepreneurs the tools they need to expand their customer base domestically and internationally. I am grateful to eBay for choosing Greensboro for its next partnership."
Supporting and enabling entrepreneurs as well as small and medium-sized businesses in communities across the world is central to eBay's identity and purpose, Librie said.
Greensboro businesses participating in Retail Revival will receive ongoing support and resources to launch and scale their business on eBay.
"This includes customized training, one-on-one coaching, direct access to a dedicated eBay customer service team, and an eBay store subscription — all provided at no cost to participants or to the city," according to eBay's announcement.
eBay will also promote Greensboro businesses through various marketing channels to help tell the companies' unique stories and bring their products to audiences well outside the Greensboro city limits.
How eBay Brings Small Brick-and-Mortar Businesses to the World Marketplace
For nearly two decades, consumers have read dire headlines about how e-commerce giants and big retail chains are squeezing out small, local businesses across America.
While there may be some credence to this sentiment — just ask former Borders bookstores executives — the problem or solution is not a simple either/or scenario. In 2017, the U.S. saw 7,795 store closures from retailers with physical locations. At the same time, e-commerce only accounts for 10% of all retail — a number that varies widely depending on the specific industry.
"In most major markets, physical retail continues to grow, albeit at a far slower rate than online shopping," according to Forbes. "Lots of stores continue to be opened, including by quite a few brands that are hardly new or 'digital-first.'"
Nevertheless, small and medium-sized local businesses don't always have the resources or knowledge to tap into a broader online market.
With eBay's Retail Revival program, the idea of the little guy fighting against the big, bad retailer is put to rest. eBay is demonstrating its commitment to supporting small, local businesses to help them thrive within their communities and on eBay.
And the Retail Revival companies have the opportunity to share their products with one of the largest marketplaces in the world, with the added boost of eBay's own marketing team.
"We have a humanistic vision of what technology can do. It isn't about the drones and the robots," eBay President & CEO Devin Wenig said. "It's about people. It's about small businesses. It's about using technology to make people competitive and vibrant and to put life into communities, and not take it out."
The Retail Revival program gives participating companies the framework and tools to operate competitively in the global marketplace through training, ongoing support, and dedicated customer service.
Small Businesses are Seeing Results from Retail Revival
At the end of last year, eBay took stock of how successful the first iteration of the Retail Revival program had been, and Librie said he was excited to share some of the results.
"In launching this effort, we brought our working concept to life: working hand-in-hand with small, scrappy cities in the U.S. and the U.K. to revitalize their retail communities by expanding the reach of local small businesses," he said.
After seeing how effective the Akron pilot program was, Librie said the company was thrilled by the ensuing energy and progress made by the local entrepreneurs and decided to further expand the program's impact.
That expansion led to the Lansing, Halifax, Wolverhampton, and now Greensboro Retail Revival programs.
As of December 2018, Librie said that, collectively, Retail Revival sellers had made more than 37,000 sales. Sellers in Akron that had previous eBay experience saw their gross merchandise volume grow 78% year-over-year as a result of the coaching and training they received from the Retail Revival program. And approximately 10% of gross merchandise volume came from international sales from all over the world.
And, of the 182 participating Retail Revival sellers, 60% were completely new to eBay. In Akron's 12-month partnership 86 Akron and Warren businesses made more than 13,5000 sales to more than 12,000 buyers in all 50 states, with almost half selling products internationally to 73 countries. Librie said this is a particularly exciting stat since, according to the Small Business Association, only 1% of small and medium-sized businesses export overseas.
7th Floor Clothing and another Akron seller called Five Blessings were able to open brick-and-mortar stores in 2018 — a tangible sign of growth supported, in part, by their sales on eBay, Librie said.
"These numbers add up to a big year for Retail Revival, and we're just getting started," Librie said in an announcement.
With demonstrable results and sellers who have been satisfied with their Retail Revival experience, eBay plans to continue to expand the program in support of its mission to leverage technology and the global marketplace to support small, local businesses.