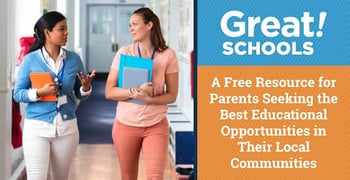 Experts share their tips and advice on BadCredit.org, with the goal of helping subprime consumers. Our articles follow strict
editorial guidelines
.
In a Nutshell: A child's development hinges on a quality education, which places a lot of pressure on parents choosing a school, particularly in low-income communities. GreatSchools, which began as a parental resource and school directory in California, is a nonprofit that gives parents free access to comprehensive school guides, reviews, and educational information about schools in neighborhoods around the nation, providing added transparency to what can be a stressful process for parents.
No two schools are identical, even in low-income communities, and selecting the most suitable school for a child is challenging for families everywhere.
Higher-income families have more resources to devote to ensuring their children get started on a better path in life. Research shows that the richest 20% of families spend $8,000 more per year per child than the poorest 20%. These extra resources include luxuries like private education, computers, private tutoring, and other educational advantages that poor families just can't afford.
Low-income families may be at a relative disadvantage, but this doesn't mean all hope is lost when it comes to finding a high-quality education for your family.
GreatSchools is an Oakland, California, nonprofit that helps parents do their homework on schools and learn how to do more for their kids inside the home. The site includes educational resources, parenting guides, and comprehensive information on every school in the nation, allowing parents to evaluate schools in their area based on what's important to them in an education.
"We reach over 40 million unique visitors per year, and we estimate that about half of America's parents come to our site to look for their school and see how their school is doing," said Carrie Goux, Vice President of Communications at GreatSchools. "We have a profile for every school in the nation."
GreatSchools also provides content to help with a parent's involvement in their child's education, both in and out of the classroom. These resources include parenting cue cards and videos with expert advice on topics like how to encourage frustrated children and sibling rivalries.
"They're choosing a school for their child, but they're also looking to understand how to get involved and improve schools for their child," Carrie said. "And they're looking at our site to find out how to advocate for their child as individual students — how to support them best."
Review Comprehensive Profiles for Every School in the US
GreatSchools is a leader among education-focused nonprofits with in-depth school pages that include informative breakdowns on academics, equity, and environment. By using these pages and comparison shopping within the community, parents can locate better schools that offer programs that will be most beneficial to their children.
"We rate a school based on different factors from data reported to the state departments of education or the federal government, including test scores, student growth, college readiness, access to advanced courses and other measures depending on the state," Carrie said.
For example, maybe a child has special needs and require schooling that offers special-needs courses, or perhaps the child's first language isn't English. Reviewing the schools on the GreatSchools platform enable parents to evaluate whether the institutions they're considering offer options for their children. This way, parents can make informed decisions when choosing the right school for their family.
"You get that summary rating, which just gives you a very quick, first glance at the school, but then you can see that we also measure schools on different metrics," Carrie said. "So that includes college readiness, access to advanced courses, equity, test scores for low-income families, and also things like how schools are working with kids with disabilities."
Educational Resources Help Parents Learn How to Advocate for Their Children
While choosing the right school for your child is important, parents can do their part within each school structure by becoming advocates for improvement and getting involved in their child's education. GreatSchools provides parents with resources they can use to inspire ways to improve educational experiences for their offspring.
There's no one-size-fits-all educational style that works for every student, which is why it helps when parents can do more both at home and through volunteering in the classroom.
"If the child has a learning disability, for example, we have articles on how to set up individual education plans at your school," Carrie said. "We have articles and videos on understanding Common Core curriculum and concrete, actionable tips to help your child at home, and to help them succeed in school."
High-Profile Academic Partners Help Support and Reinforce GreatSchools' Mission
Having trusted ratings, school information, and useful tools and tips for parents to be more involved in their child's education is central to GreatSchools' mission. The site works with different partners in the educational space to ensure its mission is reinforced. By working alongside partners, like the Yale Center for Emotional Intelligence and the National PTA, GreatSchools is able to provide thorough information in their parenting guides.
"We want to make sure parents can make the most of the information on our site to help their children and help their community," Carrie said. "So we work with partners like Innovate Public Schools in the Bay Area, that uses the data and school profiles to help with organizing parents to work on school improvement in the Bay Area in disadvantaged communities."
"We also work with various other partners such as National PTA, Be a Learning Hero and Understood along with a network of 15 other partner organizations that support parents of one in five children with learning and attention issues."
A Child's Future Prospects Start with Quality Education
It would be nice to think that all public schools offer an equal education for every child. This, however, isn't really the case because every child and every child's needs are highly individualized.
"Our mission is to help disadvantaged parents and students unlock those educational opportunities," said Pascale Small, Communications Coordinator at GreatSchools. "For 18 years now, GreatSchools has grown from publishing school profiles to rich content and a support system for parents."
Children growing up in low-income families and communities often face additional challenges, like language barriers and overcrowded classrooms, so it's important their parents do their due diligence in researching a school as well as having resources that make parenting a bit more manageable.
A quality education is paramount to a student's future prospects, and GreatSchools is a perfect place to start for parents looking to forge a nurturing path for their children.