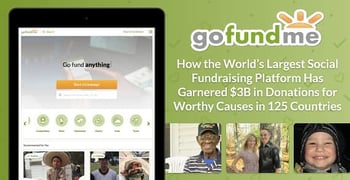 Experts share their tips and advice on BadCredit.org, with the goal of helping subprime consumers. Our articles follow strict
editorial guidelines
.
In a Nutshell: GoFundMe, the world's top social fundraising platform, is revolutionizing the way people donate money. Since it was founded in 2010, more than 25 million unique donors have raised over $3 billion for over 2 million campaigns. GoFundMe's massive success is due in large part to its ease of use and its integrations with popular social media channels like Facebook and Twitter. And you don't have to be tech-savvy to use it. Anyone with an email address or social media account can set up a campaign to raise money for virtually anything in just a few minutes. Education expenses, sports teams, medical bills, volunteer trips, disaster relief — GoFundMe provides an ideal platform for generating funds when they're needed most.
Shortly after graduating from Jesse Bethel High School in Benicia, California, 18-year-old Jourdan Duncan's car broke down. He had just started a night job at a packaging facility and knew he had to think of another way to get to and from work.
Jourdan was saving money for college and was committed to furthering his education and possibly joining the California Highway Patrol. He asked for rides at first but felt bad about inconveniencing his friends. So he started walking.
It took him nearly five hours a day to get to and from his job, which was in an industrial area where foot traffic was rare. This got the attention of Officer Kirk Keffer of the Benicia Police Department, so he stopped to make sure the teen was OK. Kirk offered Jourdan a ride home, which he gladly accepted. During the drive, Kirk learned more about Jourdan's story. Once he realized what he was going through just to get to work and save money for college, Kirk was compelled to help in some way.
Kirk relayed Jourdan's story to fellow officers, and they decided to buy him a bike. They contacted a local bike shop that gave them a great deal and threw in a light set and helmet. But the story doesn't end there. The Benicia Police Department was so inspired by Jourdan's commitment to his future that they decided to go a step further.
In October 2016, the department started a GoFundMe crowdfunding page to raise money for Jourdan's future. The campaign met its goal of raising $50K, and Jourdan purchased a modestly priced car and started attending community college, with plans to use the rest of the money when transferring to a four-year school. He wants to major in engineering and enter the police academy.
Jourdan is just one of the countless people whose lives have been enriched by the kindness of strangers who donate on the GoFundMe platform. His story is actually one of the less dramatic tales of GoFundMe success. Many people have had life-saving surgeries and treatments they otherwise couldn't have afforded thanks to the fundraising site. One stirring example involved a GoFundMe organizer who started a campaign for a man who serves as a foster parent for terminally ill children.
In the past, people were confined to their own communities to raise money. This often required plenty of "boots on the ground" and a fair amount of door knocking. By harnessing the awesome power of social media, GoFundMe has made it easy for anyone with internet access to create a campaign that reaches a global audience.
Simplified Social Sharing Gets Money to Those in Need
GoFundMe's mission is empowering people to help others. After all, it's life's unexpected and unfortunate events that place us in situations where we have to rely on the kindness of strangers.
An injury or sudden illness can result in lost wages and medical bills, and that's just scratching the surface. Many people keep a credit card (or two) for emergencies such as an unexpected injury. But let's face it: a credit card is not a sustainable way to make ends meet. Debt — not to mention the interest rates — piles up fast.
GoFundMe provides a financially responsible and dynamic way to raise needed funds that alleviate financial stress. The site allows users to create their own donation pages and describe the cause they're raising money for. Users can then share their project across popular social channels, which is really what gives GoFundMe legs and makes it such a successful way to raise money.
With the site's built-in integrations for Facebook, Twitter, and email, sharing and promoting a fundraising campaign is simple and immensely effective. Once a campaign is created, you can promote it with your personal social media accounts and help spread the word. Once donors contribute, they too can share the campaign on their accounts, helping your fundraiser to go viral. The powerful visibility enabled by social media has revolutionized the way people raise money.
GoFundMe allows donors to leave comments, donate anonymously, and track the progress of the campaign. The site generates revenue by automatically deducting a 5% fee from each donation received, and a lot of that goes into the robust services provided through the platform.
GoFundMe campaigns raise more money each day than all of the other crowdfunding platforms combined with access to the world's largest donor community, fraud protection, and the management and distribution tools needed to run efficient campaigns.
The Industry's First Guarantee Protects Donors & Recipients
Many people may be reluctant to donate to charities, disaster relief funds, or other causes for fear that their money may not go to the intended party or that the funds could be misused in some way. Though relatively rare, there are instances of donor fraud and other crimes related to philanthropic organizations.
People work hard for their money, and when they decide to donate to a cause that's important to them, they want absolute assurance it's going to the right place. GoFundMe is the first and only crowdfunding company to offer complete security at all stages of the giving process.
The GoFundMe Guarantee is a refund policy that ensures all donated money goes to the intended person or party, and only that person or party. GoFundMe has a team of specialists whose only job is to work tirelessly to make certain donors' funds go to the intended recipient. In the rare occasion that something isn't right, GoFundMe will refund a donor's contribution.
Another added layer of security to help put donors' minds at ease is GoFundMe's 5-Minute Support. If a donor has a question about anything, GoFundMe replies in just five minutes with an answer, no matter what time of day and even on holidays.
A Safety Net for Those Going Through Medical Crises or Recovering from Disasters
We live in the era of the 24-hour news cycle, and it can be easy to become pessimistic about the general state of humanity. But it takes only a few minutes of browsing GoFundMe's site to realize that, for the most part, human beings really do care about each other. Complete strangers giving to others out of the kindness of their hearts is perhaps something that most folks think we've lost sight of as a society. But it's simply not the case.
Take Jakeem Tyler for example. In December of last year, Cameron Nelson of Indianapolis stopped at a local fast food restaurant for a snack. Behind the counter, she spotted a clearly injured Jakeem ringing up customers and wearing a neck brace and arm sling.
Upon asking Jakeem what happened, Cameron learned that he had been in a recent car accident but wanted to continue working because he needed the money for Christmas, including helping feed the homeless over the holidays.
Cameron snapped a picture of Jakeem, went home, and created a GoFundMe campaign with a goal set at $2,500 to help the young man. That campaign has raised over $44,600 and has been shared nearly 4,000 times on Facebook.
Then there's the case of 80-year-old Kenneth Smith. After working hard his entire life, he was forced to drain his entire savings to help pay for his wife's cancer treatments. When she ultimately lost her battle with the disease, Kenneth was left with next to nothing.
He took to selling kindling wood on the side of the road to help make ends meet. His daughter, Leslie, created a GoFundMe campaign in November 2016 with the goal to raise $120k to help her father keep his house. To date, the campaign has surpassed that goal for a grand total of $122,066 and has been shared over 10,000 times on Facebook.
Success stories like these are what keep people coming back to GoFundMe. It's also the reason that GoFundMe is such a financially successful company. In June 2015, the company's founders sold the company to Accel Partners for $600 million.
GoFundMe Has Impacted More Than 2 Million Campaigns
Though in its relative infancy, crowdfunding has proven to be immensely successful. A recent report predicts the crowdfunding industry will grow over $300 billion by 2025. The same report also found that nearly 270,000 jobs have been created thanks to crowdfunding and the countless new businesses born from this fundraising method. GoFundMe is certainly no passing fad.
It's cliché, to be sure, but you never know when hardship will strike. It could come in the form of a flood, a layoff, an injury … the scenarios are endless. The stories of Jourdan Duncan, Jakeem Tyler, and Kenneth Smith demonstrate how anyone — a loved one or a complete stranger — can encounter tough times that sometimes compel others to step up and help.
GoFundMe provides a simple, efficient way for people to help each other in time of need. In these socially turbulent times, that's something we could all use a little more of.