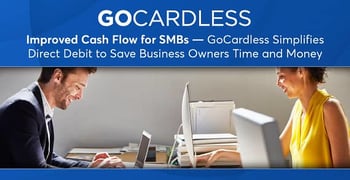 Experts share their tips and advice on BadCredit.org, with the goal of helping subprime consumers. Our articles follow strict
editorial guidelines
.
In a Nutshell: In the UK alone, reduced cash flow due to late payments has sweeping economic effects that are felt especially at the level of small and medium-sized businesses. Many SMB owners have discovered the advantages of using direct debit payment processor, GoCardless, to minimize the impact of cash flow issues by providing easy access to and integration of multiple direct debit schemes. This cuts down on late payments, increases cash flow, and reduces administrative burden on owners. Growing in popularity, especially among subscription-based businesses, GoCardless is expanding its service to more countries and schemes, bringing the simplicity and security of direct debit transactions to merchants and customers worldwide.
Growing a new business is full of challenges, with cash flow being a constant concern.
Picture, if you will, UK-based small business owner, "Sylvi." All too familiar with the problem of late payments, Sylvi desperately wishes she weren't. She has overhead, employee salaries, and taxes to pay, and the reduced cash flow incurred by unpaid invoices severely hinders her ability to meet these expenses.
At the same time, the effort of reaching out to truant customers subtracts from the time and energy she can invest in running and improving her business. Then, of course, she has to continue waiting for the payment to be processed, which can take as much as 70 days or longer.
Sylvi's isn't an isolated case. An impact report published by Scottish Enterprise found late payments to be a systemic problem in the UK. In 2015, more than half of SMBs in England, Scotland, Ireland, and Wales were affected by late payments. The total debt amounted to £26.3 billion, averaging £32,185 per affected businesses; 25% of affected businesses reported that, if late payments reach £50,000, they would be forced to file for bankruptcy. The issue has made international expansion too risky for many businesses, and the inability to demonstrate adequate cash flow likewise limited their access to affordable financing options.
Payment processor GoCardless offers a simple solution to the root of these problems. It does so by providing easy access to three direct debiting schemes (BACS in the UK, SEPA in the Eurozone, and Autogiro in Sweden), allowing merchants to automate payments, and integrating this access and automation into accounting software and businesses' websites — all for fees as low as 1% of transactions processed, capped at £/€2 with a minimum of 20p/c per transaction.

"The value proposition falls into three areas," said Ross Pert, Product Marketing Manager at GoCardless. "First of all, the cash flow and getting paid sooner; secondly, the fee structure; and then thirdly, it's the reduction in administration, as well."
For SMBs, this means fewer late payments. That, in turn, means better cash flow, more efficient use of time, and reduced stress — all of which amounts to a stronger business and greater peace of mind for owners.
Working with Multiple Direct Debit Schemes to Enhance Cash Flow
One of the most convenient features of direct debit — for merchants and customers — is its versatility. Direct debit can be used to make one-time payments or recurring ones. In the latter case, payment amounts can differ each time, making direct debit more flexible than standing orders, which require customers to reauthorize any adjustments.
"If invoices change on a month-by-month basis, the direct debit still stands," Pert said, adding this allows merchants greater autonomy in billing. "We help to improve the cash flow by helping them get paid sooner because they can pull funds directly from their customers' bank accounts."
Rather than relying on customers to transfer funds, direct debit schemes allow merchants to initiate bank-to-bank transactions.
"Historically, they've relied on cash, checks, and direct bank transfers, and they're always relying on the customer to proactively go initiate those transactions," Pert said. "Direct debit removes that and keeps in place a relationship, which can be used on a recurring basis."
This reduces the number of late payments and accelerates cash flow. Transactions through GoCardless are processed in under a week through BACS and SEPA and within eight days through Autogiro. Since people tend to change bank accounts much less frequently than credit cards, direct debit also helps to reduce failed payments from expired or canceled lines of credit. This, in turn, reduces churn rates and improves retention by maintaining a stable financial connection between merchant and customer.
Another benefit of GoCardless is its competitive pricing plans. The Standard and Plus packages charge only 1%, capped at £/€2 with a minimum of 20p/c per transaction, and the Pro tier's fees are volume based.
"Especially for small to medium-sized businesses that aren't processing significant volumes and can't benefit from an economies of scale with a card provider," Pert said, "direct debit and GoCardless are typically cheaper than the alternatives in the market. And we're quite transparent with fees. It's really simple for businesses to calculate what they're paying, and they can see all of that within the dashboard that we provide them access to or via the partner integration."
Streamlined Direct Debit Improves Experiences for Businesses and Their Customers
The automation GoCardless offers helps in a financial sense, but it also improves the merchant's and customer's business experience by simplifying client relations and reducing administrative workload.
With direct, automated payments and lower churn rate, there will be less need to contact customers regarding truancy. This means fewer awkward conversations about late and failed payments.
"It's not like it's a good experience for anyone, really. And we've all been there, where we've had phone calls and emails requesting money," Pert said. "Because direct debit has lower failure rates, you're less likely to have those conversations."
Customers of businesses also enjoy security and peace of mind thanks to the protection direct debit schemes offer, such as the Direct Debit Guarantee.
"Because of the Direct Debit guarantee, the end customer is protected against incorrect or unexpected payment requests, which can be charged back in the event that the customer wishes to dispute a payment," Pert said. "And that makes it quite trustworthy and a reliable payment method from the customer's point of view."
As noted, direct debit schemes can ease the workload for SMBs and their customers. But even more administrative value lies in GoCardless's integration with accounting software like Intuit Quickbooks, Xero, Sage 50, Zuora, and others, allowing merchants to initiate payments from within the accounting platforms themselves.
"What's unique is that, instead of being a stand-alone payment solution, we integrate and we partner with existing platforms," Pert said. "We automate reconciliation, and all of the payments can be initiated directly from the accounting package itself."
Merchants Across Europe are Finding Value in Simplified Direct Debit
According to statistics released by the European Central Bank, direct debit accounted for 20% of all non-cash transactions made in the European Union during 2016.
"Direct debit itself is a popular payment method," Pert said. "In the UK specifically, close to 75% of recurring payments processed are done so through direct debit."
While it's especially popular in the UK, GoCardless has found key markets in France, Germany, and Spain.
"We work with over 30,000 merchants now, and a significant portion of them never had access to direct debit, historically, due to restrictions set by the banks," Pert said. "And so, our technology is not only providing access, but it's naturally increasing the popularity of the payment method."
GoCardless's clientele is made up of a variety of business types. These include accountants (who often recommend GoCardless to their business clients), gyms, energy companies, small digital agencies, creative studios, information technology enterprises, and other subscription-based businesses.
"We're close to $4 billion every year now in transactions processed, and that number is increasing every day," Pert said. "Anyone who has an ongoing, recurring relationship with their customer base is typically a great use case for direct debit."
Plans to Expand into New Markets Around the World
Within the next 12 months, GoCardless plans on moving into the Australian and Danish markets and providing access to the BECS and Betalingsservice schemes, respectively.
"In Australia, we're in beta testing mode at the moment," Pert said, "and we're looking to go fully live in the next six months."
GoCardless's website also lists plans to expand into and incorporate the direct debit schemes of Canada (PAD), New Zealand (PaymentsNZ), Norway (AvtaleGiro), and the United States (ACH debit). Anyone interested in learning more is encouraged to contact GoCardless.
"We have dedicated resources for our international markets as well as for the UK," Pert said. "Our sales team is always happy to provide advice and consult merchants on what the best options might be for them."
GoCardless is poised to continue increasing the accessibility and popularity of direct debit schemes as a payment method. And that means even more SMBs and customers around the world can look forward to the ease and security of simplified, integrated direct debit transactions in the years to come.