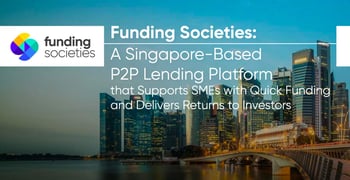 Experts share their tips and advice on BadCredit.org, with the goal of helping subprime consumers. Our articles follow strict
editorial guidelines
.
In a Nutshell: Kelvin Teo and Reynold Wijaya were Harvard Business School students when they came up with the idea of Funding Societies, a P2P platform for SMEs in Southeast Asia. The duo launched the business while they were still in school and operated it remotely while finishing their studies. Today, the company is the largest P2P platform in Southeast Asia. Funding Societies provides quick and convenient loans to give SMEs the boost they need. And Funding Societies provides investors with opportunities to make the most out of their money outside of traditional investment avenues. The company also keeps the best interest of its users at heart by adhering to its philosophy of only posting loans its Co-Founders would invest in themselves.
One day in 2014, Kelvin Teo and Reynold Wijaya were chatting in a small room just off one of Harvard's underground tunnels — a subterranean system that connects nearly every building on the Ivy League campus.
The Asian natives and Harvard Business School students discovered they had each become fascinated with peer-to-peer lending structures in the U.S. Their conversation led to a realization of how many small and medium enterprises (SMEs) in Southeast Asia could benefit from P2P lending platforms.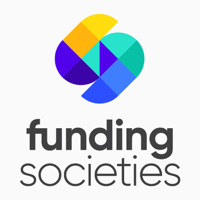 In the U.S., platforms such as Lending Club had been giving SMEs a legitimate alternative to traditional bank loans since 2006. Countless small businesses had benefited from P2P lending, and Teo and Wijaya wanted to deliver the same kind of opportunities to their native Southeast Asia.
The duo had identified a gap in services while interacting with businesses on trips back to their home countries. Many SMEs were receiving little to no funding to maintain operations.
Just as Harvard's underground tunnels provide alternate routes for students in the know, Teo and Wijaya's idea — Funding Societies — would provide alternate routes for SMEs in Asia to secure crucial funding.
Teo and Wijaya actually launched Funding Societies in Singapore while they were still in school and managed the company remotely for six months before returning to Asia upon graduating from Harvard.
Since 2015, the company has facilitated more than $800 million Singapore dollars ($581,452,000.00) in the region and is the biggest P2P financing platform in Southeast Asia. Today, Funding Societies operates in Singapore, Malaysia, and Indonesia.
Educating SMEs About the P2P Process and How it Can Benefit Their Businesses
When businesses in Singapore approach Funding Societies to learn more about its P2P loan process, the businesses are assigned relationship managers to learn more about their needs, which vary from case to case.
Funding requests can range from businesses seeking to address general cash flow issues to implementing growth strategies. And in some cases, the funds are intended to be combined with loans they are also receiving through more traditional financing avenues.
Funding Societies' credit team then assesses the business's profile and uses its proprietary credit risk scoring assessment. Traditional credit profiles are not always an important factor for businesses to acquire a loan through Funding Societies. It simply depends on which loan product is best suited for the borrower's needs.
Many potential borrowers are attracted to Funding Societies for its speed and convenience.
The application for one particular loan product, FS Bolt, offered by the sister company can be completed within two minutes and funded and dispersed within 24 hours.
"Get the business financing that you require, with or without collateral," according to the Funding Societies website. "Simple application, fast approval."
Recently, Funding Societies has been doing a deep dive to gain an even better understanding of its borrowers' needs and to help the company serve its SME clients even better.
The company also makes a concerted effort to educate SMEs in the region about how P2P lending works in general, how the funds are sourced, and the array of products Funding Societies offers.
Part of the education strategy includes helping businesses understand that Funding Societies' loans are not like traditional business loans, the company doesn't do credit checks, and in some cases, it doesn't even review a borrower's credit profile, according to the spokesperson.
The Singapore government has also been encouraging SMEs to turn to the fintech sector for their financial needs.
And Co-Founder Teo is often involved in speaker engagement opportunities, including radio, TV, and internet appearances, to help educate business owners about a concept that is relatively new to the region.
Lenders Can Easily Invest and Manage Their Portfolio
Funding Societies has attracted a diverse group of investors to its platform, from millennials to retired professionals. The common characteristic among investors tends to be that they are looking for alternative ways to invest outside of (or in addition to) traditional means.
"P2P Lending is an easy to understand investment concept that most investors grasp without spending too much time," according to the Funding Societies website. "There's a low entry to investment, so you can start investing easily."
The P2P platform also helps to create a seamless investor experience. Investments can be solidified through digital contracts that do not require any printing or mailing. And the company provides a mobile app where investors can invest or review their portfolio at any time.
Additionally, Funding Societies' auto-invest option allows users to set their investment preferences and let the platform automatically allocate investments on their behalf.
Investors can also gain more insight into the process through the Funding Societies blog.
"Learn the P2P lending concept, how to maximize your investments and minimize your risks," according to the website.
Funding Societies recommends that investors implement a diverse investment strategy as the primary means to minimize risks. "In the context of Peer-to-Peer investments, diversification refers to investing in multiple loan products," according to the website.
The company actually recommends that investors should invest the minimal amount in every loan offered because if a loan were to default, the principal amount lost would not have a large impact on their overall portfolio.
On the other hand, the company illustrates how compound interest can help investors get the most out of their money.
"By using the concept of compound interest, you can maximize your returns by reinvesting the repayments on your principal and/or loan listings on our platform with tenures between one to 12 months," according to the website.
Escrow Agent Licensed with the MAS Gives Peace of Mind to All Parties
"As a Capital Markets Services license holder issued by the Monetary Authority of Singapore, we are the first platform to engage an escrow agency to manage investors' money to give our investors peace of mind," according to the Funding Societies website.
This is just one way in which the company strives to build trust among its users. The company brought on the escrow agency before it was even part of the regulatory process in Singapore as a means to practice good governance.
These kinds of measures have helped to make it easier for businesses to approach Funding Societies, according to the spokesperson.
Funding Societies also proves its value and security in other, more direct actions.
"We advocate 'Skin in The Game' philosophy by sharing the same risk and rewards as our investors," according to the website. "This is why our co-founders and some team members invest in every note that is put up on our platform alongside our investors. We are in this with you."
The principle behind this strategy is to illustrate that the company will only put up loans that Funding Societies itself would invest in.
Additionally, the company makes an effort to keep investors in the know.
"Expect to get regular updates from Funding Societies as an investor on the platform," according to the website. "With every important event or update, the platform sends alerts via email or in-app notifications so that investors are constantly kept up to date with us."
Funding Societies also developed a chatbot, Miyu, to answer customer questions and address concerns. And users can also reach out directly to the Funding Societies customer experience team via live chat or telephone.
From Funding Societies' subterranean Ivy League origins in 2015 to more than 400 employees across Singapore, Malaysia, and Indonesia in 2019, it's safe to say that Teo and Wijaya's theory was correct that a funding gap existed for SMEs in Southeast Asia.