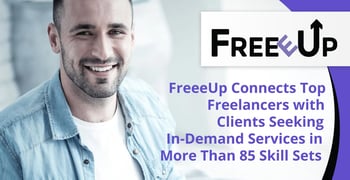 Experts share their tips and advice on BadCredit.org, with the goal of helping subprime consumers. Our articles follow strict
editorial guidelines
.
In a Nutshell: In an age when freelancing platforms abound, FreeeUp distinguishes itself by helping its users stand out in the crowd. FreeeUp only accepts the top 1% of freelance talent, so users don't have to compete with hordes of less experienced workers. The platform's co-founders also saw the difficulties inherent in finding qualified talent through traditional postings, so they developed a system for vetting freelancers and curating connections with potential clients. The FreeeUp process enables top freelancers to catch the eye of employers and secure more work, while clients can easily select the right person whose skills best meet their needs.
Jules got his start selling used goods on eBay in 2005, and about a decade later, he launched a private label on Amazon. Eventually, he decided to start offering his services to other online sellers to supplement his income. Initially, he intended to spend about five hours per week on his freelancing business. Today, he puts about 50 hours per week into freelancing thanks to the connections he has made through the FreeeUp platform.
FreeeUp sets itself apart from other platforms by offering more personalized attention and services to both freelancers and clients. The platform vets freelancers before they can approach clients or apply for projects, and FreeeUp curates connections between the parties, giving freelancers a chance to stand out from the crowd and distinguish themselves.
Beyond making it easier for qualified freelancers to land gigs, this approach enables SMBs to fill gaps in their operations by quickly hiring well-suited talent quickly.
"When we started the business, it was very much specialized for Amazon sellers, since that's the world we came from. We speak that language, and we knew what type of people businesses in that area needed," said Connor Gillivan, Co-Founder and Chief Marketing Officer at FreeeUp. "Over the past four years, we've expanded into general ecommerce — people running their own online stores outside of Amazon — and also started working with a lot of software companies and digital marketing agencies."
FreeeUp freelancers are defined by their expertise in particular areas, their professional attitude toward running their own businesses, and their fast and efficient communication. Freelancers looking to land clients and get a leg up over the competition can join the top 1% of users eligible to join FreeeUp. And businesses can hire the best talent to help them grow now.
Bridging the Gap Between Talent and Clients in Need
Gillivan met his FreeeUp co-founder, Nathan Hirsch, in 2009 while both were still in college. Their first business was an ecommerce company that helped brands sell products on Amazon.
"During that process, we learned a lot about hiring people, outsourcing, and finding people not only in our direct area but also in other parts of the country and the world," Gillivan said. "We used some of the larger platforms out there like Upwork and Fiverr."
On these freelancing platforms, individual clients post projects, and freelancers respond with bids. This method often results in a landslide of applications from freelancers competing to work on a single project. The prospective client then has to sift through those initial responses to find a suitable candidate. While they're doing that, more applications are pouring in, making it even more challenging to discern which applicant has the ideal set of skills and experience.
"After doing that for three or four years, we came up with the idea of creating a platform that pre-vets all of those freelancers and only lets in the top 1% of people who apply," Gillivan said. "Then, as businesses post projects, we have a team that qualifies the freelancers in our network, and we'll introduce them to the business owner, one at a time, so they're not overwhelmed with the number of people applying. On the back end, we supply amazing customer service."
FreeeUp initially catered to Amazon sellers, but the platform has expanded to encompass general ecommerce — which is what the extra E in its name originally stood for. Today, the company provides access to virtual assistants, freelancers, and agencies offering more than 85 in-demand skill sets to meet all business needs.
Vetted Freelancers Bring Sought-After Skills to the Table
FreeeUp vets its freelancers through a three-stage process that helps the platform ensure it connects businesses with top-tier talent.
The first stage is an application, which consists of about 20 questions, encompassing personal information, services offered, and the individual's experience as a freelancer — including types of projects they've completed. The application also evaluates other characteristics such as typing speed and the reliability of their internet connection. If the applicant meets FreeeUp's general standards, they are invited into the second phase: the interview.
Interviews focus primarily on professional and communication skills as well as gauging the applicant's general attitude. FreeeUp seeks to determine the freelancer's attitude and dedication level to their own freelancing business. The platform grades responses in this phase, and, if the applicant qualifies, he or she will move on to the third phase.
This final step is a test that measures how well the applicant understands FreeeUp's terms of use and best practices. Passing the test ensures the freelancer comprehends how the unique marketplace functions and how he or she is expected to operate within it.
"If they pass that test, that pretty much gets them into the network," Gillivan said. "They have to do a final onboarding form that allows us to have all the information we need to create their account."
FreeeUp's process has managed to enroll some 2,000 freelancers culled from about 200,000 applicants — truly the top 1%. These freelancers can set their own rates (or a flat fee per project), all of which they keep; FreeeUp adds a 15% fee to the total, which is paid by the client.
Project Curation and Introductions Let Clients Find the Most Qualified Candidate
Many platforms inundate employers with resumés from freelancers seeking to work on their projects. This dynamic makes it difficult for freelancers to get noticed by the client while making it just as difficult for the client to comb through the applicants and find the freelancer who's the best fit for the project.
Because FreeeUp pre-vets all of its freelancers, clients can rest assured that every applicant is suited for the position. Additionally, the smaller pool of talent circumvents the problematic wave of applications.
When a freelancer expresses interest in a particular project, FreeeUp's team reviews that individual's information and may also ask supplemental questions tailored to the gig in question. If the information indicates the freelancer is a potential match, he or she is placed in the queue, which is arranged in order of estimated best fit.
These freelancers are introduced to the potential client one at a time. That approach gives both parties ample opportunity to have a conversation, get acquainted with one another, and determine whether or not the pairing is a good fit.
"If it is, they'll get hired," Gillivan said. "If not, we'll move on to another qualified person who's interested. I think it makes them a lot easier to match than it does through some other sites."
This personalized interviewing process makes it easier for freelancers to get work, earn income, and grow their business. And just as importantly, it enables clients to quickly gain access to talent that will help them succeed in their own business.
Best Practices Help Freelancers Stand Out and Succeed
FreeeUp is designed for veteran freelancers, like Jules, who are experienced in their fields. Despite its carefully chosen prospect pool, FreeeUp is a competitive marketplace, and freelancers vie to find and land projects. Gillivan suggests that freelancers create a system for keeping up with new postings and finding ones most relevant to their skill sets and rate ranges.
To facilitate that, FreeeUp's project board allows users to set search parameters and filter postings. The tool makes it easier to find listings, but it's still up to the freelancer to reach out to the client. Efficiency in the area of finding and applying for gigs enables freelancers to take on as much work as they desire.
The internet has vastly increased opportunities for freelancers by expanding their reach and the number of clients available to them. At the same time, the proliferation of digital platforms has increased the size of the labor pool and the reach of clients. This situation has made freelancing a more viable and more competitive career choice than ever before.
FreeeUp is one venue in which the best can effectively stand out from the crowd and earn more work. In turn, businesses in need can connect with the top-tier talent they need to complete their projects.