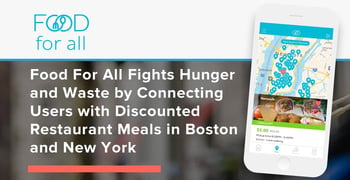 Experts share their tips and advice on BadCredit.org, with the goal of helping subprime consumers. Our articles follow strict
editorial guidelines
.
In a Nutshell: Consumers are always looking for savings, and restaurants are always looking for ways to avoid wasting food. That's why the Food For All app was developed to connect the two parties by offering 50% discounts on any excess meals eateries prepare. The restaurants earn a profit from food that would otherwise be thrown out, and without having to add labor to their already hectic work days. And consumers can get a tasty meal they can pick up just before the restaurant closes. Food For All charitable projects — including Meal Multiplier and MealsToday.org — also partner with restaurants and food banks to provide meals to vulnerable individuals and communities.
In 2016, Sabine Meister Valenga was a graduate student living in New York. She was lucky enough to have a full scholarship to attend school, but money was still tight.
Valenga made a habit of frequenting coffee shops, restaurants, and supermarkets near campus late at night. She found that, just before closing, many establishments offered food at marked-down prices that fit her grad-student budget.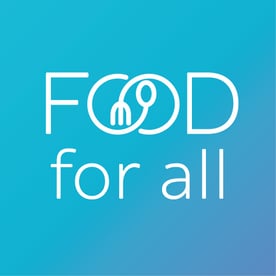 That is an effective, albeit labor-intensive, strategy for saving money on meals, and one that many current and former college students have tried. But hunger is a problem that can extend well beyond the college years, and is especially prevalent in low-income neighborhoods.
So Valenga leveraged her own experience and, working with partners, developed an innovative solution.
"We saw that it was the opportunity for us to create a platform that would empower local businesses and connect them to people who could use a 50% discount on food," said Valenga, the CMO and Co-Founder of Food For All, the app that she helped build to accomplish her mission.
Food For All currently operates in Boston and New York City, and the app allows users to purchase leftover food from local restaurants and vendors for half price at the end of the night. That not only helps people access affordable meals, but also eliminates food waste, benefiting society, the environment, and local businesses.
"Using all available resources is one of the most sustainable things you can do. It means not producing more," Valenga said. "Our model is fixing a gap in the system, and I think it resonates a lot with people because it makes sense."
Networking Transforms Overproduction into Profit
Food For All's onboarding process starts with scouting and reaching out to restaurants and shops around campuses. After all, that is where the whole concept originated, and Valenga finds that businesses near colleges tend to be more open to trying new ideas to reach the student population.
"The network side of the business is what makes it all happen," Valenga said.
Connecting with that population holds particular value to restaurants that must overproduce food as a standard practice. Traditionally, the most efficient way of dealing with a surplus is to throw it away, but Food For All offers restaurants a way to turn that refuse into revenue.
Food For All's structure accommodates hectic operations and restaurant schedules. Cooks and managers won't have to guess at what will be left over, and they don't have to go through the trouble of manually marking down prices at the end of the day. All they need to do is sign up with Food For All, and customers come to them.
"Since the beginning, it was so important to develop it in a way that was almost seamless for restaurants," Valenga said.
Users Can Save 50% on Leftover Food
"Restaurants don't know what items are going to be left at the end of the day, but they have a good sense of the quantity of leftovers," Valenga said. "The first question we ask them when we onboard is: 'How many people could eat what you normally throw away?'"
Based on their response, Food For All estimates how many additional people restaurants could serve and sets out to make that number of meals available at a 50% discount on the app, which is available on iOS and Android. Users can purchase the meals at any time during the day. Then they go and pick up their food just before the establishment closes in the evening.
"Our users don't have to wait until restaurants post that they have something available, and restaurants don't have to post or interact with the platform every day. They continue their operations without changing anything and know they are going to have people coming in and show their Food For All receipt and select from whatever they have available at that moment," Valenga said. "Users also have to be somewhat flexible, and they understand that because we can get them such a steep discount on food."
After establishing many relationships near campuses, Food For All is on a mission to expand into commercial areas frequented by professionals. As these individuals may work late, and often more than one job, the app offers access to meals at a discounted price on their schedule.
Charitable Work Provides Meals to Vulnerable Individuals
"Some restaurants tell us they love the model and have a lot of surplus, but they also want to create an even bigger impact in their communities," Valenga said.
Food For All has partnered with these restaurants in New York and Boston to establish Meal Multiplier. The program works the same way as typical Food For All operations — customers buy excess food at a discount — but participating restaurants donate the proceeds to local food banks.
"In this way, people get 50% off, which is already a huge deal for them, but they're also transforming waste into donations for food banks that help vulnerable populations," Valenga said. "For every dollar The Greater Boston Food Bank receives, it can provide three meals to people in need. And the New York food bank provides five meals for every dollar."
In addition to Meal Multiplier, Food For All pursues other worthy initiatives to provide food directly to at-risk individuals. Through its meal-matching program at MealsToday.org, it works to ensure vulnerable populations receive hot food regularly.
"We are trying to match people who want to donate Food For All meals to people who need them," Valenga said. "If you are in a vulnerable position, you can register on the website, and weekly, we can deposit Food For All meal credits in your accounts with the money we generate."
Food For All: High Ratings Drive Expansion
While still living in New York, Valenga started working on Food For All alongside her Co-Founders Victor Carreño and David Rodríguez Sánchez, who were studying in Boston. With the help of their Kickstarter supporters, they funded the project and got it up and running in Boston in a matter of weeks.
"Within two weeks, we were featured on the 'Today Show.' It was a great experience," Valenga said. "Because of that, we not only got initial funding but also our first 10,000 customers."
Food For All expanded to New York City in 2019 after being picked up by the Urban X accelerator. For 2020, the team planned to expand into five new cities but is now shifting its growth strategy amid social distancing and the economic shutdown that has particularly affected restaurants during the COVID-19 pandemic.
"We have to shift our focus to crisis management and ensure we support our local restaurants as much as we can," Valenga said.