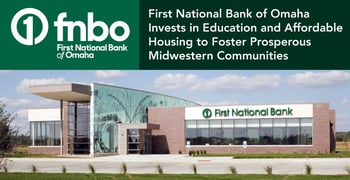 Experts share their tips and advice on BadCredit.org, with the goal of helping subprime consumers. Our articles follow strict
editorial guidelines
.
In a Nutshell: Since 1857, First National Bank of Omaha has provided impactful services to its members and communities. The institution offers financial literacy resources and invests in startups and small businesses so everyone in its service areas can flourish. The bank also focuses on revitalizing affordable housing to ensure that people can live comfortably while building wealth. For its dedication to providing resources that promote prosperity and financial success, FNBO has earned our Editor's Choice™ Award for Community Commitment.
When businessman Augustus Kountze arrived in Omaha in 1855, the Nebraska Territory was just being settled, and its communities were still developing. To help them along, Augustus and his brother Herman established a bank in 1857 that would become the First National Bank of Omaha.
Augustus, a banking, real estate, and railroad magnate, was later appointed by President Lincoln to the Board of Directors of the Union Pacific Railroad. And much like that railroad, Kountze's bank now reaches across the American West. But despite its expansion, FNBO remains committed to its founders' original vision: Building strong communities and helping people achieve financial success.
More than 160 years later, FNBO is still primarily family-owned. It holds $22 billion in assets and operates more than 100 branches throughout Nebraska, South Dakota, Kansas, Texas, Colorado, Illinois, and Iowa. And it aims to meet the unique needs of each community it serves so that everyone can prosper.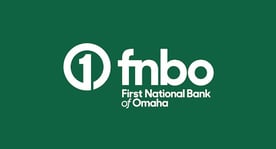 "If our communities are successful, we will be successful," said Alec Gorynski, Vice President of Community Development and Corporate Philanthropy for FNBO. "Our mission is to contribute to the success of the places we call home because we truly believe in the importance of a successful community, and we think we have a role in that."
That's why FNBO works to economically elevate the communities it serves, particularly low- and moderate-income individuals and families. It pursues that goal by investing in critical areas. One is education, and it provides resources including financial literacy, job training, and workforce development. It also invests in economic and small business development, affordable housing, and neighborhood revitalization.
For the bank's investments and efforts to help individuals and communities realize financial success, we recognize FNBO with our Editor's Choice™ Award for Community Commitment.
Achieving Concrete Goals Through Strategic Partnerships
FNBO pursues measurable goals in the areas of education, employment, and housing. Throughout its four-year mission, which began in 2016, it supports the creation, financing, and preservation of 5,000 affordable housing units designed for single- and multi-family occupancy, ensuring those community members all have a place to call home.
The institution has also facilitated the creation and retention of 25,000 jobs in the communities it serves while helping 50,000 individuals achieve financial stability through education, improved financial literacy, and workforce preparation and training.
"We've been committed to the communities we operate in for generations since our founding. It's in our culture. It's in our identity. It's in our DNA," Gorynski said. "Our community strategy was established in 2016, but it was trying to channel our culture of commitment to community that was instilled in us by ownership, and codify it in impactful, intentional, and strategic ways."
The bank has pursued many of its goals by partnering with – and investing in – community organizations. FNBO supports those philanthropic works through sponsorships, impact, and investing.
"We make investments that empower others, particularly our nonprofit and community partners, to do the work to realize those goals," Gorynski said. "We're not out there building homes, but we're investing in others to realize those community outcomes."
The organization offers some traditional educational resources, including English as a second language, GED certification, and basic literacy. It also funds workforce development training like vocational schooling and developing soft skills required in the workplace. And all of those resources can contribute to helping individuals improve their employment situations.
Education Bolsters Work Readiness and Financial Wellness
To complement its investment and educational endeavors, FNBO also supports financial literacy programs. While these efforts focus on low and mid-income individuals and families, FNBO and its partners also recognize that financial literacy is a fundamental need at all points along the economic spectrum.
"Bad financial decisions are not concentrated in low-income populations. They're among everybody," Gorynski said. "We think financial education is an important tool to help people make better decisions and take advantage of opportunities to improve their economic situations."
FNBO supports efforts to educate individuals on how daily economic decisions can impact their long-term financial situations. The institution also offers counseling and education to improve credit and home-ownership education.
"We deliver on our goals not only by investing in these organizations and these partners, but also by leveraging the power of our employees to volunteer to deliver financial education to students, to adults, and everywhere in between," Gorynski said.
FNBO employees volunteer with the bank's partner organizations and provide financial instruction. Employees also reach out to public schools about opportunities to teach students in the classroom. And the bank even has a replica branch at the Omaha Children's Museum to give kids a head start in thinking about finance.
"We also recognize that this is not going to completely solve the problem because that one interaction with those youths is limited," Gorynski said. "They are a positive thing, and the right thing for us to do, but we also recognize that they are just a part of the education we need to provide to have the greatest impact. And we feel we're playing our part."
Economic Development and Affordable Housing Help Build Stronger Communities
Financial education is admittedly an important piece of the personal financial picture, but it is still only one piece. All the education in the world may not help someone who struggles with debt, bad credit, and other daunting financial challenges.
So FNBO's financial education efforts complement its other areas of focus — economic development and affordable housing. Its initiatives provide knowledge and opportunities for individuals and families to improve their situations.
"In the development space, we often invest in single-family units and multi-family units for sale," Gorynski said.
Foremost among its partners are community development financial institutions (CDFIs), which are nonprofit organizations that offer lines of credit and loans to credit-challenged consumers and businesses. FNBO provides capital so those institutions can lend it to people in need, and people can leverage that credit toward financial stability and growth.
"The reason we think that's an important area is that housing should be affordable, and if it is affordable, it should also be safe and high-quality," Gorynski said. "We also recognize that homeownership is a tremendous wealth-building tool and that families should have the ability to generate wealth through their homes and potentially break the cycle of poverty."
Another way FNBO contributes to ending the poverty cycle is through investing in programs that support small business development and entrepreneurship. These partnerships provide the tools, training, and technical assistance that small business owners need to start new enterprises or grow existing ones.
As with affordable housing, CDFIs and similar groups play a crucial role as they provide small businesses with loans.
"It is because of our investments in these organizations that they can provide credit to help a business get some initial seed money, buy a piece of equipment, or increase their inventory, all of which help their business be successful," Gorynski said.
FNBO's Mission Evolves to Meet Future Needs
The proof of FNBO's effectiveness is in its progress toward the tangible goals the bank has set for 2020. In four years, the institution has made enormous strides in education, housing, and economic development.
"We've made great progress over the last three years against each one of those goals, and we're proud of what our community partners have accomplished," Gorynski said. "By the end of 2019, we will hit our community investment target. By last year's impact report, $84 million had been invested out of our overall target of $85 million. After this year, we will be well over $100 million reinvested."
In 2020, when the four-year mission wraps up, FNBO's institutional strategy will reset. Its ongoing work in its three areas of focus will continue to evolve and mature to meet the needs of communities and small businesses, but its guiding vision and mission will remain the same.
"What we're doing moving forward is having a stronger corporate social responsibility posture in these areas. It's not just our philanthropy, impact investments or volunteers that are making a difference," Gorynski said. "Our goals and what we focus on will stay the same. We're just demonstrating all the ways we contribute to those goals."