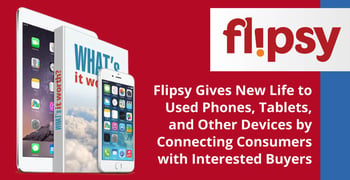 Experts share their tips and advice on BadCredit.org, with the goal of helping subprime consumers. Our articles follow strict
editorial guidelines
.
In a Nutshell: As technology progresses, consumers often find themselves with outdated electronic devices. Flipsy allows them to field offers and get a good return for their old tech rather than letting it collect dust or trading it in for minimal value. The platform also lists prices and connects users with buyers for damaged or locked devices, and features a bulk selling capability, making it easy to sell many devices at once. The platform enables sellers to get some value out of items they don't use while also keeping hazardous waste out of landfills.
When consumers decide to upgrade to a new tablet or mobile device, their old one often ends up thrown in a junk drawer, sitting on a shelf, or tucked away in a closet. Even worse, they may eventually get thrown in the trash, which is not only bad for the environment but also could be throwing money away.
That's because those old devices, even the damaged and broken ones, can still carry plenty of value. But selling or trading them can be frustrating because many carriers and buyers don't offer what they're worth.
"You have different options to sell your phone or trade it in," said Brian Morris, Communications Coordinator for Flipsy. "You have the carriers, but they typically don't pay as well as some other buyers might. And with carriers, of course, you typically get trade-in credit for the next phone or accessories. When you sell to a buyback store, you get cash, so you can spend it however you like."
Flipsy is a marketplace where consumers can sell their used — and even damaged and locked — phones, tablets, and other devices, including smartwatches and video game consoles.
The selling process is simple and bypasses the hassle of finding a buyer and negotiating a price on your own. And with Flipsy, users typically receive more than they would from trading a phone in with a carrier. That can give old devices a new purpose, and provide users with some extra spending money, all while keeping potentially hazardous waste out of landfills.
"Keeping your ewaste out of landfills is a big deal," Morris said. "If people decide not to sell their phone, we also have a list of charities that will accept used phones, and most of our vendors will recycle phones if they can't use them. But, in most cases, you can sell it, so you can recycle your phone and get some money in the process."
Striving to Provide the Best Prices for Old Tech
Flipsy users begin the process of selling their phones by going to its homepage and entering the model and carrier. The platform returns a list of buyers and prices currently offered for that device. Those offers can be as much as 30% more than carrier-trade in values.
And selling through Flipsy saves the time and hassle of creating a listing on eBay or Craigslist, uploading photos, and negotiating prices. Additionally, it saves money because it doesn't charge listing and payment processing fees.
"With some platforms, you have to meet the buyer in person," Morris said. "They may not show. They may even be scammers, but we eliminate all of those hassles and make it a nice, quick, and easy transaction."
After reviewing buyer offers, users can select the best one. Flipsy then directs them to the buyer's external web page to complete the transaction.
"Once you accept an offer and you complete that on the buyer's website, they'll either give you a printable, prepaid shipping label, and you can use your own packaging. Some will even send you a complete prepaid kit with box," Morris said. "Then you put your phone in it, drop it in the mail, and they'll issue payment within three days after it arrives. You typically have your choice of check or PayPal, but some do echecks or even Western Union."
Flipsy also includes a Price Watch feature, which notifies sellers by email when the selling price for their devices changes, helping them choose the right time to sell. They can also take advantage of a Price Lock, which guarantees a given sale price for up to 30 days. That allows potential sellers to ensure they get the best price, but also avoid problems, including getting stuck without a phone.
"Say Apple releases a new phone, and you order the phone, but you may not get it for two weeks," Morris said. "In those two weeks, values for old phones may drop anywhere between 15% and 40% because the secondary market is anticipating this massive influx. But you can lock in that price now, get a new phone, and sell your phone later without losing that value in the interim."
Find Buyers for Damaged, Locked, and Bulk Electronics
Some Flipsy buyers will also purchase damaged phones or tablets. The platform hosts condition guides for Apple and Samsung products, helping sellers evaluate the state and value of their devices.
Flipsy also connects sellers to buyers seeking locked phones. Working around that technical problem may not be within the average consumer's skill set, so selling the device could be their next best option.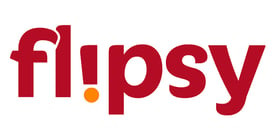 "Sometimes you have a situation where someone has been locked out of their phone, and that can happen for legitimate reasons. Maybe a family member passed away or gave it to them, and they don't know how to get back in the phone," Morris said. "Because you're not the original owner, Apple may not be willing to help you. We can help them find a buyer for those kinds of phones."
Finally, Flipsy has a bulk selling option for individuals who want to sell many devices quickly. This option presents a potentially lucrative opportunity for anyone who possesses a keen eye for used tech and is willing to take the time to scour local and online venues for hidden bargains.
"Maybe they want to find some phones locally and flip them for a profit," Morris said. "We have a bulk selling option where they can put in a lot of devices at once and then get a quote for all of them. It's an efficient way for someone to sell a lot of used tech at once."
Protecting Both Personal and Environmental Well-Being
All buyers listed on Flipsy are trust verified; that means they will pay within three days of receiving a device, they offer free shipping, and have a track record of positive independent reviews. Those credentials ensure that users are dealing with legitimate businesses and not scammers.
"If we have a store that doesn't meet our standards, we won't allow them on the site," Morris said. "And we're always here if there is ever an issue with a buyer. You can come to us."
Although all of the businesses are legitimate, it's still a good idea to take extra steps to ensure the security of your data when selling a device. Before sending a device out, sellers should remove its SIM card, disconnect any accounts they've accessed, remove activation logs, deactivate find-my-phone features, and reset it to factory settings. And Flipsy provides free guides on its blog to help sellers with those tasks.
"The buyer typically does all of that anyway, but if it's me, I want to do that before it goes out the door," Morris said.
Those measures ensure that sellers are protected and that their information — including financial data — remains secure.
And selling through this marketplace also helps protect the environment by keeping ewaste out of landfills. An informative Flipsy blog post explains some of the hazards ewaste poses to environmental health. It also includes a directory of recycling centers for anyone who decides not to sell and wants to know where to dispose of their device properly.
Flipsy Guides Uncover Value Beneath Cobwebs and Dust
Consumers often turn to Flipsy when they decide to unlock the value of their tech that is filling up junk drawers, sitting on shelves, or collecting dust in their closets. But what about other items around the house like an old stack of magazines, a bin full of action figures, or even old VHS tapes?
"Some of that stuff is really valuable," Morris said. "You can find an action figure that's worth $2,000 or an old magazine worth $10,000."
To help assess the value of some of these forgotten goods, Flipsy offers guides to assist consumers in the hunt for treasures lost in the depths of their closets and storage rooms. Its guide to old magazines explains the value of misprints, recalls, and issues featuring historical events.
In the realm of old VHS tapes, there may be value in those old horror films or children's movies and programs. And if you have any old "Star Wars" toys lying around, you could be sitting on a goldmine.
Flipsy can help people assess their value, or sell their outdated, but still in-demand, phones and devices. To quickly find the value of a phone, users can even download the free Flipsy app.
The company is also planning to roll out a new feature that will include more independent and local shops in its buyer lists. This expanded scope will direct business to smaller establishments while helping sellers get top dollar for their used electronics and keeping dangerous chemicals and pollutants out of the environment.