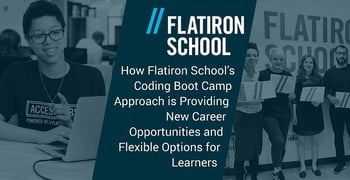 Experts share their tips and advice on BadCredit.org, with the goal of helping subprime consumers. Our articles follow strict
editorial guidelines
.
In a Nutshell: Jumping out of one career to fulfill a dream in another can be a daunting prospect, particularly when further education is involved. Flatiron School helps to facilitate these difficult transitions with its accelerated courses in software engineering, data science, and UX/UI design, and flexible options for students. The school's approach has inspired an entire coding boot camp industry, and we recently spoke with Avi Flombaum, Co-Founder, Dean, and Chief Product Officer of Flatiron School, who discussed what the school has to offer and provided some valuable advice for those looking to start a new career in programming.
Everybody has daydreamed about changing careers, no matter how realistic the prospect might be. We wonder what it would have been like if we had enrolled in a particular class or earned a certain certification earlier in our career.
Of course, people say it's never too late, but the idea of going back to school while juggling a full-time job, family obligations, and keeping up with finances is not exactly conducive to chasing one's dream.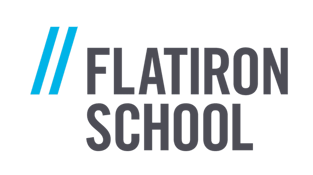 But, Flatiron School is making it possible for just about anybody with a passion for a career in programming to make the leap with flexible financing and course options.
Case in point — a few years ago, Flatiron School was working with a production company to film a promotional commercial, and after the shoot, one of the production assistants enrolled in the school. He was able to change career paths and realize his dream of working with computers.
"Within 12 months, the production assistant was working at NASA's Jet Propulsion Laboratory," said Avi Flombaum, Co-Founder, Dean, and Chief Product Officer of Flatiron School. "And, he's still there today. It's a great story."
Flombaum said that he and co-founder Adam Enbar started Flatiron School in 2012 with the idea to make education a valuable investment once again by offering a realistic path to a career in programming.
A Range of Programming Courses with Online or In-Person Options Make Career Change Dreams a Reality
"When people talk about what makes education inaccessible, they generally talk about cost, with ballooning student debt and increasing default rates," Flombaum said. "But there are also barriers because of jobs, parenting duties, and location."
That's why Flatiron School — based in New York City — maintains robust online programs as well as nine campuses in Atlanta, Brooklyn, Chicago, Denver, Houston, London, Manhattan, Seattle, and Washington, D.C.
Flombaum said that the online courses work well for many of Flatiron's students but having an in-person experience helps build connections between students. He said he has seen performance drastically improve in some cases because of the availability of Flatiron's physical campuses.
To further support remote learners, Flatiron School gives students enrolled in its full-time and part-time online courses the opportunity to connect in-person with other learners in their area by providing a one-year WeWork hot desk membership included in their tuition. Online students also benefit from learning with a small cohort and a dedicated Cohort Lead who teaches and mentors throughout the entire course, along with regular one-on-one meetings with coaches and instructors who help online students to stay on track.
"Increasing accessibility is one of the best ways to serve our students," he said. "We think a lot about not only location but format and pacing."
Pacing is extremely important, Flombaum said, because he believes just about anyone can learn to program but not everyone can do it in 15 weeks. He said they don't correlate speed with students' ability to acquire knowledge.
"We wanted to provide options where, if you wanted to develop your programming skills but, for whatever reason, it may take you 14 months, we're here to support you," Flombaum asked.
He said Flatiron also makes it easy for students to move between an online program to on-campus, and vice versa, if there is a family emergency or other obligations arise.
Flombaum said all jobs in the future are going to require a degree of fluency with technology that isn't being addressed by traditional higher education. Additionally, if someone already has a college education, going back to school for computer science doesn't always make sense.
"It's very difficult to go back to college and major in computer science because you're not just taking computer science classes," Flombaum said. "You're going to take two or three classes a year in pursuit of your major, along with a bunch of other courses, and you can't unbundle it."
He said traditional education is simply not adapting fast enough to industry needs.
"In the past, there were only two ways to become a programmer — teach yourself or get a computer science degree," Flombaum said. "That's where we fit in. We want to give people another pathway to these types of skills and opportunities for a career in programming."
Flombaum noted that Flatiron School offers a deferred tuition program for students earning less than $35,000 per year at its Access Labs location in Brookley. The school also has other options for students to pay in installments and a number of scholarship opportunities. "Anything to help out when the idea of paying for everything up front is cost prohibitive," he said.
How Flatiron School Inspired a Coding Boot Camp Industry
"Alongside a scrappy community of students ready for a new way to learn, they launched Flatiron School — an accelerated programming school that inspired a coding boot camp industry," reads the Flatiron School website of Flombaum and Enbar's origin story.
"I left my last startup around seven-and-a-half years ago and I wasn't sure what I wanted to do," Flombaum said. "I started teaching programming classes on the side. I was mentoring my best students and helping them get jobs."
After about seven months, Flombaum met Enbar via Twitter and was intrigued by Enbar's idea to start a programming school that was focused on helping people get jobs in the industry as quickly as possible.
Flombaum said around that time, he had been discussing the idea of a coding boot camp with Shereef Bishay — who would go on to be a co-founder of Dev Bootcamp — and Jeff Casimir — co-founder of Hungry Academy, an initiative by Living Social that created a pool of programmers from which the company could hire. They were discussing ideas about accelerated programming initiatives, and how people might benefit from them.
"We announced Flatiron School in June or July of 2012, and like two months later there were like 20 other coding boot camps," Flombaum said. "Recently, Shereef, Jeff, and I were catching up, and we were kind of astonished because all these other boot camps popped up and they basically copied our model."
For Flombaum, watching the boot camp industry evolve and observing which ones succeed and which ones have failed has been fascinating.
"We threw a dart at the wall and drew a circle around it and called it a bullseye," he said. "What's kept Flatiron successful is that we're always thinking about what is or isn't working, from curriculum to format, to how we leverage technology to provide accountability and structure to students."
Expert Advice for Those Interested in Starting a New Career in the Programming Industry
Flombaum offered up some valuable advice for anybody interested in pursuing a career in the world of programming.
"The most important thing is that they find something in the realm of technology that they really love and connect with, whether it's web development or software engineering, design, UI, UX, digital marketing, or data science," he said.
Ultimately what's going to make a person successful is a passion and a grit not only in learning the skill but in also practicing it, Flombaum said.
And, he said although it is important to be prepared, Flombaum cautioned against diving back into education too deeply to begin with.
"A lot of times, people who haven't been in an educational experience for a while get really motivated about a change, and then they try to spend like eight hours learning about something on a Saturday," he said. This is like a person deciding to train for a marathon and trying to run 26 miles on his or her first day.
He said people must build their mental muscle through routines so they don't exhaust themselves or become demotivated.
"Make a commitment to spend a half hour a day trying to learn one thing in code or in design and then incrementing that to 45 minutes the next week, then an hour next week," Flombaum said. "Don't go whole hog right away."
He said to also plan ahead by talking to your loved ones and coming up with a financial plan, not only for how to afford a program but how to afford your life while you're in the program and through your job search.
Talking to the schools is also very important, he said, to make sure they are reputable and can provide specific data on things like job placement and graduation rates. "If a school can't give you specific answers, there's a reason why," he said.
Flatiron School boasts a 99% job outcomes rate for on-campus graduates and a 94% job outcomes rate for online students who took full-time salaried roles, paid apprenticeships, and part-time roles during the reported period included in its most recent outcomes reports.
"If you're stuck in a place and unhappy in your situation — whether it's economic or you're not enjoying what you do — you have to take actions to start changing because it's not going to change for you," Flombaum said.
Collaborating with Yale University on a Web Development Boot Camp for Summer 2019
Up next for Flatiron School is a collaboration with Yale University. In early December, the institutions announced a partnership on a Web Development Bootcamp for Summer 2019. The 10-week course — CPSC S115 Intro to Full-Stack Web Development — will be worth two credits for Yale students.
"The Yale-Flatiron School course will augment Yale's Computer Science curriculum by providing instruction in the fundamentals of computer science and coding, knowledge that will benefit students, whether they go into industry or to graduate school," said Yale Dean of Summer Session Marvin Chun in a recent announcement.
In the meantime, Flombaum said that, for anyone interested in exploring a career move that takes them into the programming industry, Flatiron School's website has a lot of free resources on design, data sciences, and software engineering.