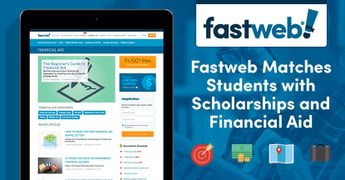 Experts share their tips and advice on BadCredit.org, with the goal of helping subprime consumers. Our articles follow strict
editorial guidelines
.
In a Nutshell: Fastweb is a free service that connects college students to a database of over 1.5 million scholarships that amount to $3.4 billion in funding. As a leading platform for beginning a financial aid search, students can use Fastweb to find scholarships they'd like to apply for and to keep track of completed applications. Fastweb's vast resources can help students in both navigating college life and starting a career post-graduation. Applying for scholarships can be a time-consuming and tedious process, but finding opportunities to save on education doesn't have to be.
I attended college…a while ago. The internet was young, and I kept hearing stories about the millions of dollars of unused scholarship money that went unclaimed each year, simply because students didn't apply.
I remember spending hours at the public library, using their dial-up internet connection to search for scholarship information, which I meticulously recorded in a spiral notebook. It was a time-consuming process, yet, for all that time spent, I received very little scholarship money to show for it.
Finding money to pay for college is so important to many students, and some families don't have the financial resources to be able to afford higher education without receiving scholarships. Yet without the right resources, students and their parents can spend a lot of unproductive time searching for scholarships, sending applications, and keeping track of the ones they've already applied for.
Many people leave money on the table because they just don't have the time or organizational skills to manage such an exhaustive process. The result is paying more out-of-pocket for a college education — often using high-interest credit cards.
Financing your education with a credit card is always a risky proposition. Firstly, many universities have started charging convenience fees for credit cards, which can run anywhere from 2 to 4 percent. Those convenience fees can really add up over the course of a four-year degree.
Secondly, student loan payments can be deferred while you're in school or during periods of unemployment, but credit card companies don't offer that same flexibility. If you're unable to continue making payments on the amount borrowed, your credit rating can take a major hit.
How can parents and students save time finding money for college? Fastweb is an extensive, online database that helps students scour the web for available scholarships, select ones to apply for, and keep track of pending applications.
It's a one-stop shop for finding money for school — where students and their parents can locate not only scholarships but additional financial aid resources and a wealth of helpful content and tools to find the best solutions for them.
$3.4 Billion Spread Across 1.5 Million Targeted Scholarships
Fastweb maintains a database of over 1.5 million scholarships worth more than $3.4 billion. They have scholarships for every type of student, from high school students just beginning to consider their futures, to adults returning to complete a degree. Both students and parents of students can set up a free Fastweb account, as long as the student is at least 13 years of age.
Once you register and complete your online profile, Fastweb will use the information contained within your profile to match you with scholarships in their database. Its search engine can introduce you to scholarships that are tailored to your interests, hobbies, athletic talents, qualifications, academic goals, extracurricular activities, and demographic information.
Any scholarships you don't qualify for are ruled out, saving you time that would otherwise be spent combing through scholarships for which you aren't eligible.
Once you receive your scholarship matches, you can click on an award name to visit the Scholarship Details page. Once there, you can go to the scholarship's website to get more information and instructions on how to apply.
Chances are, your list of potential matches will be pretty extensive, but if you're looking for even more opportunities, Fastweb will continue to notify you when new scholarships that fit you are added. Sign up to receive these notifications in the "Subscriptions" section under My Profile.
You'll receive notifications for new awards, scholarship deadline warnings, and a weekly newsletter to keep you up to date, so you won't miss out on money that's been set aside to help you achieve your academic dreams.
Articles and Resources for Students, Parents & Educators
As important as scholarships are, there's a lot more that parents, students, and educators need to know about college and life after college.
If you're still deciding on a college destination, Fastweb provides a College Search tool to help you explore thousands of colleges without leaving your house. You can search for colleges by location or major, or check out articles with questions to ask when considering potential colleges.
They also provide information for completing the Free Application for Federal Student Aid (FAFSA), saving for college, and applying for private student loans and grants. Check out articles to help you claim valuable education tax credits or find out how veterans can take advantage of free college tuition at select schools.
Once you're enrolled and on your way to completing a degree, Fastweb continues to provide help for new college students by offering advice on test preparation and information on student life. And remember, the scholarship pursuit doesn't end once you arrive on campus — you can and should continue searching for scholarships throughout your college career because there are many single-year awards for current students that must be applied for annually.
Educators can find helpful resources for helping their students navigate the financial aid and scholarship application process, included printed materials to distribute to students. Fastweb's free publications are updated with the latest information each school year, or you can download and print your own.
For example, they offer bulletins with information on admission timelines, step-by-step advice for completing the FAFSA, posters to hang in the classroom or financial aid office, and Quick Reference Guides with information on scholarship scams, academic calendars, and contact information for additional resources.
Fastweb is a member of the Monster.com network, so career connections are the next logical step. The Career Planning section provides internship matching, job searching through the Monster.com search engine, and advice on resumes, cover letters, and interview etiquette.
Students can get help choosing a major based on the highest starting salaries or find out what their dream job pays. Once you land an interview, Fastweb provides helpful advice for negotiating pay and benefits and questions to ask before accepting an offer.
Finally, because saving the money you have can be just as important as getting money for college, Fastweb provides a Deals & Promos page to help students save money on things like computers, cars, and shopping for school supplies and clothes. New deals are being added all the time, so checking back regularly will help you stay on top of new offers.
Fastweb is the Leading Online Platform to Begin Your Financial Aid Search
No matter where you are in your college career, Fastweb has resources and information to help you find money for college instead of financing your education with high-interest credit cards that can leave you in debt for years after graduation.
Their online search engine helps narrow down the scholarship search quickly and efficiently to better match students with appropriate opportunities. Once you find a scholarship you are interested in, Fastweb allows you to mark that scholarship as "will apply." You'll then receive reminders about the deadline as it draws near to make sure you don't miss it.
Overall, Fastweb's easy-to-navigate site provides a tremendous time-saving benefit. Instead of sorting through hundreds or thousands of individual scholarships, simply enter your information once, and their system will match you with all of the awards for which you are eligible.
While taking the time to fill out each scholarship application is still be a time-consuming process, the search doesn't have to be. If you're willing to take advantage of Fastweb's powerful tools, you're much more likely to get the financial assistance you need to make your collegiate dreams a reality.