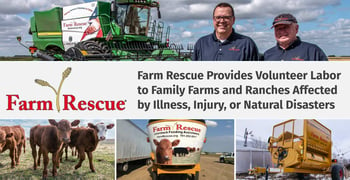 Experts share their tips and advice on BadCredit.org, with the goal of helping subprime consumers. Our articles follow strict
editorial guidelines
.
In a Nutshell: Farming is a challenging profession, and an unfortunate event like a medical emergency or natural disaster can mean the difference between success and failure. Farm Rescue offers help in key agricultural states through volunteers and equipment to keep family farms and ranches afloat amid injury, illness, or natural disaster. Once individuals apply for assistance, a fast evaluation and approval process ensures they can get help with planting, harvesting, or recovering from droughts or flooding. Even through pandemic conditions, Farm Rescue remains committed to providing whatever aid it can to support the Midwest farmers and ranchers who help feed America.
Bill Gross was born and raised on a family farm, and, as a boy, he assumed that he would take it over someday. But financial constraints brought the family business to a premature end. Instead, Gross went to college and earned his Airline Transport Pilot certificate. Then, he started a successful career, not as a farmer, but as a full-time pilot for UPS.
In 2005, while cruising high above the Pacific Ocean in a Boeing 747, a fellow pilot asked Gross what he planned to do when he retired. Gross, whose heart was forever down on the farm, replied that he would buy a tractor and help in-need families, like his had been, to plant and harvest crops when they couldn't do it themselves.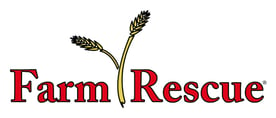 "He knew how important that work was. And so his friend said, 'Why wait until you're retired?' And that's what got the ball rolling. He figured out ways to make this happen," said Dan Erdmann, Marketing Communications Officer at Farm Rescue, the organization Gross founded to accomplish his goal. "It's not a new concept, the idea of neighbors helping neighbors. It's been taken to a new level with the work we're doing."
As of 2020, Farm Rescue has assisted nearly 700 family farms and ranches that have found themselves unable to conduct day-to-day operations due to injury, illness, or natural disasters.
The nonprofit organization originated in North Dakota, and today, in addition to its home state, most of its coverage is in South Dakota. But it also offers aid in Montana, Minnesota, Iowa, and Nebraska. By providing labor, equipment, and oversight, Farm Rescue ensures agricultural production continues, and legacies remain intact for generations to come.
Volunteers Aid Injured and Ill Farmers and Ranchers
When a farm or ranch approaches Farm Rescue for help, the organization turns to local volunteers, although it may also call on those from other areas to provide extra assistance. Together, these selfless workers plant, haul hay, harvest crops, and feed livestock, among other tasks, so farms and ranches can remain up and running.
"We'll typically do up to 1,000 acres for planting cases or harvest cases," Erdmann said.
In spring and fall, volunteers submit their schedules to Farm Rescue, and the organization drafts a master schedule of all available workers. When a call for assistance comes in, Farm Rescue knows who is available to lend a hand.
Erdmann says some 70% of volunteers return each year. New volunteers are placed under the guidance of veterans experienced with the farming methods and the equipment — most of which is supplied by Farm Rescue and its sponsors.
"We try to have the seasoned veterans on all crews matched with some of the newer volunteers so they can make sure things get done the right way and the safe way," Erdmann said. "They're all trained in advance. We also have video training that people go through and safety handbooks that they have to read before they participate."
Those volunteers include some retired farmers who want to stay active in agriculture and help others pursue the profession. Others include law enforcement agents, pastors, pilots, retired military members, and even one NASA scientist.
"It's truly all walks of life," Erdmann said. "The common denominator is they want to help people in need."
Quick Assistance Available by Phone Call or Email
Farmers and ranchers can apply for assistance over the phone or through the Farm Rescue website. And, in cases involving injury or illness, the organization requires a doctor's note for confirmation.
Aid recipients must operate active, viable farms, and have been doing so for at least three years. The farm or ranch can't be on the verge of bankruptcy. While Farm Rescue welcomes donations to support its operations, it doesn't provide monetary assistance or bailouts to struggling farms.
Farm Rescue's president and board of directors reviews each application. Erdmann said the response time is quick, ensuring distressed farms receive prompt aid that will allow them to continue operating with minimal disruption.
"We want to truly help the people that need it and want to continue doing what they're doing," Erdmann said.
Farm Rescue also accepts referrals from friends and neighbors of ill or injured farmers. The organization will then reach out to the potential recipient, explain how they learned about the situation, and extend an offer to help them through difficult times so they can continue their businesses and ultimately pass it on.
"Our goal is to extend the livelihood of farmers and ranchers so that they have something to pass on to their son or daughter for future generations," Erdmann said. "The rate still in operation three years after receiving our help is over 90%. And that's what we want to see."
Labor and Logistics to Support Farms During Disasters
In addition to supporting ill and injured farmers, Farm Rescue provides support during and after natural disasters. Aid ranges from individualized assistance to farms and ranches affected by drought as well as general help with broader relief efforts. In 2019, for example, when major flooding hit Nebraska and parts of Iowa and South Dakota, Farm Rescue stood ready to lend a helping hand.
"This is not something we do all the time, but we also try to look at how we can assist with our resources in a major natural disaster like that," Erdmann said.
The organization's efforts included collecting donated hay and hauling it to affected areas using their volunteers and trucks. Farm Rescue also coordinated with independent drivers to deliver donated hay to disaster zones.
"A lot of those people, their entire hay crop was wiped out by flooding, and they lost a lot of cattle," Erdmann said. "I think, in all, we helped more than 100 families connect with hay through all of that."
Farm Rescue provided similar aid during a recent drought in the Dakotas and when wildfires raged in South Dakota. Wherever farmers and ranchers fall victim to the volatility of nature, Farm Rescue looks for ways to help them sustain their farms until conditions improve.
"Little things like that pop up during our normal operations and create some challenges for us. We want to help as many farmers and ranchers as possible however we can," Erdmann said.
Farm Rescue: Keeping Agriculture Afloat and Shelves Stocked in Times of Crisis
As a boy, Gross learned firsthand that farming is a tough profession and susceptible to many pitfalls. It requires significant investments in land, equipment, labor, and materials, and it offers no guarantee those investments will pay off.
"Every year is a gamble because you can't control the weather, and you can't control the markets and the price for what you're going to get for your products," Erdmann said.
"Nobody's immune to the challenges of farming. Any given year could be the end of an operation."
The early months of 2020 have thrown Farm Rescue and its beneficiaries a new curveball as the COVID-19 pandemic spreads across the United States. On one hand, rural areas may be less susceptible to outbreaks due to low population density and the absence of tourism. On the other hand, when an outbreak arrives, it can take a significant toll, as rural populations tend to be older and further away from healthcare facilities.
That is troubling not just for small farmers and ranchers but also for the nation as a whole. According to the University of Michigan's U.S. Food System Factsheet, family farms account for 65% of agricultural production in America. Due to the reliance on those sources, a widespread downturn in this sector could be disastrous for the food supply. But as with other natural disasters, Farm Rescue is ready to help however it can.
"Agriculture is one of those essential sectors, too, so the work's going to go on," Erdmann said. "And we are going to find a way to make it happen."