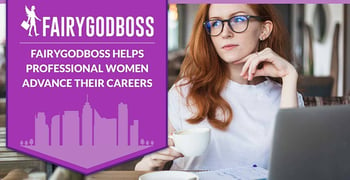 Experts share their tips and advice on BadCredit.org, with the goal of helping subprime consumers. Our articles follow strict
editorial guidelines
.
In a Nutshell: Women seeking more equitable employment opportunities often turn to Fairygodboss, an online platform for anonymous company reviews and other valuable resources for professionals. Reviews give job hopefuls inside information about how friendly a workplace is for women, including salary, opportunity for promotion, and duration of maternity leave. Fairygodboss provides a maternity leave information center aimed at those who want to start a family while maintaining their career. The platform also encourages work-life balance and helps users determine which companies facilitate that equilibrium for female professionals.
In 2015, Georgene Huang was abruptly released from her executive role at a publishing company. She was two months pregnant and faced the daunting task of applying for senior positions with new employers. She needed to know about maternity leave, job flexibility, and other aspects of work-life balance at each company — rather polarizing questions to ask when trying to get a foot in the door.
These concerns motivated Huang to try an experiment. She wanted to see if women would anonymously share similar experiences and information about these and other workplace topics. She found they were more than willing to do so. She realized she'd stumbled upon a valuable resource and wanted to share it with others, so Huang became the Co-Founder and CEO of Fairygodboss, the largest career community for women.
"We started as an anonymous review platform and have grown to include career-focused content and our own research," said Mary Pharris, Director of Business Development and Partnerships at Fairygodboss. "We work with employers on their job listings and their branding to help them show why they're a great place for women to work. It's about helping women find the answers to those hard-to-ask questions."
At its core, Fairygodboss is women helping women. The platform hosts job listings and reviews of companies that focus on women's experiences working there. Users can connect directly with others, ask questions, and provide answers while remaining anonymous. Fairygodboss also provides curated features, guides, and informational resources on subjects that help women thrive in the workplace.
Anonymous Reviews Provide Insight into Company Cultures
Fairygodboss reviews allow women to share stories and opinions about working at a company. They can rate their employer and provide information relevant to prospective employees to help them make informed decisions about joining the team.
"It offers the perspective of what it would be like to be a woman and work at 'Company X.' We ask about 15 questions, and it's wide-ranging. It includes overall job satisfaction, salary levels, leave benefits, and whether the CEO supports gender diversity. And from all the reviews we've received — which are all crowdsourced — we've created valuable resources."
Reviews include information about recent salaries and bonuses, amount of maternity leave, treatment of women, and attributes of the job that foster — or impede — a healthy work-life balance. Reviewers may include suggestions for company improvement and offer recommendations for women who are considering applying for a job in that workplace. They summarize their experience in the form of a 1- to 5-star rating.
"We find that one area in which women feel they are treated unequally is in access to promotions. Some things, like equal pay, you might expect, but an equal promotion structure is even more attractive," Pharris said. "We also have a great salary exploration tool through which you can explore different companies, roles, and locations to see what women are averaging in terms of pay."
Fairygodboss has profile pages for individual companies to provide additional insights. These pages allow users to evaluate other major benefits, including 401(K) matching, health care benefits, on-site childcare, and various other perks offered by an employer. And when users find an attractive job posting on Fairygodboss, they can visit the company's profile to see if the position and employer are a good fit.
Resources for Navigating Maternity Leave and Parenthood
In the maternity leave information section, users can learn more about the types and durations of leave a company offers, including how much paid and unpaid time is available to each employee. This database is searchable by industry and by company.
"Our maternity leave resource center is the only crowdsourced database in the U.S.," Pharris said. "If we've gotten information about maternity leave, paternity leave — really any paid family leave — you can look it up and see what those benefits are."
In addition to company information, Fairygodboss offers an array of other maternity leave resources. The Products and Services page lists educational books, articles, and services to help women and their employers make the most of maternity leave. The pages for the Family and Medical Leave Act of 1993 and the Pregnancy Discrimination Act of 1978 contain information and links to resources regarding legal protection for new and expectant mothers.
Fairygodboss provides maternity leave guides and articles to help readers navigate pregnancy, motherhood, and personal leave and career, financial, and legal concerns pertaining to these topics.
The Legislation section contains more information on specific maternity and paternity leave laws in the U.S. This can help women and their spouses understand their rights in the state where they live — or a state to which they may move. It offers a color-coded map to help users interpret which states rank highest and lowest in terms of labor rights for pregnant women and new mothers.
Evaluating and Encouraging Work-Life Balance
Work-life balance refers to a person's ability to establish and maintain a healthy equilibrium between professional and personal life. This is important for everyone, not just women, but it's especially so for anyone starting a family, raising children, or planning to do so. Fairygodboss's Work-Life Balance Guide helps women find information and discover employers who offer the flexibility they need to find a happy medium.
Users can explore companies that offer part-time work, flexible schedules, and telecommuting positions including freelance and independent contractor roles. Review pages for individual companies include a work-life flexibility rating. Women with experience in these workplaces score the balance-friendliness of the employer's working hours, policies, and company culture.
Respondents can also leave comments with recommendations for ways a company can improve work-life flexibility for its employees and increase retention of female employees.
Comment sections enable users to offer remarks and insights about a workplace and provide qualitative, experience-based perspectives. On their profiles, companies can also state their cases with specific information about how they implement and facilitate work-life balance for their employees.
Community Engagement Helps Women Thrive at Home and in Their Careers
Since its inception, Fairygodboss has facilitated engagement between professional women who wanted answers about how they'd be treated in the workplace. That engagement of a community of peers is still a vital aspect of the platform. In its Community section, users can ask questions and have conversations beyond company reviews and ratings. The discussions aren't limited to work-related topics, but the discussions apply to women's lives at home and in the workplace.
Boards are organized into topics including Career, Salary, Money, Women in Tech, Consulting, and Diversity and Gender Equality. Users seeking more information on work-life balance can visit sections devoted to Parenting, Health, and Lifestyle and Relationships.
"Women want to share their experiences and help other women by leaving reviews and engaging with our content. We're excited to continue reaching new users and making our platform available to every woman at any point in her career." — Mary Pharris, Director of Business Development and Partnerships at Fairygodboss
To encourage users to engage in these group conversations, Fairygodboss offers rewards to active members. These include items ranging from tote bags and T-shirts to gift cards and cash. This reward system incentivizes information sharing and facilitates the platform's growth, ensuring it remains a valuable resource for professional women.
"Women want to share their experiences and help other women by leaving reviews and engaging with our content," Pharris said. "We're excited to continue reaching new users and making our platform available to every woman at any point in her career."