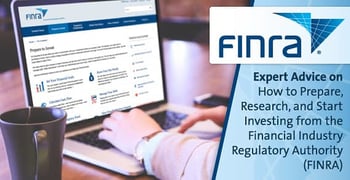 Experts share their tips and advice on BadCredit.org, with the goal of helping subprime consumers. Our articles follow strict
editorial guidelines
.
In a Nutshell: While many people hear the term "investing" and think stocks, bonds, and dividends, according to the experts at the Financial Industry Regulatory Authority (FINRA), investing is more than just portfolios. Investing is all the choices we make about our money, and great investments don't always involve the stock market. For those dealing with high-interest debt, the best return on investment will be to pay down that debt — by any means necessary. Regardless of age or income, anyone can invest in their own financial future with the right planning and resources. Whether you're investing in paying down debt, or in stocks and bonds, FINRA has the resources to help you become a wiser and safer investor.
Though gravity may technically be the driving force behind the movement of objects in the universe, it often seems that (to paraphrase Liza Minnelli) money is the force that makes the world go 'round. In our modern society, money directly impacts nearly every aspect of our daily lives, from buying that morning cup of coffee on the way to work — to the reason we go to work in the first place.
In fact, money is such a prevalent part of our lives that, according to a study by GOBankingRates, more than a quarter of Americans think about money more frequently than politics, their health, and even their love lives. And it isn't just those with money — or without it; young or old, rich or poor, we all seem to have our minds on our money.
Of course, chances are the nature of those thoughts may vary. For instance, the idea of investing can seem like an unrealistic priority for someone dealing with significant debt. When struggling to pay bills and make ends meet, the last thing you're likely to ponder is, "How should I diversify my portfolio?"
That said, while those who are working their way out of debt may not be analyzing stocks, bonds, or mutual funds, they can still be investing in their financial futures in other ways. The truth is, investing isn't only about options and securities; in the scheme of things, it's more like a way of life.
Just ask Gerri Walsh, Senior Vice President of Investor Education at FINRA (Financial Industry Regulatory Authority). "Investing is broader than your stock portfolio," Gerri explained. "When you take a look at investing, it's really about what you do with your money. It's the choices you make about your money."
While those choices do sometimes involve deciding what percentage of your retirement account should be devoted to stocks over bonds, investing goes much deeper than 401K allotment, especially if you are dealing with debt. Investing in your financial future involves the details of your entire financial life, starting with the basic foundation of how you allocate your paycheck.
"You need to take a hard look at your personal household balance sheet. Look at what your assets are and what your liabilities are. Get a holistic view of what money you have coming in, what money you have going out — and where it all goes," said Gerri. "Figuring out whether or not you have debt, then determining how you can manage that debt, can be the best investment you make."
Earn a Huge Return by Paying Down High-Interest Debt
To many, the stock market is a somewhat nebulous entity, almost like a capricious financial genie capable of granting great rewards — and just as capable of taking them away. In reality, the stock market's infamous volatility is simply a matter of perspective. When examined over the course of several decades, the stock market actually shows consistently positive returns of around 7% (adjusted for inflation) every year. That means a $10,000 investment in the stock market will, on average, grow by about $700 in one year.
As impressive as that $700 number might be, however, it's actually paltry in comparison to the amount many Americans are paying on their high-interest debt every year. High-interest debt, such as credit cards, often carry interest rates in the double-digits — significantly higher than the measly 7% of the stock market. Moral of the story? Paying off your high-interest debt will earn you a greater return than investing in the stock market ever will.
"If you have debt, the absolute best investment you can make is to pay down any high-interest debt that doesn't benefit you," said Gerri. "There's a big difference between a high credit card bill and a mortgage loan, of course." Where the average mortgage has an interest rate of about 4%, the average credit card has an interest rate of about 18.5%.
Gerri suggests young people, in particular, should focus on their high-interest debt, rather than putting money toward their retirement savings right away. But, she said, everyone should do what they can to pay down their debt as quickly as possible, regardless of age. If you're already well behind on investing for retirement, you need to take a long look at your spending priorities and find whatever savings you can.
"I'm not talking about giving up your latté — and all of a sudden compound interest is going to give you a fantastic retirement savings account," Gerri explained. "I'm talking about thinking hard about wants versus needs, and where you might be able to trim the expense side of your balance sheet. There are lots of things that are actual needs, but maybe there are ways the extras could be trimmed off."
Knowing sometimes the budget can only be trimmed so far, Gerri also recommends considering the ways you can bring in more money. "Think about your human capital," she said. "Think about where your income comes from, and how you can increase that income. While it's not a traditional financial literacy tenet, one of the best things you can do if you're in that position is ask your boss for a raise."
If that isn't an option, she also suggests asking for overtime or extra shifts, or even taking on a second job entirely. "It could be dog walking, it could be blogging, it could be fixing cars on the side. It could be anything," said Gerri. "Just something that will advance your income and allow you to pay down your high-interest debt."
Start Your Investing Journey with the Right Resources
When your debt is under control, it's time to start investing in the more traditional sense, through a retirement or other investing account. Before rushing out to pick up stocks for all your favorite companies, however, you really need to do your research.
As one of the authorities regulating one critical part of the securities industry, FINRA offers a variety of resources to help people make better financial choices, invest wisely, and avoid fraud. Resources cover a range of topics and formats, including articles, tools, and even games. It also has an entire website dedicated to helping military families deal with their finances.
"People need information, then they'll use a tool or play a game; or, they'll play a game and want to learn more so they'll go look for the article," Gerri described. "Both delivery systems reach different people in different ways, and we hope it expands the field of people who are benefiting from the resources we offer."
In-Depth Guides
One of the more traditional resources offered by FINRA is the large library of articles and guides, covering everything from the different investment types and how to find a broker, to what to do with your retirement account if you lose your job. Want to learn how to spot investment scams? There's a detailed guide for that. Don't know your net worth? This article includes a sample net worth worksheet to help.
"We're always thinking of new topics, and the topics that we cover come from a variety of sources," said Gerri. "Sometimes it's because we're seeing trends in the media that lead us to dig further; at other times it comes out of our regulatory work. There are always issues for investors to tackle."
Financial Calculators
The wide variety of financial calculators offered by FINRA are arguably some of the most helpful resources in terms of illustrating your financial choices. The retirement calculator, for example, will help you determine how much you need to save each year to meet your retirement savings goals, as well as generate a graph to help you visualize your savings path. And the accrued interest calculator is a great way to see how various bonds will develop.
Research Tools & Analyzers
Some of the most popular resources on the site are the research tools and analyzers, like the FINRA BrokerCheck function that lets users research a particular broker or firm. Perhaps the most popular of all, the Fund Analyzer is a great tool for comparing mutual funds.
"It's a way to check out and compare mutual funds, and to really see the impact that expenses can have over time on the account balance," Gerri explained. "You can never control how the markets are going to react but you can control your costs, and the fund analyzer helps you see the impact of fees. Mutual funds come in all shapes and sizes, but the tool shows you how your fund compares with others in the industry, within a particular demographic."
The Fund Analyzer is about to get even better, too. "We have a prototype of the new tool," said Gerri. "We'll be accepting feedback on that prototype and, once we consolidate all the feedback, we'll be launching a new version of the Fund Analyzer."
Educational Quizzes & Games
While it may not always be the best reason, one of the common reasons people don't want to learn about finance is the impression that it is a boring subject. To help make finance feel a little more fun, FINRA's resources include a variety of games and quizzes designed to be educational but also engaging.
The Moneytopia Game and its associated tutorials, for instance, are an interactive way to learn about many financial topics, including maintaining a healthy budget while investing, avoiding investing scams, and comparing retirement plans.
Securities Helpline for Seniors®
Another resource growing in popularity is the Securities Helpline for Seniors, a dedicated staff of experts who are there to answer questions. The service, started because FINRA staff in the Boca, Florida, location received a large number of walk-ins with questions about their accounts.
Call 844-57-HELPS (844-574-3577)
Monday – Friday
9 a.m. – 5 p.m. Eastern Time
"A lot of them ask questions that are educational in nature. How do I check out my broker? What is a variable annuity?" Gerri said. "And they're asking these questions because somebody wants to be their new broker, or someone is suggesting they should put all or some of their assets into a financial product that they're not familiar with."
Since its launch in 2015, the helpline has opened more than 8,300 cases and, according to Gerri, has received calls from across the country as well as overseas. If the scope of the caller's question happens to be beyond the expertise of FINRA's professionals, they help the caller determine who to contact. "If someone is asking a question that's outside of our jurisdiction, or it's otherwise appropriate, we'll refer the call to a state securities regulator — or whatever the proper authority is," said Gerri.
It's Never Too Early to Start Investing in Your Future
Regardless of your age, gender, or income, chances are you think about money every day. And, regardless of your situation, it's never too early (or too late) to start investing in your financial future. While the nature of those investments may vary — such as investing in paying down high-interest debt, rather than investing in the stock market — having a well-laid plan is the key to a strong financial future.

For those who need a little help — and some great resources — there are the experts at FINRA, dedicated to helping investors of all types. "Our mission is investor protection and market integrity," said Gerri. "An educated investor is one of the best forms of protection, which is why we focus on putting out all these educational materials for consumers."