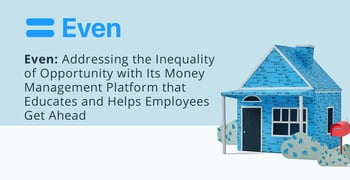 Experts share their tips and advice on BadCredit.org, with the goal of helping subprime consumers. Our articles follow strict
editorial guidelines
.
In a Nutshell: While talent is equally spread across the population, opportunity is not. That's the basic premise behind Even, a money management platform that helps users get ahead financially. The company works with employers to provide its financial solutions to employees. These solutions include automatic budgeting tools and a quick and easy way to see how much money users will have once they receive their next paycheck. Even also provides an automated savings option to help users stash funds away with ease. And it lets users gain access to fast cash for emergencies through its Instapay tool, which gives them an advance of up to 50% of their next paycheck with no fees.
In the United States, the doors of opportunity are open for all to succeed — in theory, anyway.
"The crazy thing is that the number one predictor of success in your life is how much money your parents had," said Jon Schlossberg, CEO of Even, a money management platform. "That's pretty unfair."
Schlossberg said there are a lot of reasons for this perfect storm of inequity. And while not all of those reasons have to do with finances, the vast majority of them do — such as having enough money in your bank account to be able to seize opportunities for yourself and your kids.

A motivated and smart student from an affluent family will have many more opportunities to follow a successful career path in life than an equally motivated and smart student from a low-income family.
"Do I have enough money to pay for my kid to get this unpaid internship? Do I have enough money to move to a new city where there are jobs to launch my career? Do I have enough money to pay for all 10 college applications that my daughter needs to get into a good school?" Schlossberg asked.
All these questions have to do with how much money a person has in his or her bank account, he said, which is how opportunity is created in our society.
And that's why Even exists.
"The whole point of the company is to try and close the opportunity gap," Schlossberg said.
Even works with businesses to give employees access to its tech-based platform that connects with payroll systems and makes managing finances more transparent and simple.
Making it Easy to Plan a Budget and Understand How Much Money You Have
Schlossberg, along with COO Quinten Farmer, launched Even in 2014 on the basic premise that although talent is evenly distributed, opportunity is not — and someone should do something about it.
After exploring numerous ways in which the duo could most effectively address this issue, they determined that the problem of opportunity is based on economic issues, and just below the surface is often a foundation of psychological issues.
"The reality in our country today is that most people don't have money in their bank account," Schlossberg said. "Roughly 70% of Americans are living paycheck to paycheck. They're not saving money, they're not putting money in their bank account. We're trying to solve that problem."
Simply put, Even works with employers to provide employees with a set of tools that aim to give them good information with which they can plan and make responsible decisions, Schlossberg explained. This is what people often want to do, he said, but aren't often empowered to do so because they don't have the information they need.
The platform connects with payroll systems and employees can access their financial information via the Even app.
"We make it really easy to know how much money you're going to have when your paycheck comes, which may seem like a trivial thing, but it really isn't," the CEO said. "People will use that part of the app every day because it gives you certainty around what your life is going to be like once you get paid."
Once the app users connect Even to their bank accounts, the AI-based technology helps them automatically plan budgets by analyzing their incoming funds along with their bills and other expenses.
It also helps users save.
"If you opt into it, we have a tool that will automatically save a portion of your paycheck in real-time as you're earning it," Schlossberg said.
Users don't even see the funds as they're being removed unless they select a special option in the app.
"You can withdraw it at any time. There are no fees or anything like that," he said. "We just add a little bit of friction to ensure that we're really tapping into that secret to success at saving."
Instapay Allows Employees to Access Their Earned Wages When They're Short on Cash
Schlossberg said another Even feature that has proven popular, and which generally gets the most attention is its Instapay feature.
"With Instapay, employees can access their earned wages when they're short on cash," according to Even. "Instapay is available at no additional cost to Even members, and is significantly less expensive than overdrafts, credit cards, and payday loans."
Even members have saved more than $100 million in fees and interest associated with credit, overdrafts, and loans, according to the company website.
"It's a safety net. It allows you to solve cash flow problems early in your journey and you don't have a lot of money in your bank account yet," Schlossberg said. "Maybe your wife gets sick and you miss her income for the pay period. Or you get a flat tire on the way to work, and you realize tires will cost you $200 that you don't have."
But, Even does not want users to rely on this service as a go-to tactic for accessing fast cash.
"We put safeguards on it that we designed with the Consumer Financial Protection Bureau to ensure that you can't use this tool to create the same cycle of debt that you can fall into with a payday loan," Schlossberg said.
Instapay users can only get up to 50% of their net pay in any given period. Schlossberg said Even actually loses money from Instapay because the more people use the feature, the lower the company's profit margin on the $8 per month it makes from subscription fees.
"So, we are actually incentivized to help people be successful at saving their own money so they don't need to use Instapay," he said. "This makes us the only creditor in the United States that we are aware of that has an incentive to reduce credit utilization."
Employers See Measurable Results and Satisfied Users
Even is only available to users if their employers offer it as a benefit. Schlossberg said this may be viewed as a trade-off but it helps the platform deliver bigger and better results to users.
"We simply could not make these products and make them as affordable as they are without the data and money movement mechanics and subsidization that employer relationships give us," he said.
The company offers distinct benefits to employers that demonstrate how Even is a worthwhile service to provide its workers.
"We drive significant retention improvements at scale because Even is the only product that actually has a meaningful, measured impact on your employees' financial lives," according to the company.
In addition to improving retention rates, Even reports more than $3 million in company savings per 10,000 employees.
Even offers up a case study on its website from one of the country's most popular retailers — Walmart — that shows the positive impact of the platform.
"What you want to get people to do is break that cycle of living paycheck to paycheck. So getting paid early might solve a short-term problem, but it never really gets to that long-term solution. That's where the rest of the Even platform — the personal financial management tools — really helps break that cycle of living paycheck to paycheck." — Scott Pullen, Senior Benefits Manager at Walmart
Walmart is the world's largest employer, and 25% of its employees use Even every month, and 61% of employees who try Even were still using it six months later when asked. Finally, 75% of Walmart employees who have used Even say that it has had a positive impact on their financial health.
Looking to Help Users Gain Access to Quality Credit Cards
Schlossberg said Even has a lot of exciting plans for the future, some of which aren't ready to be announced.
But he was happy to discuss one of Even's long-term goals that align with its mission to create more opportunity.
"We're in a position where we should be able to help people get access to credit instruments like credit cards with a much better interest rate, even though they may not have the best credit score because of the way our product works," he said.
Even can repay the credit card directly from payroll and help people establish or rebuild credit.
"This is like the holy grail because you need good credit to create opportunity for yourself," he said.