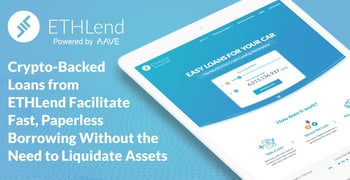 Experts share their tips and advice on BadCredit.org, with the goal of helping subprime consumers. Our articles follow strict
editorial guidelines
.
In a Nutshell: As the world of cryptocurrency evolves, decentralized digital payment methods are increasingly being seen as investment assets. With ETHLend and its crypto-backed loan platform, cryptocurrency investors can now access the value of their investments without having to liquidate them. Borrowers can select from predetermined loans in the ETHLend marketplace or create loans using their own preferred terms. Using the LEND token within the ETHLend ecosystem allows borrowers and lenders to take advantage of such benefits as lower fees. As a risk-aware company, ETHLend has made sure both borrowers and lenders are protected from volatile crypto prices and other potential events that could impact the loan process.
What's the point of having money if you can't access it when you need it? Many investors may enjoy watching their assets grow over time but feel frustrated when they experience an emergency and need quick cash, but it's tied up in assets that are not easily liquidated.
For years, savvy stock market investors have worked around this issue by taking advantage of security-backed loans which allow the borrower to take out a loan using stocks or bonds as collateral. Borrowers are then able to gain access to the value of their investments without having to actually cash them in.
This hasn't always been the case in the decentralized ecosystem of cryptocurrencies.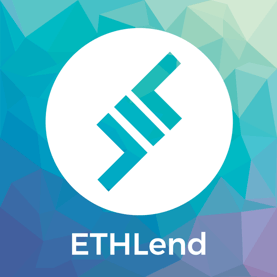 While cryptos such as Bitcoin and Ethereum are intended to serve as better alternatives to the traditional fiat economy, the technology is still evolving as are the fields that surround it.
As the world of cryptocurrency has expanded over the past decade, more and more crypto holders are viewing digital currencies as long-term investments, similar to fiat-based assets. Until recently, many of the structures that support traditional assets were not in place for investors in the still relatively young decentralized crypto ecosystem.
"We created ETHLend as the first crypto-backed loan model in the marketplace," said Stani Kulechov, Founder and CEO of ETHLend. "Before that, there wasn't anything like it."
Kulechov said the ETHLend team felt it was important to leverage blockchain technology for the benefit of crypto investors who want to access the value of their investments without having to sell them. ETHLend's crypto-backed loans are secured by the borrower's cryptocurrency, which means there is no credit check required and no impact to the borrower's credit.
"We also wanted to build the whole system on top of smart contracts to provide additional security for lenders and borrowers," he said, which is why the company chose the Ethereum blockchain.
Select a Loan from the Marketplace or Create a New One Using Your Preferred Terms
ETHLend's decentralized lending model makes it easy for borrowers to put up their cryptocurrency as collateral and secure loans within minutes, said Kulechov.
"Borrowers can come to our platform and browse through ready-made loan offers from lenders," he said. "Basically, the borrower just selects the offer that suits his or her needs well. Then the borrower sends the collateral and receives the currency."
For borrowers who don't see a ready-made offer to their liking, they can create a new loan request with their desired terms. Kulechov said borrowers are paid out in either stable coins, Ethereum, or LEND, and they can also choose to peg the value to of one of seven fiat currencies — U.S. dollars, euros, British pounds, Indian rupees, South Korean won, Japanese yen, or Chinese yuan renminbi.
The funds are released to the borrower once the terms and conditions are agreed upon, and the borrower is required to make regular interest payments, according to the ETHLend website. "The interest rate charged can vary based on certain factors like market situations, quality of the collateral, the tenure of the loan and more."
The company also provides a seperate procuct — Aave Pay — which will soon be integrated with ETHLend.
"With Aave Pay, if you are a crypto holder and want to use your funds instantly to pay a bill or send money, or if you're a company and you want to pay an invoice, you can do so with just a couple of clicks," Kulechov said.
There are no minimum or maximum loan amounts that borrowers can request through ETHLend.
Reduce Fees and Increase Loan-to-Value Ratio by Using the LEND Token
ETHLend also maintains its own cryptocurrency — the LEND token — which comes with certain advantages for those who use it within the ETHLend ecosystem.
"LEND token is the native ERC20 token from Aave and ETHLend platform," according to the ETHLend website. "Our token can be stored in any Ethereum wallet in a similar way as other ERC20 tokens."
Tokens are a subset of cryptocurrency that functions on its own blockchain and is created to perform specific functions within a defined ecosystem — similar to how physical tokens are used in the place of cash within the ecosystem of a casino.
The LEND token is accepted in all current and future Aave products.
"When using LEND as loan currency, there will be no platform fees," according to ETHLend. And for those using LEND tokens as collateral, platform fees will be reduced by 50%.
Additionally, the LEND token allows users to boost the loan-to-value ratio to 55% when used as collateral, as opposed to the standard 50% loan-to-value ratio required by ETHLend.
"You can use your LEND tokens to feature your loan, displaying it in a very prominent way, allowing you to highlight your loan so it gets funded faster," according to the company. "Use your LEND tokens to become a premium user and you will be allowed to fund loans one hour before normal users."
ETHLend also facilitates a "microstaking model," which allows any user in the ETHLend platform to interact with LEND tokens and be eligible to be rewarded with microstaking fees in LEND tokens during the time the user is active on ETHLend.
A Secure Ecosystem with Built-In Protections for Lenders
Kulechov said the ETHLend team is very risk aware and works to ensure a safe and secure experience for both borrowers and lenders.
"There are quite a few crypto-backed lenders these days. I would say that we differentiate from others in that all our loans are secured by — and stored in — smart contracts," Kulechov said. "Because the smart contracts are actually programming code, once a loan is initiated and the collateral is stored, we can't do any kind of function not pre-programmed into that code."
ETHLend also requires overcollateralization — with a maximum of 50% or 55% for LEND users — to protect lenders.
"That means to ask for a loan, the borrower needs to send to the smart contract 200% of the value of the loan in crypto assets," according to the website. "If the borrower doesn't pay back in time, you will still get your payments plus a liquidation fee from the collateral."
If a borrower's collateral experiences a significant decrease in value, ETHLend will ask the borrower to add more collateral to the smart contract to maintain a loan-to-value ratio of 50%. If the borrower does not refill the collateral, the lender can perform a collateral call allowing the lender to liquidate the loan.
The company also builds in protections for borrowers in the event of large price fluctuations.
"Since cryptos are volatile in nature (at least for now), it may happen that value of collateral drops beyond a certain level," according to the ETHLend website. "To protect borrowers in case of a sharp drop in the value of the collateral there is the margin call possibility: borrowers can call their loan back."
Aspiring to Create More Democratic and Fair Credit Systems
Kulechov said that, while ETHLend remains focused on leveraging blockchain technology to provide access to crypto-backed loans, the company is also looking at other ways to use blockchain.
"We're really keen to research how we can use cryptocurrencies and blockchain technology to create more democratic and fair credit systems," he said. "It's not an easy task, but there are opportunities to explore things like the immutability of the blockchain and how it relates to credit profiles and cross-platform functionality."
In the meantime, cryptocurrency investors who are looking for a secure and quick way to access the value of their holdings without having to sell their digital currencies can look to ETHLend.