Experts share their tips and advice on BadCredit.org, with the goal of helping subprime consumers. Our articles follow strict
editorial guidelines
.
In a Nutshell: Digital Business Academy offers free, comprehensive online courses to entrepreneurs in the U.K. who have a big idea and the motivation to develop a tech startup. The Academy, started by Tech Nation, sources its content from expert scholars and professionals, and users earn points for learning skills that they can redeem for educational resources or even mentorship opportunities. Digital Business Academy provides knowledge and incentives to support new tech ventures while also helping existing startups scale.
Kevin Shingles, of Brighton, England, has worked as a retail manager for most of his career. He doesn't have a university degree, but he is a family man, and, now, has an early-stage tech startup — JellyBean.
"Most people think of tech as a young man's game, and the majority of the founders we hear about are usually in their 20s," said Jack Preece, Product Marketing Manager at Digital Business Academy. "It's nice to hear a story about a dad who's completed a project during evenings sandwiched between putting the kids to bed and finding some time for himself."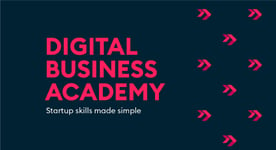 Shingles connected with his two co-founders — one on the technical side and the other in marketing — through Digital Business Academy, an online platform that helps aspiring entrepreneurs connect and learn new skills. Together, they found the lessons and confidence they needed through the platform's free courses designed to help tech entrepreneurs succeed with their startup businesses.
Tech Nation is Digital Business Academy's parent organization. Thanks to funding from the U.K. government, Tech Nation established the online academy to help people like Shingles develop the ideas and the knowledge base necessary to move from the drawing board to launch — and beyond.
"Our courses take you from the idea all the way to raising series B, raising series A, and scaling your company culture. It's really like a one-stop shop for any founder," Preece said. "It's a lonely journey for an entrepreneur, and we want to be your sounding board with our courses."
Sourcing Content from Academics and Industry Experts
Tech Nation initially launched in London as Tech City U.K. to foster a cluster of tech companies — known as Silicon Roundabout — in the London area.
"In 2017, we received £21 million by the government to make the U.K. the best place to imagine, start, or grow a tech company," Preece said. "We do that in several different ways. We run growth programs for midstage and late-stage tech companies. We have digital entrepreneurship skills courses, which run through our academy. And we have a visa program to bring exceptional talent to the U.K. from overseas."
Through Digital Business Academy, Tech Nation provides free online classes to those aspiring tech entrepreneurs. An in-house team designes its courses and evaluates them for diversity and inclusion to ensure they are as accessible as possible.
Each class features content created in cooperation with the University of Cambridge, University College London, and Valuable Content. They also incorporate insights from Tech Nation's growth programs, Future 50 and Upscale.
"Our growth programs bring together the country's most successful tech companies to problem-solve with peers. We bring together CMOs, CPOs, CFOs, CEOs, and more to discuss their challenges, successes, and methods to help each other succeed. We then turn all of the learning outcomes into a short bite-size course, accessible to every aspiring founder to learn from," Preece said.
The Digital Business Academy learning team develops the material from those sessions into short, bite-sized courses so any aspiring tech entrepreneur can benefit.
Courses Cover Founding, Scaling, and Everything in Between
Many of the entrepreneurs who visit Digital Business Academy also lack knowledge of current marketing strategies. That's why the platform allows users to learn from CMOs at some of the fastest-growing tech companies.
The names of Digital Business Academy's most popular courses include "Do You Have the Right Stuff to Be an Entrepreneur?," "How to Get Your First 100 Users," "What to Include in Your Pitch Deck," and "How to Raise Series A." These courses reside within larger learning sets called Skills, which cover broader topics like Understanding Startup Finance — one of Digital Business Academy's most popular offerings.
"Money, for an early-stage startup, really does make the world go 'round. Most of these people are juggling jobs while launching their businesses," Preece said. "Understand Startup Finance is about cutting through the confusion around startup finance, and it gives you a plain-English guide to the major financial duties facing any entrepreneur."
One of the biggest fears for entrepreneurs is not knowing all of the risks before they start a business. But "Understanding Startup Finance" breaks down those risks and teaches participants how to calculate the cost, price, and profit. It also covers topics including how to manage day-to-day finances."
"It's one of our most popular courses because it seems like a big gap in most people's knowledge — or a big fear of most early-stage founders," Preece said.
Access to More Educational and Support Resources After Completing Skills
After completing a Skill, learners earn a digital certificate that attests to their proficiency. But the certificates aren't the only tangible benefit Digital Business Academy offers. Learners earn 150 points for completing each course, which they can use to purchase a variety of different rewards.
"We want to reward people for learning skills," Preece said. "It's hard enough to sit down and think 'OK, I'm going to learn a new skill,' and we appreciate that. We want to reward our users for sitting down and going through them."
Digital Business academy designed the rewards to give entrepreneurs a leg up and help them to get their foot in the tech industry's door. Rewards include mentoring sessions from successful professionals in their field and subscriptions to The Economist and Scribd, which can expand their entrepreneurial mindfulness. Other rewards include discounts on learning products and tools, assistance with loan applications, and even coworking space in locations across the U.K.
"If you're in an idea stage or an aspiring founder, rewards can help you get out of the coffee shop and into the coworking space and speaking to other entrepreneurs there," Preece said.
Some rewards, like mentoring and coworking space, require applications in addition to points, and they're awarded at the discretion of the individual or organization offering them. But, for a motivated entrepreneur, they represent an opportunity to gain valuable insight, guidance, and resources that can help get a project off the ground or on to the next phase of development.
Motivation and Education are Vital Components for Success
Shingles and his partners found success with their tech startup, and Digital Business Academy has helped many others gain the knowledge and confidence they need to achieve their entrepreneurial dreams. Another learner, Chris, raised £250,000 thanks to the education he received through Digital Business Academy.
"We have some valuable resources that teach people how to put together a pitch deck, where to look for investors, how to approach them, and how to build relationships with them," Preece said. "I've met Chris for coffee a couple of times, and he said, 'I've been on Google courses and Facebook courses, and they just don't give me that core knowledge from entrepreneurs about what it's like to go into a meeting with a VC and what they want to hear about.'"
But entrepreneurs don't achieve success just by taking the courses offered by Digital Business Academy. They also need a desire to learn, a willingness to apply what they have learned to their real-world situations, and a host of other crucial entrepreneurial traits.
"Most successful entrepreneurs have a hunger to learn," Preece said. "They have a tolerance for failure, and if they fail, they won't fail again in that same area. They're naturally quick learners and have a tough backbone."
Digital Business Academy didn't get the startups rolling for Shingles or Chris, but it did give them the knowledge and confidence they needed to get their projects off the ground. Just as importantly, it provided them with opportunities to make connections that advanced their ventures and allowed them to gain a foothold in the fast-moving realm of tech startups.