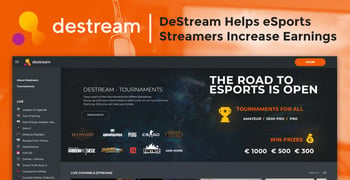 Experts share their tips and advice on BadCredit.org, with the goal of helping subprime consumers. Our articles follow strict
editorial guidelines
.
In a Nutshell: eSports and streaming have become a multimillion-dollar industry worldwide, making it attractive to gamers who want to turn their hobby into income. A large part of the streaming economy consists of direct donations from viewers to streamers, and DeStream helps the latter realize their goals by providing a blockchain-based platform that drastically cuts transaction costs, letting them keep a larger share of their earnings. The platform also provides tools that let streamers interact with fans and keep track of viewership, and it hosts educational resources to help them keep abreast of industry news, improve their relations with followers, and increase their stake in the rapidly growing field of streaming.
Remember when you were a kid and your parents — or pretty much anyone who wasn't one of your friends — told you that playing video games was a waste of time? That's something young gamers are hearing less and less these days.
It's unlikely that Kyle Giersdorf will ever hear that again, not after he — at age 16 — won the top prize of $3 million in a Fortnite tournament in July 2019. Gamers like Giersdorf are turning their eSports hobby into a reliable source of income.
According to Influencer Marketing Hub, reporting on Newzoo's findings, eSports viewers numbered 380 million in 2018; among these were 215 million occasional viewers and another 165 million enthusiasts, who watched eSports on a regular basis. This emerging field of entertainment pulled in $906 million in revenue that year, $694 million of which was indirect and direct brand investment.
Unlike Giersdorf and other tournament players, though, not all eSports athletes are competitive. A significant portion of eSports personalities are streamers who broadcast their game sessions on platforms designed for spectator engagement. And, even though they may not be the best players in the world, they still add value to the gaming experience — and fans support their brands through direct donations.
This is obviously an attractive prospect for gamers since streaming is something just about anybody can do. But payment services can impose hefty transaction fees, hurting streamers' bottom lines and impeding their competitiveness in a rapidly growing entertainment field.
"eSports and streaming … are growing extremely fast, up to 100% per year," said Tachat Igitian, CFO and Co-Founder of DeStream. "We saw the problems it's possible to solve through blockchain technology. And we decided to match this new market to [blockchain] and bring the new product there."
DeStream is a decentralized, blockchain-based platform where streamers can accept donations with lower transaction costs. For established streamers, it represents an efficient means of increasing their take of donations. At the same time, it is a useful tool for newcomers who want to use streaming to supplement their income or even work up to being full-time streaming professionals.
Tools and Tokens Help Streamers Monetize their Brands
DeStream allows streamers to broadcast from their preferred service and embed the stream in the platform. It also provides various widgets that improve the streaming experience for fans and streamers, while furnishing information about audience numbers, subscribers, and other statistics.
Viewers can send payment through the channel of their choosing, and streamers can withdraw their balance at any time via Visa, Mastercard, or Yandex.Money. DeStream takes a commission on transactions to fund ongoing operations, improvements, and tournament prizes. This is nothing new in the world of eSports streaming — but DeStream's use of blockchain technology is.
"Blockchain technology helps us to decrease the commissions and make it easier for the streamers and bloggers and all the market," Igitian said.
On-platform transactions are conducted using DST (DeStream's native token). According to its page on StratisProjects, DeStream's token economy reduces transaction costs — traditionally footed by the streamer — to a 0.77% fee, as opposed to as much as 20% through other channels.
Because DST is dedicated to the eSports economy, Igitian said the token has been able to bypass problems that plague other, more general cryptos.
"In some countries it's legal, and in other countries it's illegal. And, of course, the problem is with the banking and payment systems, which are not onboarding the companies who use the cryptocurrency," Igitian said. "In this case, they understood that the currency was made … like neutral money, in-game money. … The idea is it's just internet-neutral money for transactions."
Support and Feedback are Pillars of the Streaming Economy
Support and feedback are the basic mechanisms of a successful streaming career. Streamers must communicate with viewers and followers, take into account what these fans like and don't like, and adjust their approach and content based on that feedback. These efforts keep the fanbase happy and enthusiastic, and make the streamer more attractive to potential followers.
"Streamers are happy to get feedback because the audience is the main thing they need. That's the idea: to get an audience," Igitian said. "It's a cooperation between audience and streamer, what to do and how to get more interesting things."
DeStream's support for streamers leverages the same dynamic. The platform gives streamers something they want — a foundation for a more lucrative streaming career — and they, in turn, provide feedback on how well the platform is helping them achieve their goals.
The crux of both the streamer-fan relationship and the streamer-platform relationship is meaningful engagement. One of the most meaningful things in streaming is, of course, income and revenue. DeStream is not yet directly sponsoring streamers, but the platform has plans to invest in streamers and help them grow.
In the meantime, it has launched an educational knowledge base on Medium aimed at young and lesser-known streamers who are just starting out. The information provided will help them with the technical ins and outs of streaming, enable them to keep up with eSports and streaming news and advice, and ultimately foster fledgling personalities who will, in turn, help DeStream grow and flourish by bringing quality content and enthusiastic viewers to the platform.
eSports Viewers Seek Both Engagement and Entertainment
The key to success in streaming is knowing what's in demand. Which games are trending right now? Which perennial favorites are still alive and well in the fans' popular consciousness? Knowing the answers to these questions is crucial to giving the audience what they want.
"New games can grow very fast. In three days, they can hit number one around the world," Igitian said. "But at the same time, they're dying as fast as they grow."
At every major game launch, there's another headline, blockbuster title releasing in a few months. But at the same time, some classic games continue to be popular, like Defense of the Ancients and Counter-Strike. Successful streamers will leverage both ends of this spectrum to earn followers and tips.
But as in all things, success is a relative measure. According to Igitian, smaller streamers who work day jobs and only stream for a few hours a night are considered successful if they average 300 viewers at a time.
Professional streamers, on the other hand, are online five to six hours per day and draw as many as 3,000 viewers at a time. These streamers will not only bring in more donations but also generate interest from brands and advertisers.
But videogame prowess isn't the main draw for fans and financiers. Instead, personality is more important in competitive eSports than is proficiency.
"The main idea of streaming is not what you are playing, exactly. Yeah, it's one of the important parts, but if as a person you are not interesting, people will not watch," Igitian said. "The main thing is it's entertainment. It's like television, all the young generation, they don't want to watch the TV, it's just not interesting for them. [Streaming] is something new online. So they know that they can write something in chat and talk with the guy. It's a new way of engagement."
Empowering Streamers to Transform Play into Profit
By 2021, eSports are expected to garner 307 million casual viewers and 250 million enthusiasts; along with this fan base, it is expected to bring in $1.6 billion in total revenue, including an estimated $1.3 billion in brand investment. Meanwhile, media rights revenue is expected to double and become the second-biggest contributor to total eSports revenue.
As with traditional sports, eSports is big business — and investors and sponsors are taking notice.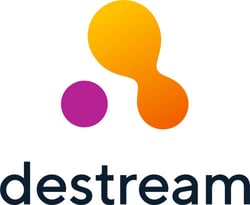 "Huge companies like Toyota and Nissan and Mercedes are buying eSports teams," Igitian said. "The prize pools [for these] events go up to $25 to $30 million."
Betting on eSports is also rapidly expanding, according to Igitian, but as far as most streamers are concerned, donations will continue to be a crucial part of this economy.
"Donations are growing 20% to 30% per year, but the full market is growing 100% per year," Igitian said.
To get their foot in the door of this expanding industry, gamers require very little in the way of startup equipment. They'll need a relatively powerful gaming machine (either a PC or a console), a reliable camera and microphone, and an account with a streaming service. They will also need additional hardware to capture streams from certain consoles.
Anyone with this equipment and an engaging personality can start their own streaming brand. While success is not guaranteed, perseverance and charisma (or even just a gimmick) make it a viable way to supplement your income or even work your way up to internet superstardom.
While the latter comes from equal parts luck and prowess, DeStream makes a streaming career easier and more efficient by lowering transaction costs, supplying a growing knowledge base, and providing easy engagement with fans.