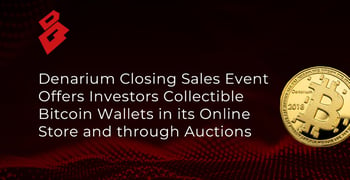 Experts share their tips and advice on BadCredit.org, with the goal of helping subprime consumers. Our articles follow strict
editorial guidelines
.
In a Nutshell: Cryptocurrency enthusiasts and investors seeking a stylish, sophisticated way to store their tokens can buy unique products from Denarium, producer of high-quality cold wallets. However, they need to act fast, as Denarium has announced the discontinuation of its product lines and is currently liquidating its remaining stock. The good news is that the company's beautifully designed, high-quality wallets are selling at discounted prices in its online shop and through auctions. The distinctive wallets promise not only to keep virtual investments safe and secure, but they are also made of precious metals and serve as display pieces and collectibles that reflect a unique bit of crypto history.
The global recession of the mid-Aughts spawned many innovations, including the birth and proliferation of cryptocurrencies. Consumers were wary of the risky practices of financial institutions and the failures of regulation to protect their interests. The widespread rapid growth of blockchain networks and cryptos were products of that dissatisfaction.
Cryptocurrency gave consumers direct control over their transactions, and they are accessible to people who are often excluded from the traditional financial system. As a result, the world has seen a multi-year boom in startups that include coin offerings, exchanges, and other crypto-based enterprises.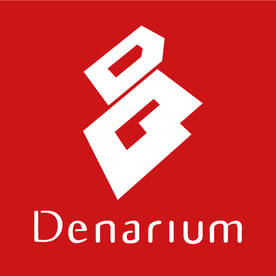 Prasos, a Finnish company founded in 2012, is a first-gen Bitcoin startup. It has spawned several subsidiary brands, including Coinmotion, a crypto investment platform; Bittiraha.fi, a Bitcoin community and broker; Bittimaatti, a Bitcoin ATM network; and Denarium, manufacturer of high-quality bitcoin wallets and coins.
Denarium has had the most international reach of all the brands in the Prasos family, even though it is a minor component. Recently, Prasos shifted its focus more heavily to Coinmotion and plans to cease the production of physical Denarium products. As a result, Denarium is selling off its remaining stock, creating an opportunity for consumers to get their hands on unique Bitcoin products at a discount.
"We already have the third round of auctions going on," said Pessi Peura, Community Manager at Denarium. "We're selling the stock with discounts for collectors, and they're stocking up now."
Denarium's closeout sale is a chance to own an uncommon crypto curio at a reasonable price. While many crypto products are available, few have the eye-catching flair or history of Denarium's wallets or coins, which are made from precious metals.
"This is a pretty solid piece of Bitcoin history," Peura said. "There haven't been many producers of physical Bitcoin coins."
Bitcoin Wallets Designed for Maximum Security and Style
Denarium's physical coins are not actually Bitcoins, but representations of Bitcoins. Cryptos are purely digital currencies with no physical form, other than being housed on a physical storage medium, known as a wallet.
Denarium's coins and bars are wallets that store crypto. Specifically, they are cold wallets, which means they are connected to the blockchain network only when in use; the rest of the time, they are air-gapped and inaccessible. That makes them much more secure storage solutions than hot wallets or web and cloud-based options, which are perpetually connected and more vulnerable to hackers. A cold wallet is an ideal way to ensure digital assets stay safe when not being used for transactions.
Beyond security, Denarium's coins and bars are stylish and eye-catching. They are manufactured from bronze, silver, and gold, and some are plated, while others at the high end of the spectrum are .9999% pure gold.
If such products sound enticing but a bit pricier than your budget can accommodate, Denarium is offering deals on bulk purchases of items in its gold-plated collection. Buyers get 30% off when purchasing 10 or more items, and the discount increases to 50% on orders of 100 or more.
The precious metals contained in these coins and bars make them valuable. But their high-quality design and craftsmanship make them incredibly desirable collectors' items as well. Their value will likely appreciate as production has ceased, and the market supply will become more scarce. That makes them an investment not only for crypto-enthusiasts seeking security, but also for those seeking to own a piece of crypto history.
"I think that the big portion of these coins are sold to coin collectors," Peura said. "For example, once, a big collector bought a whole production of one coin we made."
Holographic QR Codes Provide Easy, Unlimited Storage
Consumers in Europe and other crypto-friendly parts of the world — including several nations in Asia — have the option of ordering Denarium's wallets pre-loaded with crypto. Consumers in the United States, on the other hand, must buy them empty due to government regulation of crypto assets. Luckily, loading them with separately purchased crypto is a simple matter.
"When they get the empty wallet, it comes with a Bitcoin address," Peura said. "So, you can upload other cryptos there."
Denarium's coins and bars offer unlimited storage for any Bitcoin or Bitcoin-derived assets like BC Cash and BC Gold. These can be stored permanently within the wallet, and more can be added, although older models may require an update to make them compatible with recent blockchain advances and innovations.
"We have some guidance on the website about the formats because the private key formats have changed along the way," Peura said. "There might be some older formats that you have to change to another format."
Each of Denarium's coins and bars comes with a unique private key, enabling users to add and remove crypto from the physical wallet. These keys are encoded in stylish, sophisticated holograms. In earlier iterations, private keys were furnished in the form of text, but in later models, they display in the form of a QR code. This updated presentation makes it easier to access the wallet and move assets around and make transactions using a mobile device.
Premium Materials are also a Financial Investment
Denarium's remaining stock of wallets is available for purchase, at a discount, from Denarium.com. For buyers who are looking to save a little more cash, products are also available at auction in the Bitcointalk collectibles section.
Over the last five years, Denarium has produced around 15,000 physical coins and bars. These fall into three collections: gold-plated, gold, and premium — which includes bronze and silver coins. Remaining stock from all three collections is available for purchase.
"I have stored a bunch for myself as well," Peura said. "They could have a significant value in the future."
Their value derives not only from the technology and security of these wallets, but also from their material aspect. That contributes significantly to their psychological value, another attractive component. Even in the digital age, people may feel a sense of satisfaction when holding a physical object in their hands.
This satisfaction is especially present in Boomers and Gen-Xers, who remember the days when virtual products were a futuristic concept that didn't exist in the market. Ecommerce was in its infancy, and network technology wasn't robust enough to support sizable data transfers and downloads.
Just knowing that you own Bitcoin doesn't match holding a physical representation of that asset in your hands. Denarium's wallets offer that satisfaction, which is enhanced by the hardware's slick, classy aesthetics.
For collectors who want to take it a step further, Denarium also offers display products. These include stylish boxes and cases, as well as hand-crafted offerings made from wood and artificial leather. With these, Bitcoin enthusiasts can transform their cold wallet into a piece of art to hang on their wall or display on their coffee table as a centerpiece or conversation-starter.
Denarium Maintains Support for Premium Bitcoin Wallets
Peura said Denarium's closeout sale could conceivably last until the end of 2020. But even with the products discontinued and the stock sold off, Denarium will continue maintaining customer service and support.
"The same people who have worked with Denarium are going to continue the company," Peura said. "We are not just selling them and then forgetting about it. We will still help our customers."
Moving forward, Prasos will place more focus and emphasis on Coinmotion. Its goal is to build out its crypto-based financial offerings substantially.
"We are one of the only companies in Europe that has a payment institution license and is working the crypto business," Peura said. "We are a highly regulated and highly authorized entity. And then we're regulated by Finnish Financial Supervisory Authority. We have our compliance issues in excellent shape, and so that allows us to offer services that many companies can't."
These upcoming services will build on the potential of crypto and blockchain as an alternative to the traditional financial system. Prasos plans to implement a full crypto banking service that includes an interest account, free instant payments among users, and crypto-based debit cards.
The cards will store Euros as well as crypto and convert the former to the latter. Prasos also plans to offer crypto-backed consumer loans, allowing customers to collateralize their crypto and get a better interest rate. These loans will allow borrowers to access liquidity when they need it while maintaining their investment in digital assets.
But although Prasos won't offer physical storage devices through Denarium in the future, crypto-enthusiasts can rest assured that its attention is more fully devoted to expanding the usefulness and reach of cryptocurrencies.