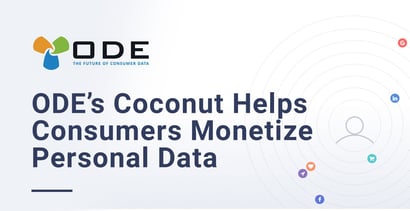 In a Nutshell: In the current data collection model, aggregators get paid, and consumers just see more advertisements. ODE's Coconut application changes that inequitable dynamic by allowing consumers to safeguard their information or choose to sell it for profit. The platform enables users to manage their data across websites and social media platforms from one dashboard. And if they choose, ODE's Coconut users can monetize their personal information by sharing insights of their data to enterprises without the need to share or duplicate the data. That encompasses not only web browsing data but also data from mobile devices and IoT data.
Many Americans are familiar with Nielsen ratings, a metric designed to measure TV audience size and composition. Nielsen Media Research gathers valuable data from volunteer respondents about what they watch and when they watch it through its Nielsen set-top boxes. The research firm then sells that data to advertisers who want to target their marketing efforts to specific demographics.
Today, Nielsen ratings are just one of many tools marketers have at their disposal. Thanks to digital devices and streaming services, marketers have more efficient ways to collect consumer data. But Nielsen was a pioneer in proving that personal data is a valuable commodity.
However, most modern consumers don't control their own data, and they certainly don't benefit from its collection and sale. Instead, that revenue goes to the companies that aggregate, analyze, package, and sell their information to marketers. The aggregators make the money while most consumers only get more ads or free services.


ODE aims to upend that dynamic by allowing consumers to control and monetize their personal information rather than having it exploited by others. Moreover, ODE's blockchain-based solution provides immutability and decentralization enabling the participation and democratization of consumer data ownership without compromising privacy, data quality and extensibility for users who wish to monetize.
"Companies pay tens of millions of dollars to acquire and extrapolate that data," said Sashi Edupuganti, Founder and CEO of ODE.
The difference in scale is what sets ODE apart. Whereas Nielsen and other existing technology assesses only a relatively small cross-section of consumers and their digital engagement, ODE by empowering the individuals to collect their own data provides a more holistic and a richer dataset.
That makes the company and its consumer360's attractive to any business interested in consumer insights. And it is a powerful tool for helping consumers increase income and eliminate debt.
"If our ecosystem ends up having about 100 million users, as an example, and only 10% participate in data monetization, it has 10 million users," Edupuganti said. "1,500 to 2,500 set-top boxes compared to 10 million users providing real-time data with consent and content is a different ball game altogether."
Aggregation and Compartmentalization Provide Greater Data Control
One thing that distinguishes ODE from similar offerings is its orientation. Whereas competitors tend to focus typically on a business-to-consumer-to-business flow, ODE runs a business-to-business-to-consumer model.
That means it acts as an intermediary between consumers and the enterprises purchasing their data.

"Most of the solutions today, even in this particular space, are geared toward being a better consumer. How can I filter better ads? How can I get better control of exfiltration?" Edupuganti said. "We see the future moving toward more consumption and creation, and both will be done by the individual. That is the premise of the Web 3.0 architecture of decentralization — eliminating the information asymmetry."
User data is currently available to the platform or service that collects it, but not to the individual. The core of ODE's Coconut is providing consumers with access to their data and giving them direct control over it.
Consumers can choose to keep their data private, which is a valuable option for anyone who wants to minimize their digital footprint for cybersecurity reasons. But those who want to supplement their earnings can choose to sell their information, enabling them to generate passive income and pay off debt. The scale of the information provided through ODE makes it extremely valuable.
"There is always going to be 20% of the people who want total anonymity," Edupuganti said. But, to a large extent, even if only 10% of the other people opt in, those numbers are hundreds of times better than what is available today."
Solving Problems of Previous Monetization Tools
The average person generates a significant amount of data by using social media platforms, including Facebook, Twitter, YouTube, and Tik Tok. Each platform has its own settings for data privacy and usage, and managing them all can become cumbersome and time-consuming. ODE eliminates the need to manage data privacy in a piecemeal fashion.
"We are not going to be spending two hours a day managing our data assets. That's not what we enjoy," Edupuganti said. "Most of the systems are built with the premise of, 'You have to manage your data privacy, you have to manage your data footprint, you have to know your deal.' That's not where they want to spend their time, so it has to be done automatically."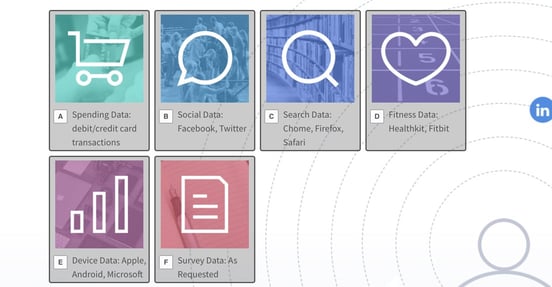 That approach means data security and management are done in the background by the program. Individuals don't need to take any action to safeguard their personal information, making it an efficient choice for holistic cybersecurity.
The second half of ODE's offering makes it worthwhile for consumers to sell their information to enterprises. The threshold, according to Edupuganti, is about $50. At that price point, the sale of data becomes a significant enough financial boon to offset the value of anonymity in favor of higher earnings and lower debt.
"Most of our competitors are those who try to do a few dollars but do not give you total anonymity," Edupuganti said. "The other part of the equation is you cannot solve this problem without the enterprises being a part of the solution."
Markets and Information Types Determine Profitability
When consumers think of selling their data, they may imagine their information going to huge, multinational corporations that use it for global purposes. However, many countries and states have strict regulations about importing and exporting data about online behavior.
"That is a very important requirement," Edupuganti said. "If you are rolling out an instance of it in Malaysia or Singapore, for example, that data has to stay within the geographic location of that space. So that creates local monetization capabilities within the local markets and other markets, which is a big difference than thinking about it as one big blob that can be monetized."

Another essential factor in monetization is the maturity of the market where the data originates and where the data will be used. The monetization threshold for personal data is higher in more modern markets, whereas it is lower in underdeveloped locations.
The $50 example is true for an established market like North America. In other parts of the world, a smaller payout can go a lot further, and so people are more willing to sell their data at a lower price tag.
The type of data being collected is another factor. Categories include website data, mobile data, and even data gathered through the Internet of Things (IoT) — digital objects like smart watches, smart home systems, and other connected technology. Monetization opportunities extend beyond social media usage and web browsing; the more connected users are, the more chances they may have to earn money and pay down debt.
"When you look at all of that particular data, the numbers are somewhere between half a trillion to one-and-a-half trillion dollars," Edupuganti said. "So there's a lot of money to be made."
ODE: Compensating Consumers for Their Content
Consumers will soon have the chance to ditch the old Nielsen-box system of information gathering and start protecting and monetizing their data through ODE's Coconut.
As of mid-June 2021, ODE has finished the first version of product development and has completed the process of obtaining all necessary certifications and security clearances. ODE also has enterprises lined up that want to purchase licenses to empower their digital consumer.
"We always had a tremendous demand from two sets of industries," Edupuganti said. "One is telecommunications, and the other is financial services. So we have about six to eight large enterprises worldwide that want to jump on this."
After its recent launch, ODE's initial target for users is approximately 3 million. But even when it reaches that milestone, it will still be the beginning of ODE's journey. More enterprises and more users will join for the opportunity to safeguard and monetize their data, whether to add to their savings or pay off existing debt Edupuganti said.
But the journey is more than a personal one; it's about transforming the nature of digital consumption and data creation in the virtual environment.
"We continue to be excited about the evolution of consumer consumption and creation," Edupuganti said. "And while privacy and compliance are enablers, we see the market moving towards how consumers can become creators, and that's what we are focused on. It's almost like the foundation for the Web 3.0 architecture that is coming up, which is much more normalized and much more distributed."


In other news ODE plans to relaunch its recent acquisition Datacoup to focus on Consumer digital rating to help monitor, manage and be an informed digital consumer as a free service to Consumers across the world.
ODE's Coconut product is currently available to individuals by invitation from enterprises who have secured licenses to empower their digital consumers. For further information, please reach out to sam@odeinfinity.com.
Advertiser Disclosure
BadCredit.org is a free online resource that offers valuable content and comparison services to users. To keep this resource 100% free for users, we receive advertising compensation from the financial products listed on this page. Along with key review factors, this compensation may impact how and where products appear on the page (including, for example, the order in which they appear). BadCredit.org does not include listings for all financial products.
Our Editorial Review Policy
Our site is committed to publishing independent, accurate content guided by strict editorial guidelines. Before articles and reviews are published on our site, they undergo a thorough review process performed by a team of independent editors and subject-matter experts to ensure the content's accuracy, timeliness, and impartiality. Our editorial team is separate and independent of our site's advertisers, and the opinions they express on our site are their own. To read more about our team members and their editorial backgrounds, please visit our site's About page.