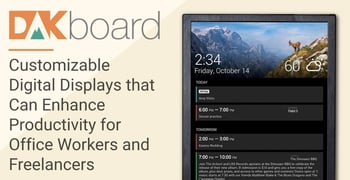 Experts share their tips and advice on BadCredit.org, with the goal of helping subprime consumers. Our articles follow strict
editorial guidelines
.
In a Nutshell: DAKboard is a customizable digital display that empowers freelancers and office workers to organize and coordinate through a simple, sleek interface. Its primary offering includes a display with an integrated CPU, but users can also purchase a stand-alone CPU or a MicroSD card compatible with Raspberry Pi to run the DAKboard software. Free and paid subscription tiers offer customization and app and data integrations, allowing users to design displays that meet their workflow needs. Integrations include calendars, news feeds, stock quotes, weather, and a range of other productivity tools.
For gig workers and freelancers, organization and preparation are crucial to completing tasks on time. They need to know when various projects are due or when teleconferences are scheduled.
Of course, traditional office workers also need to stay updated and on-schedule. They need to coordinate meetings with colleagues and managers and ensure they're on track to finish projects and reports. They may also need to stay current on traffic and weather to plan their commutes.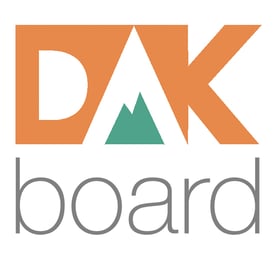 DAKboard is a customizable digital solution for organizing all of those tasks that keep work and home lives moving along seamlessly. Through a simple interface, users can configure their DAKboard to display calendars, schedules, photos, and a variety of other information. And integrated apps can display images or data from websites and external sources in the home or office.
"There's a wide range of uses," said Dan King, Founder and CEO of DAKboard. "About 40% of our users are small businesses using it around the office. And we've added on plenty of small business offerings — including conference and scheduling features."
Through its versatile functionality, DAKboard allows freelancers and gig workers to manage time and workflow, and office workers to all stay on the same page. Work moves smoothly, and individuals and teams stay informed, coordinated, and productive.
All-Inclusive and Plug-and-Play Hardware Solutions
DAKboard has a trio of hardware offerings designed to suit different budgets and needs without requiring in-depth technical knowledge. Its products are ready to go right out of the box, and the users can easily configure displays through an intuitive dashboard.
The first, fully integrated offering is DAKboard's wall display. It is a 24-inch, 1920×1080 HD screen featuring IPS technology that ensures high-quality color and easy viewability from any angle. The display also includes stereo speakers and wifi and ethernet connectivity.
The display can be easily mounted on a wall using the included sheetrock anchors, screws, and mounting plate. DAKboard offers an optional table stand, available separately, for those who would prefer a bit more mobility from their digital display.
"We probably sell about 25% of the displays with stands," King said. "Most people hang it on the wall in a prominent area of their home or office."
To mount a DAKboard in a high-traffic area, such as a hallway where people will be regularly walking past and possibly jostling the display, King recommends installing the device more securely. But for low-traffic and out-of-the-way spots, he said the included materials would work fine and are "100% rock solid."
Users who already have a large monitor or flatscreen, or who want to use DAKboard with a different device, can purchase DAKboard's external CPU 4. The device is powered by Raspberry Pi 4B, and the small and versatile computer includes a quad-core 1.5GHz processor, 2GB of RAM, and 4K video output.
Finally, for users who already have their own display and Raspberry Pi mini-PC, DAKboard also offers a 16 GB Micro SD card that comes pre-loaded with its software. Users can insert it into a Raspberry Pi 4, 3b+, or 3b, and run the DAKboard software on their device.
Free and Paid Subscriptions Scale to Meet the Needs of Gig Workers and SMBs
Much like its hardware offerings, DAKboard offers various service plans to meet user needs. For users with simple requirements — or a tight budget — the free plan provides basic functionality for a single screen. Users can display calendars, photos, weather forecasts, and news and RSS feeds. With the low cost of the stand-alone CPU, this solution is a cost-effective, quick-start option for at-home workers who only need limited information on a single screen.
"Our free plan is just one screen," King said. "There are a few different layouts you can select from on the free plan. And our paid tiers introduce a lot more customizability on top of that."
Paid subscriptions are also cost-effective, but geared to groups rather than single users or family homes. Each offers a variety of integrations and options for customization, helping teams of varying sizes coordinate and work more effectively.
The Essential Plan costs $5 per month and provides service for two displays; additional displays each cost $5 per month. At this tier, users have access to customized screen layouts and all integrations. They also have the option of color-coding their calendars and have access to CSS, which allows for customized, consistent stylization.
At $10 per month, the Plus Plan expands on those options. The account supports three displays and users can add more for $6 per month. Each screen can display loops and scheduled content. Users have access to DAKboard's API, enabling them to code custom solutions for data integration and display.
Finally, the Pro Plan caters more to large enterprises than small offices or at-home workers. It starts at $30 per month and supports up to five screens, with support for additional displays available at $7 per month. The Pro Plan includes all of its other features as well as options for custom branding and bulk screen management. These accounts also receive priority customer support and an SLA guaranteeing 99.95% uptime.
DAKboard also offers a free 30-day trial on all of its pricing tiers, so workers and families can find the appropriate one.
App Integrations and Customization Keep Workers On-Task
While DAKboard's basic functionality provides easy access to important tools, its capacity to integrate additional apps and information is where its versatility shines.
Its calendars, for example, can display a monthly format, an agenda-style format, or a schedule to suit user preferences and needs. And those users won't waste time copying important dates and appointments into a new app. DAKboard integrates with Google Calendar, Apple iCloud Calendar, Microsoft Office365 Calendar, Facebook Events, and can also pull online calendars with ICS or iCal feeds.
DAKboard can import other data from to-do list apps and platforms, including Todoist, Microsoft todo, Google Tasks, Asana, and Trello, making it easy for teams to stay on schedule. The display can also show real time information about local traffic, delays at major U.S. airports, and local weather conditions and alerts.
Finally, DAKboard also allows for more specialized integrations. Those may include live stock quotes for a DIY day trader working from home, news via RSS feed, or the live Twitter feed of a brand or business, among many others.
And users of all levels can log into their account's dashboard, configure the information they want displayed and how, and the DAKboard is ready to go.
"It's all done through the dashboard," King said. "Create a free account at the DAKboard website, and then you can set up multiple screens in your account on the website, all drag and drop — and add content through there."
Through the dashboard's straightforward interface, users control screen resolution and orientation, choose which features, and arrange and resize info blocks. Just as easily, users can schedule content, telling DAKboard to display info blocks or screens at certain times of the day or week.
Feedback Drives Development and User-Centric Features
DAKboard is a user-focused product, and it wants to ensure it continues meeting customer needs — whether they are home users, gig workers, or office staff. That is why the company pays careful attention to the feedback it receives. Comments and suggestions are gathered primarily through emails to tech support, and many consist of requests for new features and integrations.
"We have more than 300 requests in that list right now that we're tracking, managing, and prioritizing based on current user feedback," King said. "We're always working on new stuff. We're always trying to add more integrations to the display to make it more useful for all of our customers."
Users who want to keep up with new fixes, tweaks, and upgrades can follow the DAKboard blog, which posts regular updates on new and upcoming features and changes. It also offers tutorials that teach even novice users how to operate and get the greatest value from features and integrations.
That stack of more than 300 requests will take time for the development team to work through, especially with new feedback continuing to come in. But as of early April 2020, King said that DAKboard is working on an improved scheduling feature.
Additionally, the marketing team is preparing a significant publicity push that will bring DAKboard's utility to a wider range of consumers. That increased visibility will not only help to sustain the product but will also generate more helpful feedback and suggestions.
That will lead to more improvements and value for the families and professionals who rely on DAKboard to stay organized and productive.