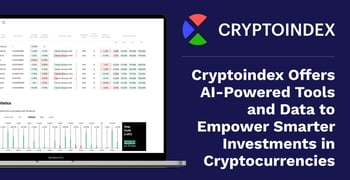 Experts share their tips and advice on BadCredit.org, with the goal of helping subprime consumers. Our articles follow strict
editorial guidelines
.
In a Nutshell: The events of early 2020 reminded the public just how vulnerable the stock market can be. They also emphasized the need to diversify investments to safeguard financial stability. Cryptoindex can help investors accomplish that through its AI-powered indices, which display past performance and short-term projections for the top cryptocurrencies. Cryptoindex is also working on a crypto-based index fund, which will allow for passive investment, and an exchange trading product, which will enable consumers to purchase crypto through traditional banks. As the economy's future remains uncertain, Cryptoindex aims to ensure digital currencies take a prominent place in investment portfolios — and the global economy.
In February 2020, the Dow Jones Industrial Average hit an all-time high of 29,551 — and then immediately leaned into what became a steep decline. By mid-March, it had fallen more than 8,000 points, with a single-day drop of 2,999 points during that stretch.
These events serve to underscore how even something as ubiquitous as the stock market can be destabilized by circumstances beyond anyone's control — in this case, a global pandemic. And while everyone may feel the effects of a downturn, especially hard hit are those who were heavily — or entirely — invested in the stock market. So, among other lessons, one of the biggest takeaways is the importance of portfolio diversification as a means for investors to safeguard their financial futures.

Investors can visit Cryptoindex for information on adding cryptocurrency to their portfolio and tools for easy access. Cryptoindex serves as a benchmark similar to the stock market's S&P 500, Dow Jones, or NASDAQ — but for cryptocurrencies.
This platform provides a detailed analysis of past performance — and predictions for the future — to help investors make smart choices with their money.
Following the market decline, public interest in cryptocurrency rose as some began to view it as a viable alternative to traditional investments. And in a seemingly crowded crypto market, Cryptoindex helps investors separate the safe from the riskier bets.
"We want to bring crypto tools to the traditional market," said Roman Wiligut, Director of Community and Relations at Cryptoindex. "That's our mission."
Machine Learning Offers Insight into Crypto Performance
Cryptoindex hosts multiple indices, but its primary offering is CIX100, which lists the top 100 cryptocurrencies on the market. The index, which is visible to the public as well as registered users, shows not only past performance but also offers short-term predictions.
CIX100 is powered by a proprietary algorithm and neural network, which together analyze more than 2,000 coins using 200 factors. That process weeds out the ones with fake wallets, scammers, and coins with small communities, leaving a list of 315 legitimate, top-performing cryptos.
"Registered users can see additional options that nobody has. We can make predictions on those coins, which are included in our index. We can predict what will happen to that coin in the next 24 hours," Wiligut said. "If our neural networks see a strange or troubling trend with a coin, our neural network can exclude it from our index. Our investors will not lose anything."
The CIX100 display was recently redesigned, making it more user friendly and offering greater insight into the crypto market. As soon as Fall 2020, Cryptoindex plans to launch a new tool that will allow users to create custom indices for their own reference — or to share with the community at large.
"Because of coronavirus, we tried to boost our efforts and make it much faster," Wiligut said.
Digital Currencies Help Diversify Portfolios
As any financial advisor or any seasoned market veteran can tell you, a diversified portfolio is an investor's best friend. If you put all your money into one stock, you run the risk of losing your entire investment if it dives.
Diversification, on the other hand, means less exposure to risk from any single asset, and so, even if one or a few holdings dip in value, you have others that can keep your portfolio afloat.
But, as the 2020 downturn has demonstrated, when the market declines, everyone's portfolio suffers, no matter how much care investors have taken to diversify their stock holdings. A mortgage crisis and recession demonstrated the same thing more than a decade ago.
And so diversification outside of stocks is another crucial means of hedging against the adverse effects of a large-scale financial decline.
Other assets available to investors include bonds, real estate, precious metals, and cryptocurrencies, which present a more modern means of diversifying beyond stocks. According to Wiligut, interest in crypto rose as the stock market fell in March 2020. That's when people began looking for places to put their money other than increasingly volatile and uncertain stocks.
"We see that the interest continues. People are searching for crypto indices, and most of them are in Canada, the United States, Australia, and Europe," Wiligut said. "Crypto, in this situation, it's only one way to diversify your portfolio. You can keep gold, cash, Bitcoin, and crypto indices. That's absolutely a diversified portfolio."
Products Enable Easy Access to Crypto and Returns
Even with tools and insight from CIX100, investors still need to take an active hand in their investments. That's why Cryptoindex makes it easy to access and invest in the crypto market through a pair of upcoming offerings.
It designed CIX.Fund for investors who prefer to take a more passive approach. Investors can buy into the fund through Cryptoindex's proprietary token, which will be available through the platform and on Coinexchange. This token's value is always equal to the current index value and will function as a traditional index fund.
An index fund is a mutual fund that tracks a particular market and matches that market's return — in this case, the crypto market. While active investors may realize higher returns by playing the market, indices offer more moderate gains in exchange for reducing the labor of tending to a portfolio. That means investors can earn returns on crypto investments without the stress or hassle of actively managing them.
Additionally, Cryptoindex is also working on a new exchange trading product to enable consumers to invest in crypto through traditional banks rather than exchanges.
"We are in negotiations with the Swiss exchange partners. By 2021, we will launch an exchange trading product that users can invest in via Swiss banks and buy our exchange trading product, or our index, through banks," Wiligut said. "We want to show the people that they can buy the same product on the traditional market because many people find that it's difficult for them. But we will make it easier."
Cryptoindex: Advocating to Expand the Role of Crypto in the Global Economy
The stock market took a notable upturn in early April 2020, and the S&P 500 experienced its best week since 1974 — while the U.S. Federal Reserve has contributed trillions of dollars into the market. And even with the ongoing COVID-19 pandemic, investors started to gain optimism that the economy would get back on track soon.
As the early months of 2020 show, the future is uncertain and potentially volatile. Imperial College of London's report on non-pharmaceutical intervention indicates that ending the pandemic will mean splitting one massive outbreak into smaller, more manageable ones. Based on that model, which has substantially informed public policy, society will swing back and forth between business as usual and more robust social distancing measures for many months until a vaccine becomes widely available.
Consumers and the economy could be looking at a bumpy road ahead. That makes it more critical than ever for investors to hedge bets and diversify, and crypto presents an attractive opportunity. And that increased interest could mean a significant new position for crypto in the global economy.
"We believe that the crypto response very soon could have an opportunity to be a benchmark for the new market. And many investors believe that they can save their money in crypto, and we think so, too," Wiligut said. "For example, Bitcoin is not a printer. You cannot print more Bitcoin because it has a limit. That makes it a great digital asset that can help any sector of the economy."