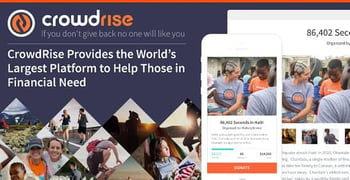 Experts share their tips and advice on BadCredit.org, with the goal of helping subprime consumers. Our articles follow strict
editorial guidelines
.
In a Nutshell: Co-founded by actor Edward Norton, CrowdRise is the world's largest and fastest-growing online, charitable fundraising site. CrowdRise enables anyone to raise money for any cause on an easy-to-use platform. People who find themselves in financial hardship or those struggling with medical bills are increasingly turning to the site to help get their lives and finances back on track. With a fast setup time and no startup fees, CrowdRise has become an innovator in the online fundraising realm.
After viewing a video from Chicago-based nonprofit Play for Peace last October, nine-year-old Aidan Hennessy of Bartlett, Illinois, was inspired to get involved in charity work. Aidan's mother quickly took notice of her son's interest, and together with family and friends, have since helped raise more than $60,000 for the organization by recruiting people to participate in the World Peace Day Fall Run/Walk fundraiser.
Aidan's story is special. The money a nine-year-old was able to raise will make a huge difference in the lives of many, and it was made possible through the global fundraising site CrowdRise.

Aidan is just one example of how CrowdRise can impact individuals and communities. Using elements of both social networking and crowdsourcing, CrowdRise provides a simple, easy-to-use platform for anyone to raise money for themselves, their loved ones, or charitable causes.
Not bound by geographic or demographic limitations, those looking to raise money for causes can go online and create a campaign that reaches a global audience. With a quick setup time, a program that rewards donors for giving, and 97% of raised funds going directly to a campaign's cause, CrowdRise is an effective platform to broadcast fundraising goals.
Go Live in 42 Seconds: Share Your Story & Start Fundraising
CrowdRise's success is in large part due to its ease of use. The site notes that most fundraising campaigns are live in just 42 seconds, and those needing help have access to personalized support.
Starting a campaign on CrowdRise is free. However, there are modest fees associated with each donation your fundraiser receives. Donors can elect to pay the fee themselves or have it deducted from the overall amount of their donation. This fee is negligible, though, as CrowdRise guarantees you keep at least $97 of every $100 you raise.
Another convenient perk of CrowdRise's platform is that it does not require a goal to be achieved — fundraisers keep 97% of their earnings whether or not the total dollar goal was met. Setting a deadline to stop your campaign is also not required, which allows for more flexibility in planning and running campaigns.
The site does, however, recommend setting a goal, as it's good to have a target in mind and communicate that target to potential sponsors. Maintaining regular communication with your sponsor community helps promote further involvement and overall visibility, which in turn drives donations. Having a deadline also fosters the conversation on social media and other channels in discussing how many days are left in your fundraiser.
The CrowdRise blog contains information on fundraising best practices and the fundamentals of crowdfunding. It's also an excellent place to get a peek at current, successful campaigns on the site. There is a wealth of information that can help fundraisers succeed.
People in Hardship Find Relief in the Crowd
CrowdRise makes it easy for individuals suffering from medical, financial, or credit-related hardships as well as nonprofit organizations to raise money.
Stefani Rose's campaign provides a good example of an individual taking advantage of CrowdRise's far-reaching platform. Stefani is currently trying to raise $5,000 to pay for a service dog for her sick mother, Tami Bohmier, who suffers from multiple illnesses. Performing simple tasks, such as gathering clothes for laundering and retrieving the mail, has become difficult for Tami, and a service dog would enrich her life by helping her do the necessary chores we all take for granted. The Bohmiers have already raised $1,435 and seem to be on track to reach their $5,000 goal.
Performing simple tasks, such as gathering clothes for laundering and retrieving the mail, has become difficult for Tami, and a service dog would enrich her life by helping her do the necessary chores we all take for granted. The Bohmiers have already raised $1,435 and seem to be on track to reach their $5,000 goal.
Groups can also use CrowdRise to announce fundraising efforts. The Mutiny, a wheelchair rugby team based in Fairfax, Virginia, formed a campaign to fund the team's cost of equipment, travel, and lodging. The team raised $1,234 of its $10,000 goal within the first week of the campaign, so they're off to a great start.
Stefani's and The Mutiny's stories are just two of the almost countless examples of how CrowdRise's platform simplifies fundraising efforts for individuals and groups. More than 1.5 million charities are benefiting from money raised on the site.
Make an Impact with the Only Charitable Rewards Program
One of the ways that CrowdRise motivates its community to contribute to campaigns is through Impact Points. CrowdRise gives 10 points for every $1 you donate to causes and awards points for following them on Facebook and Twitter. CrowdRise also offers creative opportunities to earn points, such as by answering movie trivia questions posted on the site.
There are several ways to redeem accumulated points. You can use points to gain greater exposure for your fundraiser or the cause of your choice or redeem them for a direct donation. You can also use points for CrowdRise T-shirts, hats, hoodies, notebooks, Camelbak water bottles and more.
What's unique about the CrowdRise items is that they cannot be purchased with cash. The only way to get them is by accumulating and redeeming Impact Points, so when you're seen wearing a CrowdRise hoodie or using a CrowdRise water bottle, it lets the world know you're an active CrowdRiser and "Decent Human," as the message on the shirts and hoodies advertise.
IYDGBNOWLY: A Great Way to Connect with Generous Donors
CrowdRise's tagline is fairly unconventional, but no one can argue that it's not impactful and memorable. "If You Don't Give Back No One Will Like You" (IYDGBNOWLY) is both funny and urgent. CrowdRise Co-Founder Ed Norton said of the motto with a chuckle, "I think it's true. I don't think you can be stingy for very long before people start to hate you."
While this may be hyperbole to a certain extent, it's a way to remind people that giving back is important. And CrowdRise has created a platform anyone with the most basic computer skills can launch and maintain with ease.
When Aidan broadcasted his fundraising efforts to the world, I'm not sure he anticipated such a wide response. The $60,000 he and his family have raised is a testament to CrowdRise's far reach. No matter the cause, CrowdRise can effectively help transmit fundraising efforts to a global audience of willing donors.