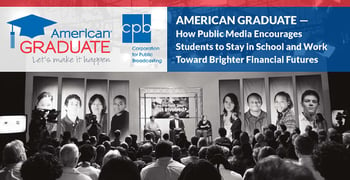 Experts share their tips and advice on BadCredit.org, with the goal of helping subprime consumers. Our articles follow strict
editorial guidelines
.
In a Nutshell: Keeping kids from dropping out of high school has been one of the longest-running public service campaigns in America. And for good reason. It is more important than ever for young people to get a high school diploma, as it has become more difficult to make any kind of meaningful living without one. The current low unemployment rate belies the significant need for skilled workers. And through the support of the Corporation for Public Broadcasting, public media's American Graduate initiative is engaging the public to advance education and career readiness in their communities. The initiative has made notable progress since it launched in 2011 and is evolving its focus to look at the essential skills for students and workers to succeed in the job markets of today and tomorrow.
With the current unemployment rate as low as it's been since 2000, there's a lot of talk about jobs these days. Sure, this is great news for the American economy and businesses of all sizes, but the issue of jobs in the US isn't that black and white.
Last year, the Department of Labor reported that there were approximately 6 million unfilled jobs in America, while 6.8 million unemployed Americans were actively looking for work. Now, this may seem like an easily solvable gap. But the unfortunate truth is that most of the 6.8 million people looking for work simply don't have the skills necessary to qualify for these millions of unfilled jobs.
The demand for jobs stretches across industries and states, with the majority of the need coming from occupations requiring some kind of specialized training or skill. Though the job market is constantly evolving, one thing has remained constant for decades: The first step to any decent paying job is a high school diploma.
High school graduation numbers are improving, with the national graduation rate now at around 84%. These encouraging numbers are thanks in part to initiatives like American Graduate that raise awareness about the importance of a high school education, particularly in communities where dropping out of school has historically been more prevalent.

Funded in part by the Corporation for Public Broadcasting (CPB), the American Graduate initiative leverages the value of public media in local communities to help keep young people focused on finishing high school and developing the skills needed for the workplace. American Graduate accomplishes that through local public media stations partnering with businesses, high schools, post-secondary programs, government entities, and workforce development organizations to advance education and career readiness and to look at workforce challenges and opportunities in local communities.
"The impact of the American Graduate initiative on young people and their communities is possible because of the sustained commitment by the public-private partnership that helps public media serve all Americans," said CPB President and CEO Pat Harrison, who has been instrumental in this effort. "CPB is proud to support this effort nationally as a way of helping our youth and communities thrive locally."
We recently spoke with Amy Shaw, Senior Vice President of Engagement and Content at Nine Network of Public Media in St. Louis, to find out more about the program's mission and success. The Nine Network is the local PBS station serving the St. Louis region that manages the American Graduate initiative, working with public media stations across the country to develop content and resources for national impact.
"We're working in 19 communities across the country. Each public media station takes a local approach to building a network of trusted partners who understand the issues and are already working in spaces like education, workforce development, and nonprofit," Shaw said. "We create content online, on-air, and across the community so that more people can understand the educational and career opportunities and be connected with the high-demand jobs that are out there."
Working to Ensure Students Have a Path to Viable Income
The importance of a high school diploma cannot be overstated. People without diplomas not only have far fewer options for employment, but studies show that they actually live shorter lives and have more health problems. This is part of the motivation behind public media stations' American Graduate work.
"We know what happens to people who drop out of high school — they consume more social services, they have greater rates of incarceration, they have greater health challenges, and they will simply not meet their lifetime earning potential," Shaw said. "So, clearly, the difference between having a high school diploma and not having a high school diploma can make an enormous difference financially in the lives of young people and in their long-term financial vitality.
"But the great news is that high school graduation rates have increased to an all-time high. The goal is 90% high school graduation rate by 2020, and we're very close to that number, but there is still work to be done."
Because of this success and changes in the US workforce, the American Graduate initiative has recently begun to focus efforts on what comes after high school. The popular model of students entering college right after they graduate from high school has left sizable gaps in jobs traditionally associated with skilled careers, such as electricians, plumbers, and construction workers.
"What happens after high school is so important because a lot of young people need information pertaining to what the viable pathways to high-demand jobs actually are," Shaw said. "What we're finding is that there are so many high-demand jobs that don't fit the traditional narrative or pathway.
"The pendulum has swung in the direction of requiring every young person to go to college. And, while college is very important and is certainly a pathway to financial viability, a lot of young people are going off to college and coming home within a few years with a mountain of debt and no degree. Because of the high cost of college, many people are not finding that pathway to higher education. So, there needs to be a broader conversation about all of the viable pathways to the many jobs in high demand."
American Graduate Champions Program Helps Bolster Students' Efforts to Succeed
Education starts at home. This is a well-worn cliché, to be sure, but it's also an established truism. Kids benefit from the formal and informal instruction they receive from parental figures. The lessons we learn as children stay with us throughout the entire course of our personal and professional lives.
But sadly, not everyone has the benefit of a stable, consistent home life or may be hindered by some other element. One of American Graduate's principal objectives is ensuring that, regardless of a child's background, he or she can benefit from the guidance and support of a caring adult. To help fill this gap, the American Graduate Champions program encourages others to commit their time, skills, or resources to help young people succeed.
"The role of Champions addresses the fact that every child needs to have a caring, consistent adult in their life in order for them to be successful," Shaw said. "This person can be a parent, a mentor, a guardian, a teacher — all of these are so very important. And what we're finding in the evolution of the work of American Graduate in focusing on what happens after high school is that young people do need help in navigating the pathways that are going to help them live their best lives — to be financially viable and contribute to their communities."
Online, Interactive Resources Provide Adults with Tools to Help Students Succeed
One of the best things about the Corporation for Public Broadcasting, and public media in general, is the sheer variety and scope of its work, especially in local communities. Public media stations engage teachers and mentors with a suite of resources provided for free through PBS Learning Media to help young people succeed.
These resources are intended to help students, especially those who are considered to be at-risk, overcome obstacles of many types along their entire educational journeys — from preschool to graduation. Content covers a wide variety of areas and features topics like dropout prevention, college and career readiness, literacy strategies, and special needs communities.
An especially helpful feature guides teachers in finding every resource that supports given educational standards. Essentially, teachers can browse education standards and match to an existing media resource. This makes it easy for educators to curate and customize content based on the needs of the community where they live and work.
"Our model is creating and disseminating content, and the format of that content is completely dependent upon what the needs are in that community," Shaw said. "What also holds true is the idea that more people need to know about this information. Our work in public media is about being responsive to the needs of our local communities. We're local, and we serve the needs of our local communities. We're not there to turn a profit."
Seeing Tangible Results Through Public Media
As the saying goes, "It takes a village." And keeping kids in school should be a community-wide effort. But teachers and parents need all the help they can get. The American Graduate initiative goes a long way to ensure that the resources to help communities grow stronger exist.
Examples of public media stations connecting education and jobs include Salt Lake City, where KUEN has a partnership with an online portal called "UtahFutures" and WTVI-PBS Charlotte's video series featuring local industries that need more skilled workers.
During our conversation, Shaw shared an anecdotal example of how powerful people can be when they use their collective voices for change.
"We started working with the St. Louis Public School District, which has a program that's about getting people back into school after they've dropped out," Shaw said. "This program was very successful, and we met some of the people in this program and saw their lives change because they got back into school and were earning their diplomas. We were able to tell that story on air and people really responded."
While successful, the program in St. Louis was almost closed down by the school district because its grant had concluded. Because of Nine Network's storytelling ability and media reach, the public responded with donations to keep it alive.
"If the community had not seen how successful this program was through public media, we're confident that it would have ended," Shaw said. "So this is a very powerful testament to the fact that, when the public is aware of the impact of these kinds of programs, they demand good things for young people."