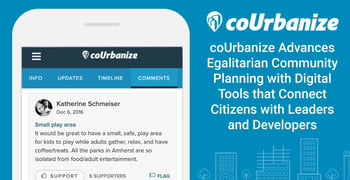 Experts share their tips and advice on BadCredit.org, with the goal of helping subprime consumers. Our articles follow strict
editorial guidelines
.
In a Nutshell: The views expressed at public meetings are not always representative of broader community concerns. That's why coUrbanize developed an online platform to empower more people to interact with local leaders and developers, allowing all voices to be heard during the planning process. The platform facilitates the flow of information by allowing community members to provide feedback online and via their mobile devices. And coUrbanize allows developers and civic leaders to easily give updates on projects, ensuring everyone stays informed on important issues.
When Karin Brandt was pursuing her graduate degree in city planning at MIT, her curriculum involved hands-on work and engagement with current projects. community member participation at planning meetings fell short in quickly and accurately gathering public feedback.
She discovered that people attending those meetings were often not representative of the population that would be living and working in the spaces being proposed for development.

"She saw the ineffectiveness of those meetings, in that there's a lot of disparities in who can actually attend meetings," said Courtney Porcella, Director of Marketing at coUrbanize, a platform that aims to foster more inclusion around public meetings. "She wanted to leverage technology to solve that, and connect real estate developers and city planners with the people who matter most to their projects."
coUrbanize, which Brandt founded while still studying at MIT, is an online community engagement platform that can complement in-person planning meetings. By combining in-person and digital approaches to sourcing feedback, a broader range of community members can participate in the planning processes that shape their environments and lives.
"Everywhere from small towns in New England to large cities have used our tools, in addition to real estate companies," Porcella said. "Some real estate companies use our products to get the word out about their projects, build support for them, and — what I think is the most exciting way — to shape their plans to be reflective of community needs and desires."
Public Planning Meetings Exclude the Full Spectrum of Community Interests
Boston University studied public meetings for new housing developments in Massachusetts and found that an overwhelming number of attendees were opposed to those projects, according to Porcella.
"Part of that reason is because 95% of people who attend these meetings are richer, whiter, and older than the average community member," Porcella said. "So you have a small minority of the neighborhood or the community impacting the decisions about what's built there."
Relying exclusively on in-person meetings for planning makes several crucial assumptions that severely limit community input. For example, parents may not secure the childcare necessary for them to attend. Others may be working at their job during the scheduled meeting times.
And not all community members may be comfortable expressing themselves in the forum or publicly stating a contrary or unpopular opinion in front of an audience of neighbors.
"The last thing that's interesting in the Boston area community meetings, and I'm sure in a lot of metro areas, is that the majority of people who go to meetings are homeowners versus renters," Porcella said. "And renters at some of these meetings are somewhat talked down to like their opinions don't matter."
Ultimately, decisions reached in these settings are disproportionately influenced by louder voices who have the leisure to attend. These participants, in Porcella's experience, are the people who most vehemently oppose development.
The goal of coUrbanize is to ensure the decision-making process is representative and constructive by enabling wider, digital participation. It doesn't replace public meetings, which are still essential tools in the planning process, but offers another avenue for people to provide reactions and ideas.
"Public meetings should still have their place in the community engagement mix," Porcella said. "But coUrbanize allows you to reach people who aren't going to go to those public meetings to make the process more inclusive, equitable, and to get a broader range of feedback."
Digital Communication Empowers Targeted Feedback
Instead of hearing from a handful of people at a public meeting, developers and leaders can use coUrbanize to source curated, productive feedback from potentially thousands more people. That level of input often enables green-lighted projects to better meet the needs of the community at large.
"We suggest developers think about what they want to find out from the community, and that may vary based on the stage at which a project is in," Porcella said. "For example, if you just acquired a piece of land, and you're figuring out the right mix of retail to propose, the right mix of housing typologies, ask the community those questions and get their feedback. It also helps to build that rapport with the community because they feel like you are actively seeking their feedback."
coUrbanize collects community feedback in a centralized platform and directs it toward productive discussions. Responses can address specific topics or a project in general. Community members can submit feedback through the online platform or send a text message from their mobile device — a handy alternative for those who lack computer access.
"If a project is in a high-traffic area — or near one — we help our clients produce signage that says, 'What kind of retail would you like to see here? What kind of restaurants do you want to see here? Text in your answers,'" Porcella said. "It allows you to capture people who are already experiencing the space or at least experiencing that community every day."
Leaders and Developers Provide Crucial Information Directly to the Public
In addition to collecting feedback from communities, coUrbanize allows developers and leaders to deliver critical information to the public. Project and civic leaders can publicize when meetings and important votes take place, post meeting summaries for those who can't attend, and share documents that will ensure everyone involved stays informed and up-to-date.
Porcella said this is especially important for affordable housing projects. Anything bearing this moniker often requires explicit contextualization to ensure community members all understand the project.
"When people hear 'affordable housing,' they get scared because they don't really know what it means," Porcella said. "And there's so many different ranges of affordable housing. Public housing is what most people think of when you hear 'affordable,' but in Boston, there is affordable housing built into developments in the city. You can make a seemingly comfortable salary and qualify for affordable units because of the housing crisis here."
And not all community members may be fluent English-speakers, particularly in urban areas. To promote access and engagement, coUrbanize translates project pages into the languages present in neighborhoods and communities.
"Language is a huge barrier, especially in diverse cities and populations. We can translate materials into a variety of languages that make sense for a project," Porcella said. "There's a project we're working on in the San Francisco area where a large Samoan population lives, so we're translating it to Samoan. It is just about how you can best reach the people you're trying to reach, and we want to provide as many ways to lower those barriers as we can."
coUrbanize: Facilitating Engagement in Times of Crisis
In a period defined by social distancing, keeping communities informed and in touch with developers is vital. With some areas preventing large public gatherings, conducting planning meetings with a limited number or no attendees would defeat the purpose of inviting community participation. So coUrbanize's role in the process has become even more valuable.
"Municipalities and different development projects are trying to figure out how to best continue community engagement without using one of the biggest tools in their arsenal, which is meetings," Porcella said. "We help them continue to communicate with communities as best they can."
That is not the end of in-person meetings, just a transformation of how they're conducted. coUrbanize is currently focused on helping government leaders and real estate developers host and run virtual meetings to stay connected with one another and the public.
The platform also provides templates to disseminate updated information. Community leaders also have access to a template designed for delivering information on the COVID-19 outbreak, such as changes to project road maps, timelines, or delays in construction, helping the community stay informed about statuses and prospects.
"We've also introduced a button where somebody can say, 'I want to have a virtual coffee chat with the real estate developer.' In between public meetings, these smaller meetings are really where a lot of conversations happen," Porcella said. "We always bring in the people who are actually going to be living in these buildings in communities, working there, raising their children there. We're spending a lot of our time within whatever environment we're working in."