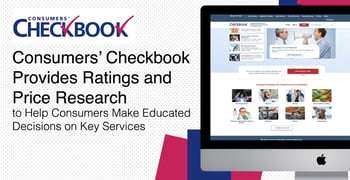 Experts share their tips and advice on BadCredit.org, with the goal of helping subprime consumers. Our articles follow strict
editorial guidelines
.
In a Nutshell: While ratings and reviews abound online, they aren't always trustworthy sources of information. That's why Consumers' Checkbook designed a subscription-based platform that provides authentic reviews and price comparisons for services in major U.S. markets. Its closed scoring system ensures that ratings are balanced, unbiased, and based on real consumer experiences. Similarly, its undercover price shoppers take particular care in isolating specific costs, so readers know what is included in the cost. That information, along with the platform's free educational resources, help consumers make informed decisions.
Jamie Lettis always assumed bundling her insurance policies through one provider was a surefire way to get the cheapest rates. One day, though, she decided to do a bit of comparison shopping — and she was glad she did.
Lettis discovered that, by signing with different insurers for her home and auto policies,  she could save $1,500 a year. But Lettis isn't the only one who can benefit from comparing prices. Her story highlights the importance of shopping around to find the best value — whether it's insurance or any other service.
Lettis is now the Public Relations Director at Consumers' Checkbook, an online platform that provides authentic price comparisons and satisfaction ratings for services in major U.S. markets. Consumers' Checkbook enables users to make smart decisions based on information from reliable sources.
"We're a nonprofit, and our mission is to help consumers get good services and good prices," Lettis said. "We're independent, and we don't take any advertising or referral fees from businesses. That makes us very different from what is out there."

Consumers' Checkbook was established in 1974 after Founder and President Robert Krughoff took his car to an auto shop three separate times for the same issue. Frustrated with unreliable service, Krughoff created an organization that would provide consumers with quality information about services, helping them avoid the problems he'd experienced.
To ensure that mission takes precedence over any other concerns, Consumers' Checkbook earns its revenue through subscriptions rather than from advertising or partnerships. That way, it can dedicate itself exclusively to helping consumers get the best price through conducting research and collecting consumer feedback.
On Consumers' Checkbook, readers can narrow their search for services, including financial products and insurance. And the organization's independent price analysis ensures subscribers can find the best deal in their market.
The platform also offers a wealth of free resources to educate consumers before they spend their hard-earned money.
A Closed System Safeguards the Integrity of Ratings
Online customer ratings are common in retail, and they're meant to help us make smart purchasing choices. But while these scores are often valuable tools, they don't always tell the whole story.
Let's say you visit an online marketplace looking for a new pair of headphones. You find a pair that fits your budget and has a 5-star rating. But what's really behind that rating? If you look closely, you may find that it is based only on a handful of reviews. And there's a chance that those reviews are inauthentic, possibly written by the manufacturer or retailer.
"You don't know who made that rating," Lettis said. "You don't know if there's been some other behind-the-scenes, pay-for-play that's bumped that rating up high. You have to be aware of what you're looking at and take everything with a grain of salt."
In April of 2019, the Consumer Federation of America published a report on a well-known online review platform. Previously a subscription service, the platform removed its paywall and instead began earning revenue through advertising and partnerships.
CFA found that the only way to achieve the revered "top-rated" status on the platform was to purchase advertising within that platform. The report detailed other shortcomings of the platform's rating system, including inadequate review volume, unreliable price comparisons, and distribution of personal user data to businesses.
Even when consumers think they're receiving trustworthy information, it's always smart to take a second look at the source and identify possible conflicts of interest.
Consumers' Checkbook operates as a subscription service to impose quality control measures on its information. Only trusted, long-term subscribers can rate businesses, making it difficult for inauthentic ratings to end up on the platform, regardless of which way their bias leans. That provides subscribers with legitimate information based on firsthand experience and prioritizes consumer interests over the platform's bottom line.
Reliable, Experience-Based Scoring and Price Research
All subscribers gain access to business ratings, but there is a waiting period before they can contribute their own ratings. That helps ensure that they're real consumers without ulterior motives. Additionally, Consumers' Checkbook takes steps to prevent individuals from creating multiple accounts and tipping the scale in one direction or another.
"We know who's rating the business and that the same person isn't rating the same business multiple times," Lettis said. "And we know where these people are coming from because we're inviting them to do it. It would be much easier to get more ratings, but we're committed to making sure the ratings we do have are legitimate."
Consumers' Checkbook collects ratings through online forms, as well as print surveys sent out to subscribers. Businesses must receive 10 ratings before their scores become visible to subscribers. That minimum limit also ensures that ratings are reasonably balanced and unbiased.
Aside from ratings, Consumers' Checkbook also conducts price comparison research. Undercover shoppers contact businesses to get quotes, taking particular care to ensure that each price quoted is for the same specific good or service.
"We come up with ways to make sure we're getting bids that are comparable with one another. We give them the same specific scenarios, and it's an apples-to-apples way of doing it," Lettis said. "A lot of times, we find that businesses that offer more reasonable prices are more likely to provide good service. A lot of people think you get what you pay for, but it's not the case at all."
Helping Consumers in Major Markets and Offering Free Information for Everyone Else
Consumers' Checkbook currently provides information for metro areas, including Boston, Chicago, Delaware Valley, Puget Sound, San Francisco Bay, Minneapolis-St. Paul, and Washington D.C. Subscribers gain access to information about all of these markets as well as general information about national markets.
The platform's top rating categories include automotive services, insurance, healthcare home services, travel, pet care, among many others. And each category has a wide range of sub-categories.
Categories are only a cross-section of the various services that have received reviews; more can be found in the all services section on its site. Those listings also cover a range of financial and money-related services.
"Auto insurance and homeowners insurance are two that we cover that are a big deal in terms of saving money," Lettis said.
Subscribers can also access ratings on auto and home insurance, banks, energy use consultants, and financial advisors. And the public at large can find information on cutting costs, using credit card chargebacks, home warranties, protecting against identity theft, and understanding sale prices.
"All the advice is outside our paywall," Lettis said. "Anyone can come in and benefit from reading all of our articles. If you want to see ratings, that's subscriber-based. But everything else is available for free."
Consumers' Checkbook ratings and resources are valuable tools for consumers seeking to save money. Not only can they help in finding the best deal to meet a particular need, but they can also find reliable providers and avoid the cost and hassle of subpar services.
Feedback Fuels Expanded Coverage and Research
Consumers' Checkbook collects feedback to understand how it is meeting the needs of its users. It uses those insights to add even more value for subscribers, whether they are shopping for cheaper insurance like Lettis or planning other major purchases.
"For a long time, people were asking us about assisted living facilities," Lettis said. "That's a big deal — something you want to make an educated choice about, but it's also hard to compare. We worked for a long time, and, in our last issue, we did a report on it and undercover price shopping."
Consumers' Checkbook researchers ultimately found that many facilities do not publish their rates and refuse to give them out over the phone. Regardless of the business motivations for keeping their prices under close guard, this situation underscores the importance of shopping around — not only for the best price but for a service provider that you can trust.
In the final analysis, knowing who you're doing business with is just as important as knowing who's rating and reviewing them online.
"Our big piece of advice is to do your homework on any service," Lettis said. "If it's financial or otherwise, really do your research. Shop around, because you can save a lot of money. Get smart about the category of business so you can know what to expect."