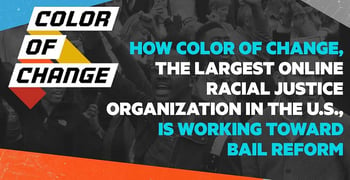 Experts share their tips and advice on BadCredit.org, with the goal of helping subprime consumers. Our articles follow strict
editorial guidelines
.
In a Nutshell: The topic of bail reform re-entered the national conversation in 2015 following the case of Sandra Bland, who died on her third day of being held in a Texas jail. Following a traffic stop that became contentious, Bland was unable to post the required $500 bail to be released (10% of the $5,000 bail charge). Since then, the nonprofit Color Of Change has been working hard to raise awareness around bail reform and hopes to ultimately see major changes in the U.S. bail system. We spoke with the organization's Criminal Justice Senior Campaign Director Scott Roberts to learn more about the topic of bail reform, Color Of Change's advocacy in the area, and how citizens can contribute in efforts to see change.
In recent decades, the United States practice of releasing suspects from custody on payment of money or pledge of property to the court has transformed from a legal framework to help guarantee that a defendant will show up for trial into a $2 billion industry, and Color Of Change is one of the groups working hard for bail reform.
An article in The New York Times described bond agents as "the payday lenders of the criminal justice world, offering quick relief to desperate customers at high prices."
The burden of paying a bail bond and other associated expenses can easily send a person or family into a downward financial spiral. Almost half of Americans can not afford an unexpected expense of $400.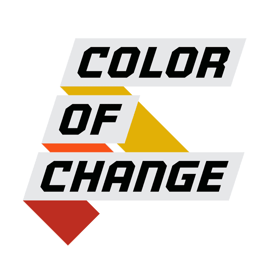 In 2015, a 28-year-old African-American woman named Sandra Bland was arrested following a traffic stop that became contentious. Bland was unable to post the required 10% — or $500 — of her $5,000 bail to be released. She died after three days in the Texas jail. Bland's cause of death was ruled a suicide and there are some who do not agree with this conclusion.
But, regardless of the cause of her death, bail reform advocates say Bland should not have been in jail to begin with.
Color Of Change, the largest online racial justice organization in the country, picked up the topic of bail reform after Bland's case helped the issue re-enter the mainstream.
We recently spoke with the nonprofit's Criminal Justice Senior Campaign Director Scott Roberts about the issue of bail reform, how Color Of Change is helping to move the needle on the national conversation, and what citizens can do to help.
Experts Say the U.S. Bail System is Stacked Against Minorities and the Economically Disadvantaged
Roberts said that starting with the 2014 shooting death of African-American Michael Brown, Jr., by a white police officer in Ferguson, Missouri, stories of the criminal justice system negatively impacting minorities became more prominent in the news and on social media.
The stories led to protests and heightened awareness across the country.
"We were glad to see these issues begin to filter up into the mainstream," Roberts said. "But it wasn't immediately clear how to leverage that attention."
Roberts said Color Of Change sent someone to investigate what had happened to Bland in Texas, and discovered what he called a very suspicious relationship between the jail, courts, and the local bail bond industry.
"We were being told that people were being pushed to certain bail bonds people and that basically local judges had political and business relationships with bail bondsmen," Roberts said. "So, there was a real incentive for judges to hold people pre-trial who didn't need to be held pre-trial because it was good business for folks in the bail bonds industry."
He said the nonprofit soon discovered this system was par for the course in many municipalities across the country. The bail bonds industry wields a tremendous amount of political influence over people in the criminal justice system like prosecutors and judges, he said. This leads to the bonds people determining who is allowed to go free and who remains in jail.
"It's up to the bail bondsmen to decide if someone is too risky for them to put the bail up," Roberts said. "Worst case scenarios that we've heard about are people whose offenses are so low and their bail is set so low that while they may not be able to afford to pay it, it's also not worth the bondsmen's time to bail them out."
In May 2017, Color Of Change in collaboration with the ACLU Campaign for Smart Justice released the report, "Selling Off Our Freedom: How Insurance Corporations Have Taken Over Our Bail System."
Among the report's core findings were that the industry is dominated by a handful of surety companies — often global insurance companies — that never pay out, Roberts said. Bonds people are required to have this type of insurance, and the insurance companies pass along incentives for the bonds people to use every tool at their disposal to make sure people don't skip bail, he said.
"So, basically, it's a scam," Roberts said. "It's a trap. You're potentially in the worst crisis moment of your life, and you don't have any choice but to deal with one of these bail bonds people. You may have to sign over property or agree to some type of monitoring or tracking."
The system results in a kind of de facto police force of bail bonds people and bounty hunters, Roberts said, that can lead to incidents where the wrong person is targeted or excessive violence is used.
"Overall, it's an industry that, in our opinion, should not exist," he said. "There's a lot better ways to get people to show up. And people's freedom should not be determined based on their ability to pay."
Color Of Change Educates the Public, Works Closely with Grassroots Organizations, and Petitions Leaders
Color Of Change has made it a priority to spread the word about the injustices of the money bail system and is working in a number of ways to enact change in the industry.
The organization is one of several nonprofits, including the ACLU, that is working diligently to educate the public about the issue. Other nonprofits, including the National Bail Fund Network, the Bail Project, and the National Bail Out, are raising money and paying people's bail to help them get back to their families.
In Color Of Change's efforts, it has brought on singer and songwriter John Legend to help inform people about the issue. A video narrated by Legend, which offers a thorough and visually impactful overview of the issue, was picked up by the national media in 2018.
Color Of Change also offers a number of resources at nomoneybail.org, including Legend's video, a link to the "Selling Off Our Freedom" report, and a number of petitions.
"We are winning the fight against money bail," according to Color Of Change's webpage linking to its petition to District Attorneys. "Recently, newly elected Philadelphia District Attorney Larry Krasner made the bold and important decision to instruct all prosecutors in the city to end the use of cash bail against people accused of non-violent offenses."
The petition calls for district attorneys across the country to follow Krasner's lead and stop using money bail.
The organization also links to a petition to Bankers Financial CEO John Strong. In addition to natural disaster insurance, the corporation operates Bankers Surety in the bail bond industry. The petition calls for the company to cut its ties from the bond industry and close Bankers Surety.
Color Of Change's efforts have not gone unnoticed.
As a result of the organization speaking out, Google and Facebook began refusing to allow ads from bail agencies on their websites. And U.S. Senators Cory Booker and Sherrod Brown "are inquiring into the business practices of the insurance companies underwriting bonds."
Readers who are interested to learn more about how they can get involved in the fight against money bail can sign up to Color Of Change's email list and follow #EndMoneyBail on social media.
Striving to Correct Injustice and Empowering Black Communities Through a Number of Strategies
Bail reform is just one of a number of issues Color Of Change is working on.
The organization's origins go back to 2005 when it was co-founded by James Rucker and Van Jones following the mismanagement of the Hurricane Katrina disaster. Color Of Change used MoveOn.org's email list and petition model to reach out to African-American citizens.
"We help people respond effectively to injustice in the world around us," according to its mission statement. "As a national force driven by more than 1.4 million members, we move decision-makers in corporations and government to create a more human and less hostile world for Black people in America."
Color Of Change focuses its efforts into numerous actionable campaigns that are categorized into six broad areas: Criminal Justice; Culture Change & Media Justice; Voting Freedom & Democracy; Justice in Tech; Right-Wing Politics & White Nationalism; and Economic Justice.
"Color Of Change leads strategic campaigns that build power for Black communities," according to its website. "We challenge and change injustices in the industries that affect Black people's lives, and advance solutions for racial justice that can transform our world."
The nonprofit also operates OrganizeFor, a digital petition and training platform. The website contains educational information about how citizens can start and run an effective digital campaign, including facilitating the creation and dissemination of petitions.
"OrganizeFor is designed to promote actions that make the world a more tolerant and less hostile place for Black people by building power digitally and connecting you with other folks who share similar values and interests," according to the website.
Ending money bail is an important initiative for Color Of Change and many others across the country. But — as evidenced by the depth of information available from the nonprofit and the many active campaigns it is supporting — it is only one of many important topics that should be addressed in the interest of racial equity in the U.S.