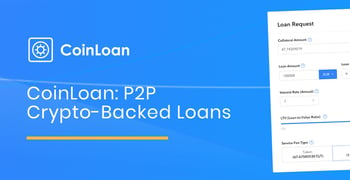 Experts share their tips and advice on BadCredit.org, with the goal of helping subprime consumers. Our articles follow strict
editorial guidelines
.
In a Nutshell: While stocks have been used as collateral in the fiat world for decades, it was only recently that a parallel infrastructure existed in the crypto world. CoinLoan is a platform offering these crypto-backed loans that allow digital asset holders to unlock the value of their tokens without having to sell them. Lenders also earn money through interest earned from borrowers. And CoinLoan's interest account offers up to a 10.3% APY with no minimums, no limits, and no fees.
Bitcoin blazed the path back in 2010 for today's vast cryptocurrency ecosystem.
The original concept was simple — using blockchain technology's immutable ledger, in theory, any person in the world could digitally transfer funds to another person outside the traditional financial structure.

Then came Ethereum. And Litecoin. And a host of other digital currencies. Next, those currencies began to increase in value, with Bitcoin notably leading the way.
All of a sudden, it became more appealing to many consumers to hold on to those increasingly valuable crypto coins rather than use them to pay for goods or services. People began buying up cryptos like stocks and hoped to see them continue to increase in value.
In the traditional finance world, investors have been able to borrow against their stocks for decades — often as a strategy to buy more stocks. But the method has also been used as a way to gain fast access to cash without having to let go of those money-growing stocks.
It took a few years for the crypto world to catch up, but thanks to companies like CoinLoan, crypto investors can now borrow against their digital assets as well. And as a P2P lending platform, investors can put up funds and look to gain returns as a source of supplemental income.
We recently spoke with Mike Rozhko, Chief Business Development Officer for CoinLoan, about how the platform works and the advantages it offers both borrowers and lenders.
CoinLoan was founded in 2017 by Alex Faliushin and Max Sapelov, Rozhko said. A major driver behind the company's development was Faliushin's personal experience selling 100 bitcoins, then seeing the bitcoin value skyrocket after the fact. The partners looked for a way to unlock the value of crypto without having to liquidate it, and CoinLoan was born.
Low Interest Rates, No Credit Checks, and Other Benefits for Borrowers
"At some point in our lives, we will all need to meet digital assets face to face," according to CoinLoan. "We believe it's inevitable. What should not be inevitable is feeling frustrated by the complexity of the crypto-puzzle."
The company seeks to make its corner of the crypto world as easy to navigate as possible. For those looking to borrow against their digital currencies, the process is simple — and fast too.
"CoinLoan was started as a more straightforward peer-to-peer business," Rozhko said. "But we realized that sometimes it's difficult to find the ideal pairing for the lender and borrower because we're all unique and have diverse needs."
The company saw how it wasn't always efficient for borrowers and lenders to connect on their own. So CoinLoan adjusted its platform so the lenders essentially deposit their funds into CoinLoan, and CoinLoan connects the funds with borrowers making for a fast and easy loan process.
"For many of our customers, what was most important was they were interested in getting an instant loan — they don't want to wait — so we made the instant loan service," Rozhko said.
Another hurdle for fiat borrowers can be credit checks, but not with CoinLoan.
"Because each loan is asset-backed, there is no need to run a credit check. You can pay off your loan whenever you want, or you can continue to pay on a monthly basis," according to the company. "Secure, simple, and available."
Rozhko said the company also offers some of the best interest rates in the business. That's because the company recently changed the way it calculates its interest rates and borrowers reap the benefits.
"The lower is the LTV you choose, the better is the interest rate," according to the company. "The cheapest rate for cryptocurrencies is 4.5%; for fiat and stablecoins it accounts for 4.95%."
Providing Secure Lending Opportunities for People All Around the Globe
The CoinLoan platform comes with a bevy of appealing benefits for lenders as well.
For one, there are no obstacles standing between the lender and the borrower as CoinLoan facilitates the process.
"CoinLoan matches lenders and borrowers, acting as a custodian by delivering a safe and clear lending experience," according to CoinLoan.
And the platform offers worldwide coverage with borderless lending opportunities available for lenders from anywhere in the world.
Lenders can also feel secure knowing the platform is safe and reliable.

"The CoinLoan is licensed in Europe as a financial institution. Fully legal status and protected infrastructure ensure the security of funds," according to the company website.
But putting money up is not the only way people can earn on the CoinLoan platform. Rozhko said the company's recent interest account offering is gaining popularity fast.
"Interest Account aims to give you high-yield returns as fast and as easy as possible. That's why our new product is one of the most intuitive and accessible in our portfolio," according to CoinLoan.
Users can fund their interest account with crypto or fiat funds and earn up to 10.3% APY. The minimum deposit term is one day and the maximum term is unlimited.
"Once you deposit the funds into the account, they start to generate profit. Interest is accrued daily and deposited directly into your wallet on the first day of the month," according to the CoinLoan website.
Users are free to withdraw their funds at any time with a single click.
How the CoinLoan Platform Works
"CoinLoan is the first P2P lending platform for crypto asset-backed loans," according to the company. "Borrowers get money without selling crypto assets. Lenders offer loans and earn competitive returns. Overcollateralization ensures full repayment on time."
Newcomers — and even seasoned crypto enthusiasts — may be wondering just how the process works.
"Deposit fiat funds or stablecoins if you want to lend. Deposit crypto assets to secure a loan if you want to borrow," according to the CoinLoan website.
In the lending market, lenders simply find the most suitable offer to issue a loan instantly or create a custom one. In the meantime, borrowers commit to paying interest on time. The cryptocurrency collateral also ensures timely payments.
"Once the loan is paid off, the lender gets funds and earned interests. Сryptoassets return to the borrower," according to CoinLoan.
All this takes place via CoinLoan's easy-to-use and secure digital interface.
"Slow and restricted traditional banking is outdated and doesn't correspond to the modern globalized world," according to the company. "CoinLoan turns things around. Forget about any delays or hidden fees. Borrow, earn interests, exchange your fiat, crypto, or stablecoins from any part of the globe — all in one place."
CoinLoan is also continually looking for ways to improve the lending and borrowing process for users, Rozhko said. Adding Ripple to the platform is one the company's exciting recent developments.
"On the first of June Ripple (XRP) became officially listed on the CoinLoan platform," according to the CoinLoan blog. "Within a week of the listing, users deposited more than 14 million XRP tokens on the platform, making CoinLoan the leading cryptocurrency lending service that uses Ripple."
With its potential to deliver significant earnings to lenders and interest account holders, as well as its no-credit-check crypto backed loans for borrowers, CoinLoan makes notable headway in bringing the utility of the crypto world one step closer to that of the fiat world.