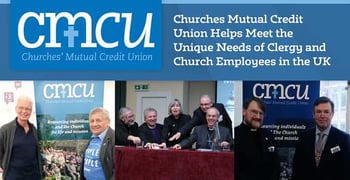 Experts share their tips and advice on BadCredit.org, with the goal of helping subprime consumers. Our articles follow strict
editorial guidelines
.
In a Nutshell: Credit unions in the UK are seeking to provide a banking alternative for underserved communities, while changing the image of what a credit union can be. Churches Mutual Credit Union (CMCU) is one such membership cooperative, serving clergy, church employees, and others connected with any of the denominations within its common bond. CMCU offers commutation and first post loans for clergy, as well as personal loans, car loans, and even debt restructuring loans to its members. With a common bond that includes the Anglican Church, Church of Scotland, Methodist Church, United Reformed Church, and the Roman Catholic Church, this ecumenically focused institution continues to grow and serve its membership base.
Payday and short-term lending in the UK has undergone a series of changes in recent years, due largely to the Financial Services Act of 2012, and subsequent formation of the Financial Conduct Authority.
The FCA is charged with regulating financial firms that provide services to consumers and with maintaining the integrity of financial markets in the UK. As a result of this mandate, the FCA created a separate regulatory body called the Payment Systems Regulator (PSR) in April of 2015.
Prior to the formation of the FCA, payday lenders in the UK had long been the target of criticism by politicians and regulators for frequently charging rates of as much as 1,500% APR. The regulations put forth under the FCA and the PSR have helped to place more scrutiny on the payday and short-term lending industry, but many of the core complaints have yet to be fully addressed.
Justin Welby, Lord Archbishop of Canterbury and clerical head of the Church of England, is an outspoken critic of high-interest lending. Archbishop Welby has called for an alternative to the "costly forms of finance" that payday lenders offer. The hope is that, with the Church of England's support for mutual societies and credit unions, lending in the UK, especially for those who may be excluded from more traditional banks and lenders, will change.

We recently spoke with Hilary Sams, CEO of Churches Mutual Credit Union (CMCU), a mutual society and savings and loan cooperative founded to serve the banking and financial needs of clergy, as well as employees, volunteers, and others within the church.
"What we're trying to do at Churches Mutual is to provide credit union services to anyone who works at or is a trustee or associated with one of our seven denominations," Sams said. "It's a really big ecumenical project. We are faith-based, but not exclusively so because it is actually employees that are membership-eligible, and they can be of a different faith or no faith at all."
The credit union's common bond includes the Anglican Church, the Church of Scotland, the Methodist Church of Great Britain, the United Reformed Church, and the most recent addition, the Roman Catholic Church in England and Wales, and in Scotland. It is not just people working in churches; the common bond includes over 500 charities and around a third of people employed in schools in England and Wales.
Products Designed to Serve Those Who Serve Others
As an institution established with the support of religious leaders and groups, CMCU is uniquely positioned to meet the needs of clergy and others in service. A life in ministry or in charitable service often means forgoing many of the material possessions of secular life. While this is a commendable path for religious service, it can also pose financial challenges.
"A lot of ministers don't own their own homes," Sams said. "And this can affect their credit rating when it comes to getting affordable loans."
Many of the loan types offered by CMCU are directly aimed at clergy and those in ministry. Examples of this include first post loans, intended for those beginning their first stipendiary post. There are significant expenses involved in preparation for this duty that can affect the chances of an individual qualifying for a personal loan.
Another loan type specific to those in church service is a commutation loan. This type of loan is intended for clergy looking to retire within three years, and who will be receiving a defined benefit occupational pension that includes a lump sum. A CMCU loan of this type allows for repayment of interest only, until the lump sum payment or commutation is made.
In the case of both first post and commutation loans, the loan repayment would come directly from the borrower's salary or stipend, by way of the institution where he or she is employed. Other CMCU loans are more traditional, and include car loans, personal loans, and even debt restructuring loans.
"We offer car loans for ministers because we know that they move about and might find themselves going from an assignment in an area with good transit to a more rural parish," Sams said. "We try to tailor what we offer as a credit union to people who are in a situation and lifestyle that may be harder to understand for more secular institutions."
Services for the UK's Traditionally Underbanked
Credit unions in the UK have historically been seen as offering alternative services for the underbanked and those unable to secure traditional loans or banking accounts. Churches Mutual is hoping to change that perception. In support of Archbishop Welby's critique of high-interest lending, CMCU offers loans that have lower interest rates and with better terms than many traditional lenders.
"Concerning the Church of England, the Archbishop is very much in support of financial equality and getting rid of high-cost lenders, so this is one of the reasons he has supported us in getting the credit union established," Sams said.
Loan approval requirements are also handled quite differently by CMCU, with applications assessed on an individual basis. With many members of the clergy living on a fixed but modest income, CMCU's primary concern is ensuring the financial needs of these individuals are met.

This church-based credit union also has a wider goal. The vision among CMCU administrators is to establish a core membership that transacts primarily through payroll deductions, thus reducing costs to members. Over time, however, the membership would be expanded to include any and all active church members.
"We view our common bond as our community, so our community is people in ministry and all our denominational partners, employees in the charity and educational sectors," Sams said. "We see that people, when they know they have the choice, will choose the cooperative option — the mutual and ethical nature of credit unions — over the big banks, but we need to honour that choice by being efficient and competitive."
CMCU's commitment to the community includes offering savings accounts that serve long-term investors, as well as installment savers putting money away. Regular saver accounts are open to all members, and can build savings through monthly salary deductions or bank standing order deposits.
Another option is a Premier Investment Account, which is a way for members to earn a higher rate via dividend payments. These accounts require an initial deposit of £2,000, but pay a rate above the standard savings rate, currently around 0.5%.
CMCU's Membership Continues to Expand
Beginning with its establishment on February 11, 2015, CMCU has pushed to make credit unions a more mainstream and available way of banking in the UK. Since that time, membership has expanded steadily. CMCU currently has more than £3 million in deposits and has processed more than 1,100 member applications.
The growth of credit unions in the UK overall, while somewhat slow, has been gaining momentum. The credit union model has existed in Germany, Italy, and North America for more than a century, while the first UK credit unions began to appear in the 1960s. The 1979 Credit Union Act finally formalized the framework for membership-based savings and lending institutions in the UK.
"The population of Great Britain is about 60 million, but there are only around 1.5 million who are members of a credit union," Sams said. "It's been hard to change the mindset of people who don't have experience with credit unions. Those who do use credit unions say that they wouldn't do without them."
If the growth trajectory and high marks it has received is any indication, CMCU represents an example of what membership banking can accomplish. More people in the UK are recognizing the need to diversify financial services, and the ethical community-based model makes sense to a lot of them. While the path has been laid, the next few years will show just how successful credit unions can be in the UK.