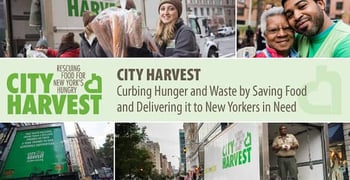 Experts share their tips and advice on BadCredit.org, with the goal of helping subprime consumers. Our articles follow strict
editorial guidelines
.
In a Nutshell: In 1982, City Harvest was founded with a twofold goal of rescuing excess food and providing it to New York City's food insecure population. Today, the organization thrives thanks its volunteers, who support many of the organization's day-to-day operations. In addition to food rescue and nutrition education, City Harvest also conducts food drives throughout the year. These traditional drives are supplemented by virtual drives that collect donations online. Over the course of 35 years, City Harvest has rescued over 600 million pounds of food, distributed it New Yorkers in need, and reduced greenhouse gases emitted by excess food going into landfills. These efforts help to ensure hungry New Yorkers have enough to eat today and into the future.
Unlikely as it may seem, potato skins led Helen verDuin Palit to make a decision that would affect New Yorkers in a big way. She learned that, in the process of making the popular appetizer, the restaurant she was eating at discarded the still-edible remainders of the potatoes as waste. She proceeded to connect the restaurant's chef with a soup kitchen where she volunteered. The next day, the chef donated 30 gallons of cooked potatoes to the kitchen.
That was in 1982. Today, there are still 1.3 million New Yorkers struggling to obtain enough food each year. Among New York City's households, 42% cannot afford all of their basic necessities. That means that — because food tends to be the most flexible budget item — these households will skip meals so they can pay for fixed-cost necessities like rent and childcare.
And so people go hungry, despite the fact that there is more than enough food to feed them. According to the National Resources Defense Council, America discards about 40% of its food supply annually and about 20% of New York City's own waste stream consists of uneaten food.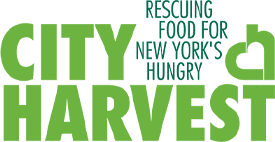 Some like-minded volunteers joined verDuin Palit and set out to resolve the disconnect between want and waste. To that end, they founded City Harvest, an organization dedicated to collecting and distributing wholesome, healthy food to people in need.
Thirty-five years later, City Harvest now works with a network of 500 soup kitchens, food pantries, and community food programs. It operates a fleet of 22 refrigerated trucks and maintains a 45,500-square-foot food rescue and repackaging facility operated by 160 full-time employees and nearly 11,000 volunteers annually.
"As long as there are hungry New Yorkers," said Samantha Park, Communications Manager at City Harvest, "we're here to serve."
Volunteers Play a Key Role in Feeding New York's Hungry
Financial and food donations to City Harvest come overwhelmingly from private sources.
"We get a lot of funding from businesses that are based here in New York City and also individual donors," Park said. "Food donations are also mostly private, as well. We really don't get much allocated from public or government sources."
Many people who support City Harvest's mission don't necessarily have the extra food or money to donate. Instead, they can contribute by donating their time and effort.
"We really rely on volunteers to help us do all aspects of our work," Park said. This work ranges from rescuing and repackaging food to coordinating with soup kitchens and food pantries, keeping up with the office work, and everything in between. "Anything that you can imagine we do, we have volunteers to help with that."
Anyone can volunteer with City Harvest, either as an individual or as part of a group. The organization also hosts corporate volunteer opportunities, welcoming businesses seeking to build morale and contribute to the cause.
"We need help year-round," Park said. "It's something that anyone can get involved with."
If you or an organization you're part of would like to get involved, the City Harvest event calendar shows individual opportunities by day. Volunteers need only attend one hour-long orientation session. Afterward, they're cleared to work in a variety of volunteer roles, such as collecting edible food that would otherwise be discarded by grocery stores and restaurants; sorting, repackaging, and distributing rescued food; and liaising with donors, soup kitchens, and food pantries.
But City Harvest's mission doesn't end once food is in the hands of the hungry. The organization also offers the opportunity to work as nutrition education instructors. This role requires an additional training session, where volunteers learn important instruction skills. Once this is completed, volunteers are able to educate people of all ages about healthy eating habits and how to prepare the food City Harvest provides.
Food Drives Offer Year-Round Opportunities to Help
Food is central to many holiday traditions, and it's also when concern for the hungry increases. Not surprisingly, food donations to City Harvest peak during the holiday season.
Many of these donations come through City Harvest's long-standing partnership with the New York Daily News. From October to January, individuals, schools, businesses, and other organizations enthusiastically participate in the Daily News Food Drive, the city's largest food-donation event of the year. Obviously, the holiday spirit plays a large role in its success.
"Awareness is at its highest during the holidays," Park said. "That's definitely our busiest season, and we get the most activity in terms of fundraising and people wanting to volunteer and donate. But it's a year-round need. We continue to do all the things we did during the holidays afterward and throughout the year."
Notable drives include Skip Lunch Fight Hunger, which collects food to distribute to children during the summer months, when schools aren't providing free and reduced-price lunches. The premise of the weeklong drive is that, each day, participants donate an amount of money equivalent to what they would spend on lunch.
"It's not necessarily asking them not to eat lunch," Park said, "but to donate what they would normally spend on lunch."
Another is the Passover food drive, which collects kosher and Chometz food for the 500,000 Jewish New Yorkers who live at or near the poverty line.
If you or your organization would like to contribute to these and other drives, City Harvest provides toolkits and supporting materials to help you get started. These include publicity posters, flyers, and tips on how to run a successful collection campaign. Best of all, City Harvest will send one of its trucks to pick up local donations of 100 pounds or more.
Virtual Food Drives Enable Everyone to Help End Hunger
"If you want to donate, but not necessarily through a food drive," Park said, "we have something called a virtual food drive."
These initiatives are conducted entirely online. For example, the Daily News virtual food drive, which is run in tandem with the physical drive, raised almost $10,000 in additional funds during the 2017-2018 collection period.
Anyone interested in supporting one of City Harvest's virtual drives can donate directly on its platform or start their own subsidiary drive to get their school, church, business, or other organization involved. Individuals and groups are also able to create and run their own affiliated food drives to support City Harvest.
These virtual drives are set up and operated through City Harvest's platform. It takes only about 10 minutes to create a customized donation page. Once completed, a link to the drive can be emailed or posted on social media, and anyone who wants to support it can do so entirely online. The platform keeps track of donation statistics, informing site visitors how many people have donated, how much money has been raised, and what impact your virtual drive will have on hunger in New York City.
Rescued Food is Filling Plates and Fighting Scarcity
During City Harvest's 2015-16 fiscal year, it rescued 55.5 million pounds of food and redistributed it through food programs and mobile markets. Of that, 87% consisted of nutrient-dense foods like chicken, yogurt, eggs, and fresh produce. That year also saw a 29% increase in the high-quality protein it provided to underfed New Yorkers. During that time, the organization educated 61,000 people about nutrition, 6,565 of whom were children.
That was just one year. Over the course of 35 years, City Harvest has stopped 545 million pounds of food from going to waste. As a result, it has single-handedly prevented some 500,000 metric tons of greenhouse gases from being released into the atmosphere by food left to rot in landfills.
Today, City Harvest delivers high-quality food to those in need, provides education to help people eat healthier, and works to protect the environment (and, thereby, the food supply). Who would have thought potato skins would someday help to save the world?