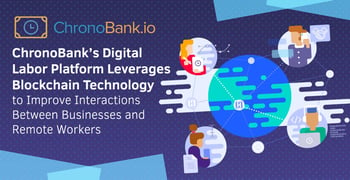 Experts share their tips and advice on BadCredit.org, with the goal of helping subprime consumers. Our articles follow strict
editorial guidelines
.
In a Nutshell: The ChronoBank blockchain-based labor ecosystem presents a forward-thinking solution for remote employees and freelancers tired of modern operational and financial challenges. Its LaborX platform improves the efficiency of acquiring jobs and receiving compensation, paid in stable tokens, and charges a fee of only 1% of earnings thanks to its automated processes. ChronoWallet and the TimeX exchange allow employees to convert their wages to fiat currency or invest in crypto without leaving the environment. ChronoBank provides a comprehensive solution to remote work and freelancing in the global marketplace.
Digital technology and communications have transformed the way we work. Localized labor markets have merged into a global pool, providing more opportunities for workers without requiring them to relocate. But while that helps professionals avoid the hassles of immigration and relocation, the process of working across borders and long distances still isn't as efficient as it could be — especially in terms of compensation.
Paying international employees often takes more time than paying domestic workers, depending on the method and service. Beyond that, money-changing fees can be hefty, discouraging employers and employees, and ultimately limiting otherwise-bright opportunities.
Freelancers face an equally difficult situation. Centralized platforms depend on human moderation, which raises costs. Some of these arise from the platform's role as an intermediary for payments, which often sit in escrow earning interest before being released — minus the fee — to freelancers. The latter is left waiting on compensation for work long-since completed.
Luckily, ChronoBank has found a comprehensive solution to international employment and HR issues — from hiring to compensation. But don't let its name fool you; ChronoBank is not a financial institution. Instead, it is a digital ecosystem optimized to ease the strain of international collaboration for employers, employees, and freelancers.
"We are developing a range of products which are coming together in a whole new ecosystem and solving current problems in the HR industry," said Florenz Brunner, Community and Support Coordinator at Australian-based ChronoBank.
ChronoBank's products are founded on blockchain technology, but optimized for use by anyone, even the non-blockchain-savvy. It leverages the technology for faster payments, which use a proprietary, labor-hour-based cryptocurrency with a stable value, effectively sidestepping common concerns about the volatility of digital currencies.
That comprehensive offering solves significant problems currently plaguing workers and HR departments in the digital era. LaborX, a decentralized job matching platform, is the linchpin of the ecosystem, connecting talented job seekers and freelancers with companies that need their services.
ChronoBank's in-house payment processing service facilitates transactions between employers and employees within the ecosystem, while the TimeX exchange platform allows employees to convert their earnings into fiat currency or crypto, making it easier for international employers and workers to transact with one another in the global marketplace.
None of these products are limited to any one sector or industry; ChronoBank's solutions are open to anyone looking for remote work or in need of workers. The ecosystem facilitates access to talent across international borders and global regions, ensures fair, timely payments, and makes life easier for everyone involved.
Employment and Payment Solutions Enhance Efficiency
ChronoBank set out to provide solutions to three problems in international HR: efficiency, payments, and security. Through blockchain technology, all parties can enjoy peace of mind, appropriate compensation, and safety of payments and data.
With the LaborX platform, hiring managers can easily find qualified workers and acquire new talent by searching through an extensive database of candidate portfolios. The portfolios feature the individual's work experience, skill sets, and other relevant information. This self-contained process can make the need for external recruitment firms — and their fees — a thing of the past.
Once a worker accepts a project, the platform automatically tracks and disburses payments to workers at times mutually predetermined by the employer and employee. And before hiring, funds are moved onto ChronoBank's blockchain and converted to its proprietary cryptocurrency so payments are automatic. This process eliminates the possibility of late, missed, or incorrect payments. And employers won't have to worry about work delays due to unpaid — and unhappy — employees.
Information and payments are both made more secure through ChronoBank's decentralized, encrypted blockchain ledger. Furthermore, multiple layers of security ensure the transparency of transactions using ChronoBank's native cryptocurrency. That mitigates the threat of fraud and theft and ensures the cryptocurrency's value for both employers and workers.
And the platform's decentralized structure makes it more secure and versatile. One of the biggest immediate advantages for employees is the value of decentralization compared to other centralized freelancing and job-matching platforms.
"Right now, freelancers around the world are quite dependent on existing job matching platforms," Brunner said. "Those platforms, because of the centralized nature, must review information manually, which means they have to charge a very high fee."
For jobs completed through LaborX, the platform charges only 1% of the worker's salary, wage, or fee. By minimizing the human element in maintaining the platform, ChronoBank enables employees and freelancers to realize greater value for their work.
Proprietary Cryptocurrency and Wallet Ensure Financial Security and Versatility
Payments to workers through LaborX are made using Labour-Hour tokens, a stable coin that is native to ChronoBank's proprietary blockchain. For example, when employers post a job paying $10,000, they'll buy $10,000 worth of tokens, which will be used to compensate the worker.
The Labour-Hour token is backed by ChronoBank's ecosystem. And the cryptocurrency is linked to national average hourly wages, ensuring its stable growth and low volatility, thereby making it more akin to fiat currency rather than a standard cryptocurrency — in terms of value.
Most cryptocurrencies are not regulated by central authorities, so many of them could conceivably drop a substantial amount of value overnight. The Euro or the U.S. dollar, on the other hand, are propped up by regulatory institutions, making their value relatively stable.
Labour-Hour tokens behave the same way, maintaining a more steady value. A worker paid in the tokens won't need to convert it to fiat immediately. In this capacity, Labour-Hour tokens provide the same security as traditional ways of working and earning.
ChronoBank deposits the tokens into a worker's Wallet, which is secure and can only be accessed by its owner. No access key is ever transferred to or stored by ChronoBank, and the company stores personal data via encrypted IPFS, making it impervious to malicious cyberthreats.
ChronoWallet integrates with different blockchains, not just ChronoBank's, making it broadly useful beyond payment for work. When a worker is paid, he or she can transfer payment to the TimeX exchange and convert it to their local fiat currency or reinvest the value into another cryptocurrency. The exchange's one-click buying, selling, and sending makes the process easy, even for people who are unfamiliar with cryptocurrency.
Economizing Speed and Cost from Hiring to Compensation
LaborX not only fosters direct communication between employers and their employees, but also enables interaction during the application, interview, and contract negotiation stages. That empowers both parties to reach a beneficial working arrangement.
"What we have seen, from looking at our competitors in the centralized space, is that the contracts are very basic," Brunner said. "We are trying to solve that by making our feature very extensive so you can write anything you want into the contract."
But despite open communication, conflicts may still arise over the course of a project. By allowing each party to review and rate the other, LaborX's reputation system aims to keep them both accountable to one another and the platform's other users.
The system rewards good employees and freelancers, helping them to get more work, and it does the same for employers, enabling them to attract more applicants and qualified talent. On the flip side, a bad reputation also warns freelancers and employees of problems they may encounter with certain employers, and vice versa.
"Employer and employee are on the same level when it comes to reviewing each other," Brunner said.
Automation of manual processes further eases the friction for both sides. Eliminating errors — particularly in the realm of payments, income reporting, and benefits — provides additional perks for employees.
"We are considering providing automatic tax returns and declarations for different countries and jurisdictions," Brunner said. "Insurance and pension funds are also being considered and can be implemented, from a technical standpoint."
Improved LaborX Features Provide a Streamlined Experience
ChronoBank's goal is to solve the problems of efficiency and value in remote employment and freelancing, bringing both into line with the digital work environment. Thanks to blockchain technology, its suite of products bring next-generation solutions to employees and employers seeking a more streamlined, modern working experience.
ChronoBank is still in the internal testing process with community members, but it is preparing a public launch in the summer of 2019. Before officially launching LaborX, the company will release a major update for TimeX, and, following the launch, ChronoBank plans other developments for both the products and the company itself.
In preparation, LaborX 0.9.3 was released in May 2019. This latest version of the platform included updates and fixes that make the user experience even more efficient. One of those features is the ability to log into LaborX using a Google or Facebook account. That means users won't need to create an account and remember an additional password, and they will enjoy the same security as the standard login for the platform.
LaborX 0.9.3 also brought an enhanced mobile version of the platform, which provides the same experience as its desktop version. The update also tweaked the display of job pages to include more detailed information and custom content blocks with formatted text and listings.
All of these features and improvements aim to provide an innovative experience for employees and freelancers who've grown frustrated with the systemic problems of traditional remote work. Through ChronoBank's unique approach and forward-looking ecosystem, both can enjoy greater value for their skills without dealing with the hassles of nontraditional labor arrangements.