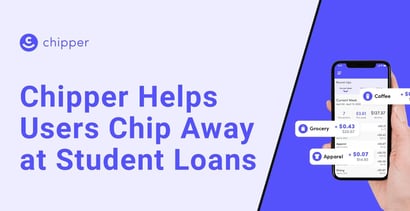 Experts share their tips and advice on BadCredit.org, with the goal of helping subprime consumers. Our articles follow strict
editorial guidelines
.
In a Nutshell: Chipper helps many users who qualify for the U.S Department of Education Public Service Loan Forgiveness program correctly fill out forms to have thousands in student debt wiped away. For those who don't qualify for forgiveness, or only qualify for partial forgiveness, the company assists borrowers in signing up for better income-driven repayment plans so the payments are more affordable. The app also offers Chipper Round-Ups — a tool that rounds up linked credit or debit card purchases to the next dollar and applies that amount toward student loans. The Round-Ups program will also help users boost their credit scores when Chipper begins reporting the micropayments to bureaus soon.
Student loans are commonly seen as necessary to achieve a better future. A college education is invaluable in creating job opportunities and building connections along the way. 
I had to take student loans out, and it was difficult, especially at such a young age, to understand all of the intricacies that came with them. New terms I had to learn on the fly included repayment plans, deferred payments, and interest rates.
My situation is not uncommon. Millions of incoming college freshmen go through a similar process. About 46 million people in the US have some form of student loan debt, totaling nearly $1.75 trillion across all borrowers.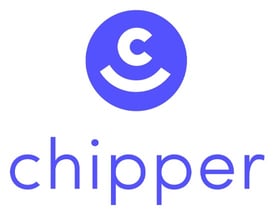 Chipper aims to be a valuable resource for students who take out loans. The company helps individuals apply for student loan forgiveness and provides them with better income-driven repayment options. Chipper also offers the Round-Ups program that rounds up purchases from a linked debit or credit card to the next dollar and applies the difference toward repaying student loans.
Chipper's founder and CEO, Tony Aguilar, was the first in his family to graduate from college. Unfortunately, that also meant he needed to take out $100,000 in student loans. He experienced the current system firsthand and realized someone needed to fix it.
"He decided this is not sustainable," said Nicole Chasin, Chipper Head of Growth. "He put all of the resources together himself. He then started thinking that there's a market for this and people need this information."
Chipper offers services and plenty of educational resources with more than 200 articles and blog posts focused on aspects of the student loan space. The company also monitors government developments that affect student loan repayments, including the moratorium set to expire at the end of August, and advises borrowers on how to navigate the landscape.
About 15% of Chipper subscribers are looking to lower their payments, around 50% are looking for student loan forgiveness, and the other 35% don't even know their options — or if they have any.
A Holistic Solution for Student Loan Forgiveness
One of the biggest areas where borrowers seeking forgiveness falter is in their application for the U.S. Department of Education Public Service Loan Forgiveness program. Chipper helps consumers correctly fill out the application forms, potentially saving them thousands of dollars on repayments.
Chipper has helped get more than $81 million in student loans forgiven through its program. The company said that, without its platform, only 2% of forgiveness applications are approved, while 67% are approved when it helps consumers fill out the forms.
"We've made it very easy for people that need and qualify for student loan forgiveness to receive that forgiveness in a shorter amount of time," Chasin said.
Chipper said many people seeking student loan forgiveness are usually rejected for one of 16 reasons, the most common reason being having a typo in their application. It usually takes months for the government to review applications, setting borrowers back and costing them money. Chipper helps consumers recreate and fill out the form, correcting any typos and figuring out the correct spelling for a borrower's employer.
Watch on
"We ask them the questions, we validate and certify their employment, and we get all of the signatures for them," Chasin said. "They don't need to worry about whether or not they're doing it right because we are doing it for them."
Chipper told us about one of its biggest success stories in which it helped a teacher in Atlanta get $47,000 in student loans forgiven. The teacher was rejected multiple times for forgiveness and couldn't figure out why. Chipper helped her in 20 minutes, and she received forgiveness on her debt in just a few months.
"It's literally a matter of minutes," Chasin said. "All you have to do is create an account, link your loan, and we present your options. We help you enroll in the program you choose, and then your life just magically gets easier. That's the entire point of our application. We want to make your life easier because we know how big of a pain point this is for people."
Boost Credit & Find Better Repayment Options
Almost 40% of people with student loan debt will not be able to afford their payments once the moratorium is lifted. That is a troubling statistic as the end of the moratorium looms near. 
Many don't even know their options when it comes to more affordable payments. Chipper provides resources to help those who don't qualify for complete student loan forgiveness find better repayment options.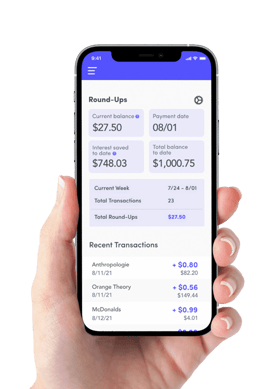 Consumers can link their loans with Chipper's platform, and the company will help find income-driven repayment plans that work with the borrower so they do not default. 
"There are so many different repayment plans that we can find for you," Chasin said. "There are more than 150 programs that we can help people get into to help them pay off their loans."
Chipper's flagship product is its Round-Ups tool. The tool automatically rounds up every purchase a consumer makes on a linked debit or credit card to the next dollar. Those transactions add up over time. Chipper said that a $35 Round-Ups payment every month can help borrowers avoid $1,000 in student loan interest — on average.
The payments automatically transfer from the bank account to the student loan servicer. The platform allows people to track their progress and see when payments are made, how much they're saving in interest, and how much sooner they will be debt-free.
Transfers happen weekly on Mondays, and users can set minimum and maximum thresholds. If users want to round up $35 per month, for example, Chipper would distribute that in four weekly increments based on their spending behavior to meet the result. That way, the user can adjust their budgets accordingly. In addition, Chipper won't transfer Round-Ups if a user has less than $50 in the bank, which will avoid any overdrafts.
Chipper also plans to report micropayments to credit bureaus to help people boost their credit. The micropayments will show consistent month-to-month payments that the credit bureaus look for when factoring credit scores.
New Innovations to Help Eliminate Debt Faster
Chipper's programs work for everyone with student loan debt. It doesn't matter if it is people looking for loan forgiveness, people who don't qualify for forgiveness, or private student loan borrowers.
Everyone can take advantage of Round-Ups, and Chipper's newest rewards program to be released soon. The program works with Round-Ups and earns borrowers cash back through purchases they make every day at their favorite retailers. The earnings from the cash back go straight to student loan servicers automatically and continue to chip away at student loan debt.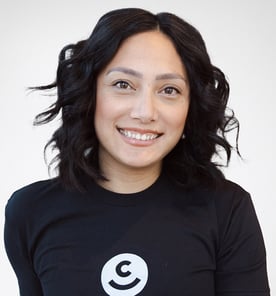 Chipper also has plans to expand into the private student loan space and provide more assistance to those borrowers. Student loans are ever-changing, and Chipper stays in front of new developments that pop up by creating new programs.
Every time something comes out in the news, we look at how we can improve the product for borrowers," Chasin said. "We look to see if there's immediate help that we could provide."
Chipper said its rewards program was developed in response to people wanting help for private student loans. The company's next project is to help student loan borrowers who are in default. Chipper said it can't currently help those borrowers because the debt is in collections. Once those borrowers come back from default and are in good standing, their debt will be transferred to a loan servicer, and Chipper can step in to help.
"Your student loan debt journey may include years of anxiety and stress," Chasin said. "We can help automate as much as we can and make it a set-it-and-forget-it situation to avoid accruing interest every single day."