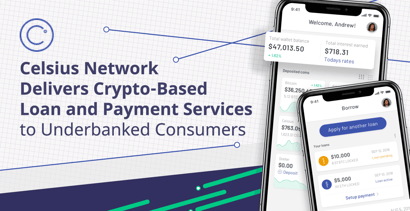 In a Nutshell: Celsius Network is a financial services provider that allows members to use cryptocurrency as collateral on loans and earn 5% interest or more on their crypto investments. Members can also access higher savings account interest rates and other benefits by investing in CEL Tokens, the network's proprietary crypto. And the network makes it easy for users to take advantage of those offerings with its user-first design and philosophy. Celsius Network provides an appealing alternative not just for cryptocurrency enthusiasts but also for anyone seeking access to more equitable financial services.
Alex Mashinsky — the mastermind behind Voice over Internet Protocol (VoIP) — and S. Daniel Leon had an idea. They wanted to disrupt the financial industry by making services more accessible and beneficial to consumers, especially the underbanked and credit poor. And they decided to accomplish that disruption by leveraging the power of cryptocurrency.
That idea was written on a napkin at a bar in the summer of 2017. And by the end of December 2018, their new venture, Celsius Network, had taken off.
Members of the Celsius Network can deposit cryptocurrency and earn returns on their holdings at interest rates well above those offered by banks. They can also borrow against their cryptocurrency's value — at attractive interest rates — without liquidating their assets. And these loans don't require a credit history or check; instead, Celsius accepts cryptocurrency as collateral on the loan.
"We can actually do everything for our customers because we don't have the shareholders, board meetings, and bottom lines that we have to meet," said Kristen Ryan, Director of Marketing at Celsius Network. "As Alex loves to say, 'We can do well and do good.' From its start, that was the mission."

By late 2018, Celsius Network had exceeded $50 million in deposits and $100 million in loan originations. As of May 2019, the network's assets had grown to $230 million, and it counted more than 30,000 members.
Since crypto is available to anyone who has the means to purchase it, without the need for a high credit score or a long credit history, Celsius Network's loans don't require those, either. That makes borrowing through Celsius particularly beneficial to underbanked individuals or those who've experienced some financial missteps in the past.
"There are 20-year-olds who got in at the right time and have never held a credit card in their lives," Ryan said. "They have this asset that they believe in, and they want to hold on to. But at the same time, they have no liquidity, no credit score, and they're kind of stuck."
Celsius Network offers users an intuitive experience and keeps their financial well-being at the forefront of its business model. The company's commitment to users is evident in its no-fee guarantee and, of course, in its interest rates on loans and savings deposits.
"We guarantee the lowest interest rates in the market. If you find a better one, we'll beat it. We promise that to our community," Ryan said. "If someone else found a way to do it better, we'll figure out how to do the same thing."
Consumers Can Secure Loans with Crypto Assets
All users need to take advantage of Celsius Network's perks are some cryptocurrency and a mobile device. As soon as they transfer their crypto to the proprietary wallet, they'll start earning interest. And if they need a loan — whether for a summer vacation or an unexpected medical expense — they can apply from within the mobile app.
Since the loan application is correlated to current wallet balance, it will show how much users can borrow based on how much of their cryptocurrency holdings they want to leverage as collateral.
After setting the loan amount, they simply read through and agree to the terms and conditions, and then pass Celsius Network's Know Your Customer and Anti-Money Laundering tests. These are used to prevent fraudulent activity on the network and its users. Users then receive their funds in the form of fiat currency or stable coins within 48 hours.
Celsius Network offers loans on six- or 12-month terms. Interest rates start at 4.95% but vary based on the loan amount as well as the value of the collateral. Currently, Bitcoin, XRP, Ethereum, Bithereum, Dai, and Litecoin are accepted.
Coins used as collateral are locked and do not earn interest, but because they aren't sold, they return to the owner's wallet once the loan is repaid. This capacity makes Celsius Network loans especially attractive to crypto investors who want to keep their investments but also need to leverage their value.
CEL Tokens Provide Users with Even Greater Benefits
The network's proprietary cryptocurrency is the CEL Token, and holding the tokens provides additional financial benefits for members of Celsius Network.
One significant benefit is an increase in interest earned on savings. If users own CEL and the holdings make up less than 5% of their total wallet, they receive a 10% bonus on savings interest as well as an equivalent discount on loan interest payments. If CEL makes up 5-10% of their wallet, they receive a 15% interest bonus and discount. And if CEL accounts for more than 10% of the crypto held in a wallet, the user enjoys a 25% bonus and discount.
"We didn't want it to be rewarding the wealthiest members of our community," Ryan said. "If you can afford to own 2 million CEL tokens, that's wonderful, but we don't want to penalize someone who can't. So we created that ratio."
CEL ownership also has other perks for Celsius Network members, including preference for lending as well as the equivalent of cash back when using the upcoming CelPay service. CEL owners will earn 1% on all Bitcoin and Ethereum transactions through CelPay and 2% when using CEL.
Finally, the 100 Celsius Network members who hold the most CEL enjoy additional perks like a designated customer support line, invitations to industry events, meet-and-greets with company executives, and admission to other exclusive events.
Driving Crypto Adoption Through Financial Incentives
Celsius Network is committed to doing well as a business while also doing good for its users. Naturally, the company strives to operate at a profit, but it doesn't do so at the expense of the financial well-being of its members. The company knows that it only thrives when its user base does.
"Our community is everything to us," Ryan said. "The success of Celsius is the success of its community. It's been at the core of our mission from the beginning."
Foremost among the tools for success are Celsius Network's high interest rates on savings accounts. These fluctuate weekly based on the company's overall earnings, but the rate typically stays around 5% and can go as high as 10%. That can provide a far better return than rates offered by banks — which typically top out between 2% and 3%.
The network's competitive interest rates on loans are determined based on the amount of money borrowed and the collateral the borrower pledges. And Celsius users can rest assured that they'll never incur fees of any kind — including for withdrawal, termination, default, origination, and transaction.
Celsius also places great emphasis on user friendliness. The company understands that cryptocurrency is an attractive commodity for a variety of reasons, but many people lose interest in investing in digital assets due to the highly technical nature of crypto and blockchain. So the network strives to remove that pain point and enable more people to leverage cryptocurrencies without the strain of understanding their technical nuances.
"Something we love to say here is, 'You don't need to know how a car works to drive one — or sell one, for that matter,'" Ryan said. "Yes, we're using the blockchain. Yes, we believe so much in this technology. But you don't need to see it."
One of the network's goals is to expand cryptocurrency usage in the United States and bring it to levels comparable to that in other nations whose populations are already heavily invested in crypto. Ryan said that the Celsius team believes the tipping point will be the advent of an app that enables people to realize the power and value that cryptocurrencies offer consumers — which is precisely what Celsius seeks to provide.
Building the Foundation for Automated Loans and a Transparent Public Blockchain
Bringing cryptocurrency into mainstream use holds distinct advantages for Celsius Network and its users, and anyone who owns crypto can use its services. The greater the amount of capital in the company's pool, the more institutional loans it can make. This generates more revenue, which is returned to its users in the form of interest — rather than being routed to the organization's upper echelon.
And the more wealth accumulated within the network, the better Celsius can serve consumers seeking an alternative to the traditional financial system.
By 2020, Celsius hopes to offer fully automated lending, with a web version of the app planned for the end of 2019. Its proprietary CEL currency is currently available for purchase on IDEX and Liquid Exchange and will be on other exchanges in the future. It will also be made available for purchase directly through the app.
Celsius is currently developing a public blockchain that will create absolute transparency within the network. That means anyone, whether a member or not, can audit Celsius to ensure organizational accountability and bolster consumer confidence in the revolutionary financial services provider.
The network offers an enticing alternative to the financial industry's current service model with the ultimate goal of replacing that system with one that acts in the consumer's best interest. Celsius Network hopes to attract more members and, in doing so, bring more adequate financial services to consumers in need.
Advertiser Disclosure
BadCredit.org is a free online resource that offers valuable content and comparison services to users. To keep this resource 100% free for users, we receive advertising compensation from the financial products listed on this page. Along with key review factors, this compensation may impact how and where products appear on the page (including, for example, the order in which they appear). BadCredit.org does not include listings for all financial products.
Our Editorial Review Policy
Our site is committed to publishing independent, accurate content guided by strict editorial guidelines. Before articles and reviews are published on our site, they undergo a thorough review process performed by a team of independent editors and subject-matter experts to ensure the content's accuracy, timeliness, and impartiality. Our editorial team is separate and independent of our site's advertisers, and the opinions they express on our site are their own. To read more about our team members and their editorial backgrounds, please visit our site's About page.