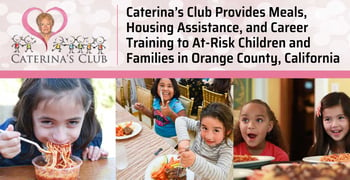 Experts share their tips and advice on BadCredit.org, with the goal of helping subprime consumers. Our articles follow strict
editorial guidelines
.
In a Nutshell: Renowned Chef Bruno Serato founded Caterina's Club to implement programs that benefit children and families in Orange County, California. The Feeding the Kids initiative provides hot, fresh pasta dinners to area children who would otherwise go hungry. The organization's Welcome Home program offers financial assistance to families, helping them get out of motels and into more stable living situations. And its Hospitality Academy prepares high school students to pursue careers in hospitality and restaurant services. Caterina's Club accepts donations as well as volunteer service, empowering the community to take part in the mission to end hunger and homelessness.
Imagine being a child living in a single motel room with your family. Your parents work full time, but they can barely make ends meet. Your lodging doesn't have a kitchen, so your family can't prepare a hot, home-cooked meal. And, with money in short supply, the chances of getting into a rental home or apartment are slim, meaning you face a future of take-out and fast food, which aren't known for their wholesomeness and nutritional value.
According to the United States Department of Housing and Urban Development's Annual Homeless Assessment Report, more than 56,000 families with children — approximately one-third of the U.S. homeless population — experienced that situation in 2018. But for some of those families in Anaheim, California, and around Orange County, a simple pasta dinner from Caterina's Club can represent a step on the path to a better life.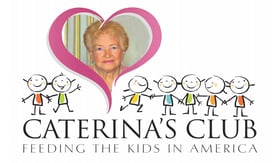 Caterina's Club was founded by Chef Bruno Serato to help at-risk children and their families lay the foundation for a more promising future. He began preparing meals for hungry children at the behest of his mother — for whom the foundation is named — and 15 years later, Bruno's efforts have expanded to meet needs beyond hunger.
"It started with one kid," said Maribel Adan, Administrative Director at Caterina's Club. "And now, we're feeding about 5,000 kids every day."
In every human culture, food is a fundamental part of society, and it forms the basis of Bruno's work building stronger, safer communities in Orange County. Through its Feeding the Kids, Welcome Home, and Hospitality Academy programs, Caterina's Club not only provides hot meals but also housing assistance and job training for high school students. And it helps families achieve more stable, healthier lifestyles.
Hot Pasta Dinners Ensure No Child Goes Hungry
Feeding the Kids started around 2005, when Chef Bruno's mother Caterina was visiting from Italy. At the time, Chef Bruno was a board member of the Anaheim Boys and Girls Club, and he took his mother on a tour of the facility. When Caterina noticed a young boy eating potato chips, she warned him that he was going to spoil his dinner.
The club's executive director, who was with them, told her that the chips were the boy's dinner. His family was living in a motel, so they didn't have a kitchen or access to hot, wholesome food.
At his mother's instruction, Chef Bruno went down the street to his restaurant, the Anaheim White House, and cooked the boy a pasta dinner. From that inauspicious starting point, Chef Bruno began cooking five nights a week for 72 other children who were living in motels.
Today, his efforts have expanded to meet the needs of the 20% of Orange County children who are at risk of hunger each month.
Feeding the Kids is overseen by a director, who supervises food preparation and distribution. Volunteer drivers deliver hot, ready-to-eat meals to sites where they are provided to children. And the program's kitchen staff works every single day to prepare enough food to distribute to 89 locations. The Orange County Register reported that, by April 2019, Chef Bruno and the Feeding the Kids team had served more than 3 million meals.
"That's a lot of pounds of pasta and sauce," Adan said.
Housing Assistance Puts Low-Income Families in Homes of Their Own
As Chef Bruno built his Feeding the Kids program to serve children whose families were living in motels, he realized that providing hot meals was only addressing one symptom of a larger, systemic problem. The parents of those children worked full time but were living paycheck to paycheck. The high cost of motel accommodations prevented them from saving up enough money to rent a house or an apartment. And, while motel life was better than being on the street, it kept them stuck in a cycle of overpaying for lodging and food because they lacked the ability to cook for themselves.
"They need a substantial amount of money to be able to move into a place," said Carolina Pierce, another Caterina's Club Team Member. "It can be anywhere from $2,000 to $5,000 just to pay for your first month's rent and security deposit. That is what's harder for the families to come up with at the beginning."
"They just need that little push to get back on their feet," Adan said. "So that's how the Welcome Home program started."
The program provides housing assistance to families who have full-time incomes and one child under the age of 18 living with the parent requesting services at least 70% of the time. Once they find a suitable place, Welcome Home often pays first and last month's rent and a security deposit (which families do not need to repay) directly to the landlord or property manager.
As of early 2020, Welcome Home had helped 224 families get out of the cycle of homelessness and move into houses and apartments. And many of those recipients are the families of children who have benefited from the Feeding The Kids program.
"Through Feeding the Kids, the families will find out that we also assist with Welcome Home," Adan said. "That's when they reach out to us as well."
Teens Build Brighter Futures Through Hospitality Training
Even with feeding and housing programs, Chef Bruno still felt he could do more to help kids in his community. Low-income and at-risk youths have fewer opportunities to pursue higher education, so they may choose not to, which could jeopardize their ability to find gainful employment as adults.
That's why Chef Bruno founded the Hospitality Academy, an annual nine-week after-school program. The program offers students in the Anaheim Union High School District an in-depth education in the restaurant and hospitality fields. The lessons cover culinary skills, cooking, cleaning, hosting, and serving, among others. As of 2020, more than 250 teens have received training through the Hospitality Academy.
The program is based on Chef Bruno's own personal journey, which taught him the value of firsthand experience. Upon emigrating to the United States, Chef Bruno began working as a dishwasher before moving up to become a server, then a manager, and then owning and operating his own restaurant. Through the Hospitality Academy, he shares the same invaluable lessons with students interested in pursuing similar careers.
The program recently added an internship program, which employs eight students for a period of three months at the White House Restaurant. There, they gain even more hands-on experience with operations and interacting with guests.
"These kids learn skills that are traditionally not taught in school," Adan said. "And if the kids decide not to pursue higher education, they have experience to get a job in the hospitality field."
Caterina's Club: Still Serving Hope and Opportunity in Trying Times
One young woman came to Caterina's Club as a Feeding the Kids meal recipient. From there, she discovered the Hospitality Academy, and after completing the program, she now works full time in a restaurant. Thanks to the education she received from Caterina's Club, the young woman enjoys a steady income, so she doesn't have to worry about housing or nutrition for herself or her family.
Success stories like that are possible thanks to the tireless efforts of Chef Bruno and supporters of Caterina's Club. Ongoing operations depend on financial support from corporations, foundations, and individuals, as well as the labor of volunteers who tend to the day-to-day operations of all three programs. And while Caterina's Club continues to accept donations, volunteer opportunities are on hiatus as of March 2020 due to the ongoing COVID-19 pandemic.
But even in the midst of these difficult times, Caterina's Club is still dedicated to providing food and housing assistance to people in need. Families can learn more and receive support by contacting the organization at 657-201-3278 or info@caterinasclub.org.
And Chef Bruno — a CNN Hero and an Ellis Island Medal of Honor recipient who was also knighted by the Italian government in 2013 — is still hard at work. Sporting a surgical mask and gloves, Chef Bruno continues to provide dry pasta for families to cook at home and churns out dinner after hot dinner for those who can't.
"No child is going to go to bed hungry," Adan said. "He's doing everything he can to ensure these kids are still being fed."