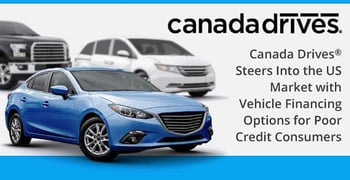 Experts share their tips and advice on BadCredit.org, with the goal of helping subprime consumers. Our articles follow strict
editorial guidelines
.
In a Nutshell: CanadaDrives.ca is a Vancouver-based company that connects consumers of all credit profiles with dealerships looking to extend auto financing. After expanding into the UK and Australia, the company reached into the US market with USADrives.com in September of 2017. Users of the platform can fill out a brief application, which is followed up within 24 hours by a call from a dealer specifically matched to their individualized needs. The service is intended to make the car-buying process easier by providing more transparent rates and pre-approved financing before you head to the dealership.
Unless you live in a large city with well-planned public transportation, there probably are few possessions more essential to your daily life than a car. From getting to and from work, to running daily errands, having access to a vehicle is a must in most areas.
In recent years, banks and other financial institutions have worked to make acquiring automobile financing easier through favorable rates and longer loan terms, which make monthly payments more affordable. Additionally, many leased cars are returned, and the availability of quality used cars almost outweighs the demand in some areas, leading to lower prices and better deals.
However, getting approved for an auto loan isn't always a cinch, especially with damaged credit or an underdeveloped credit history, which can scare lenders away. Getting pre-approved for a loan before car shopping is a good first step because it gives you a better idea of which vehicles best fit your budget. But how do you find a willing lender if your credit profile is an obstacle?
This is an issue that Vancouver-based Canada Drives deals with frequently. Since 2010, the online platform has connected consumers with all ranges of credit scores to dealerships ready to extend financing. After experiencing success in Canada, as well as in the UK and Australia, the company expanded stateside with the unveiling of USADrives.com in September 2017.
"We are accepting applications from people in every state," said Cody Green, Founder and Co-CEO at Canada Drives/USA Drives. "It's really exciting to be bringing a service that has been so successful in Canada down south of the border."

And success in Canada came quickly, as dealerships moved to partner with the rising company.
"Our primary focus is to let consumers secure auto financing online, before their vehicle purchase at a dealership," Cody said. "What that looks like to a consumer, is within 24 hours of applying at CanadaDrives.ca or USADrives.com, customers are going to be contacted by a dealership. It'll be one that we've identified as the best fit for their profile. At that point, customers will get a better understanding of what vehicles they qualify for, as well as what their monthly payments will look like — all before they ever go down to a dealership."
Cody says the company is very popular with consumers in Canada, and the service isn't limited to those with subprime credit. The company doesn't extend loans itself, but it works with a range of partner dealerships that have experience in finding the right fit for most any customer.
"Although we're extremely popular with people who have credit issues, that's more of a byproduct of our ability to help consumers regardless of their credit profile," he said. "We do work with prime consumers, as well."
Applying in Minutes Gets You on Your Way to Car Ownership
Going to several banks or dealerships and applying for loans to compare rates is an arduous process, but Canada Drives' quick application compares multiple dealers to help cut the hassle out of searching for the right lender.
"The application is very quick and easy; it only takes two or three minutes," Cody said. "We only ask the information that's necessary to figure out what the best financing options will be and to match you with an appropriate partner.
"That includes things like your basic contact details, such as your name, phone number, and email address. There are also questions about your employment and residential information — whether you rent or own, and what those payments are. Then, there are questions about your vehicle preference and some monthly budget questions."
If financing is still an issue after you're contacted by a dealer due to your credit, the website offers the ability to apply for a loan with the aid of a cosigner if you choose. A cosigner can lower your apparent credit risk by agreeing to take responsibility for the loan if you become unable to make the payments.
"You don't need a cosigner to apply," Cody said. "Even if you have some credit challenges, we're always going to work with our partners to get you a loan approval that you're happy with. The reason why some people use a cosigner is they typically have a stronger credit profile, which can help you become eligible for better programs that you may not be able to obtain on your own."
The information provided is used to match each customer with a dealership that not only has the ability to provide financing, but also the type of vehicle the customer is in search of. To check off both of those boxes, the company researches each dealership closely before matching consumers. This process is designed to ensure every customer has a successful and pleasant experience.
How Canada Drives® Chooses the Best Dealership For You
A good dealership can make or break your car-buying experience. Some people approach car shopping skeptical of dealers and questioning whose best interests will be prioritized during the transaction. Before you've even started to think about buying a car, Cody and his staff have already vetted the company's dealer partners to alleviate as many of your fears as possible.
"In order to be a certified Canada Drives dealer, you have to meet certain requirements," he said. "The first is that you have to have access to a wide range of financing resources. That includes extremely low rate prime options, down to more flexible lenders for consumers that maybe have some credit challenges.
"The other thing is the dealership must have a large and diverse inventory of cars, trucks, SUVs, and minivans. That ensures there are options available. The last thing is the dealership must have a dedicated department that's ready to help Canada Drives' customers. That's important because it helps us to ensure that the quality of customer service is going to remain extremely high."
Beyond Buying a Car — Get Matches for Credit Cards and Personal Loans
CanadaDrives.ca, and now USADrives.com, have carved out a niche in the car-buying process by extending its partnerships with dealers in all territories, thus making a vast inventory and lending structure available to customers. What's more, customers of the loan-matching service have realized the benefits of pre-approval in avoiding headaches.
And while Cody's company made its name in the auto loan industry, that's not the only place it looks to help consumers with credit issues. "Although auto financing is where we start, our other products allow consumers access to personal loans, credit cards, and credit-building products," he said.
For example, the team regularly updates its blog with helpful money-saving and credit-improving articles. Another popular tool is the company's Affinity Program, which provides financial tips as well as offering products designed to improve consumers' credit profiles.
"This program is great because it allows us to help people beyond just their car loan application," Cody said. "When you sign up, you're going to get access to credit tips that are going to help you improve your credit situation. We're also going to recommend financial products based on your exact credit profile. What's really cool about this, is that it ensures you're getting recommendations for the most appropriate programs for your exact situation — as opposed to just generic recommendations."
As the expansion into the US continues in the coming months, Cody says the company is well prepared to do for Americans what it's already accomplished for many Canadians over the past seven years.
"There are a ton of exciting things in the works," he said. "The expansion to the US is going to be a large undertaking, especially as we grow our dealership network and find additional products that can benefit our customers. The good thing for the US is that as we expand there, we're going to be following the same blueprint that made us so successful in Canada."