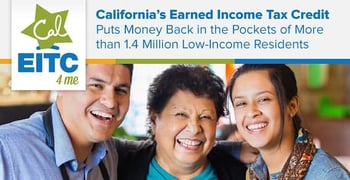 Experts share their tips and advice on BadCredit.org, with the goal of helping subprime consumers. Our articles follow strict
editorial guidelines
.
In a Nutshell: In 2015, California joined a list of 29 states and the District of Columbia in implementing a state-run Earned Income Tax Credit (EITC) program. The Cal EITC program primarily helps families, putting millions of dollars back into the pockets of low-income Californians. CalEITC4Me is a public-private partnership responsible for promotion of the program and educating residents about how to claim the credit. Through a campaign that includes social media outreach, mobile promotion, printed materials, and community events, CalEITC4Me has helped 1.4 million households receive more than $300 million in cash back tax credits so far this year.
According to the International Monetary Fund's ranking of national economies, the United States is the richest nation on the planet.
With more than $20 trillion in GDP, it takes the entire European Union to come in second place, at just below that amount. However, the US also has one of the highest levels of income and wealth inequality of all developed nations.
There are competing models for measuring wealth distribution among a population, but whichever one you choose, the US is consistently in the top 10 of the most unequal countries in the world. Income taxes and social programs are designed to help redistribute wealth from the top to those less fortunate. However, these tools are often insufficient to help the lowest earners in America.
In 1975, the federal Earned Income Tax Credit (EITC) was created and was then expanded under the Tax Reform Act of 1986. The intent was to ensure people on the lowest rungs of the economic ladder were not required to pay federal taxes but were instead able to spend their income on food, housing, and other necessities. It was famously described by none other than former President Ronald Reagan as the "most effective anti-poverty measure to come out of Congress."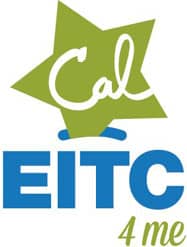 Today, 29 states and the District of Columbia have enacted their own EITC programs, helping to enhance the benefits of the federal tax credits. California became one of those states in 2015 when Governor Jerry Brown signed the Cal EITC program into law. This helped put millions of dollars back into the pockets of low-income residents.
Through a public-private partnership, CalEITC4Me provides outreach and education about the program to California residents who may not realize the credit exists or that they qualify.
Josh Fryday, President of CalEITC4Me, is a tireless advocate for educating people about California's EITC program and its benefits to low-income families.
"CalEITC4Me was created to make sure that California's EITC program was a success, and so we could put hundreds of millions of dollars back into the pockets of California residents," Fryday said. "We were seeing that millions of dollars was being left on the table each year, and we realized it all comes down to education. People would file if they knew they could receive up to $6,000 as a tax credit. Our goal is to try to motivate and incentivize people to file."
Filing for California EITC Can Be Done Year-Round
The vast majority of people file their taxes each year by the April 15 deadline. The incentive for most of them is to receive any refund that's owed them from the taxes they've paid throughout the year. But, for anyone earning below a certain amount, filing taxes is not required. However, these are the exact people the EITC program is intended to help. In fact, 96% of Cal EITC claims are made by this group.
"The people who file at tax time are generally going to file anyway," Fryday said. "So we're trying to reach the people who don't normally file and let them know they can file at any time during the year. Often, these people don't know they can file year-round and don't know that the EITC money is there for them."
In addition to educating people on their ability to file their taxes and claim the EITC benefits throughout the year, CalEITC4Me also helps Californians determine if they are eligible for tax credits. The nonprofit organization's website has an easy-to-use Earned Income Tax Calculator that helps people learn if they are eligible and see an estimate of what they could get back, both in state and federal benefits.
Fryday also told us people have the ability to file for EITC tax credits from as far back as three years, by filing an amended return for those previous tax periods. Again, the point is that this money is out there and is intended to help low-income families.
"We want to make sure people file their taxes — even if they're self-employed or have never filed before — because there literally could be up to $6,000 sitting out there for them," he said.
More than $2B in State & Federal EITC Funds Goes Unclaimed
The federal EITC program delivers more than $7 billion to low-income California families every year, but more than $2 billion goes unclaimed by eligible households. Public awareness remains the biggest challenge to the CalEITC4Me organization. Community outreach and education are the best tools at their disposal, and they've been paying off in 2018.
"We do a lot on Facebook and other social media to reach low-income communities," Fryday said. "We also do events on the ground with our community partners, including over 100 last year throughout the state around free tax preparation and EITC education."
In 2017, more than $200 million was given back to low-income families under Cal EITC, and that number is expected to more than double in 2018. The number of people claiming their credit this year is also way up, with more than 1.4 million recipients so far this year, compared to 400,000 previously.
And, just because you've received money back from the state through the Cal EITC program, it doesn't mean other state-run benefits will be impacted.
"I think there's a misconception that, if you receive the tax credits, that the money will put you out of the income bracket to receive other social and public benefits, which just isn't true. It won't affect free lunch programs, or CalFresh, or any other benefit you may qualify for," Fryday said.
In 2018, the Cal EITC program was expanded to include those with self-reported income. Governor Jerry Brown also expanded the age restrictions to include all workers over 18 and even those over 65. Prior to this, the program had been limited to those between 25 and 65 years of age.
Why the EITC is Especially Important to California Residents
The importance of the EITC to low-income residents and to California itself cannot be overstated. With 1 in 5 California residents living in poverty — the highest rate in the nation by some measures — the Cal EITC program is a lifeline for many families.
State leaders, including Governor Brown, recognize the value in implementing a program like this to help lift people out of dire circumstances. Statewide studies have shown that children living in households that receive EITC are healthier, do better in school, and are more likely to attend college. And, when combined with other social benefit programs, it can have a big impact on the quality of life for so many.
"We're working this year to connect the EITC to other public benefit programs, making sure that people know if they're eligible for Cal EITC, they may also be eligible for free lunch programs at school, or for CalFresh, or for reduced rate utility programs," Fryday said. "We're helping make sure that people apply for all of the public benefit programs available to them."
One other point to make in the case for why the EITC program is good for California overall is that nearly all of the money from EITC given to low-income families and individuals makes its way back into the economy, lifting local business sales, creating jobs, and boosting services. California is one of the most expensive places to live, and the Cal EITC program helps ensure that people who work and live there are able to make ends meet.