Experts share their tips and advice on BadCredit.org, with the goal of helping subprime consumers. Our articles follow strict
editorial guidelines
.
In a Nutshell: Thousands of Californians close on their first mortgage every year. At the same time, thousands more get shut out of homeownership by prohibitive down payment requirements. With 20% down on a median California home running over $100,000, the California Housing Finance Agency (CalHFA) offers programs intended to lower the upfront costs for first-time homebuyers in the state. The agency helped more than 7,200 Californians buy their first home in 2016 with competitive interest rates on a first mortgage, and junior loans to help with down payment and closing costs. Meanwhile, the Energy Efficient Mortgage gives a grant for energy upgrades, in addition to letting homebuyers add the upfront cost of energy conservation upgrades into the mortgage, saving hundreds on utility bills every year.
Take it from someone who recently went through the mortgage process — buying a home can be a long, exhausting dance. The paperwork and red tape before you get a clear to close can seem like an endless process. In all, my mortgage took a little less than a month to complete, but it seemed like years waiting to see if the lender was pleased with our portfolio. Did we have enough in savings? Was the lender OK with the size of our 401(k) balances?
It was a rough month — and that doesn't include the time it took to save up the hefty down payment. Many lenders require as much as 20% down, which pushes many potential buyers out of the house hunt.
Few things feel better, though, than when you sign your name for the final time and get the keys to your new home. Those first steps through the threshold are unforgettable when you realize the real estate agent isn't there to watch you. It's yours. You can paint the walls pink, purple, and yellow if you choose – though I personally wouldn't recommend that combination.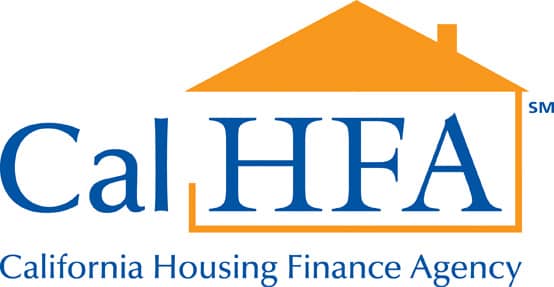 Homeownership is a dream many Americans work years toward, and one the California Housing Finance Agency (CalHFA) helps come true every day.
Since 1975, thousands of first-time California homebuyers have turned to CalHFA's mortgage programs that include down payment and closing cost assistance. The agency's mission to help continues today.
"One thing we've found is there are a lot of people who have decent credit scores and good, solid, well-paying jobs, but they can't get over that down payment hump," says Eric Johnson, Marketing Specialist at CalHFA. "These people can pay the monthly payment no problem, but they don't have that savings saved up. That's where we come in."
The median home value in California is $549,460 as of July 2017 data from the CA Association of Realtors. A 20% down payment on that home would reach $109,900 — not including the cost of inspections, surveys, or any improvements needed. Those totals push many Californians out of the housing market and into a rental trap, where monthly payments are a sunk cost that gains no equity.
CalHFA's first mortgage options can also be paired with down payment and closing cost assistance for up to 7.5%; with these programs, many buyers can purchase their first home with less than $5,000 out of pocket.
"Right now, our most popular program is the MyHome Assistance Program," Johnson says. "It's a down payment assistance program that has to be used with a CalHFA first mortgage loan. We have both conventional and FHA mortgages. We just added a VA mortgage for veterans and armed service members. It's a good way for veterans to get into a home with very little money out of pocket. We even have programs specifically for teachers and other people who work in California public schools."
More than 7,200 First-Time Mortgages Completed in 2016
These types of programs require a vast web of lending agencies that know the ins and outs of what it takes to get to closing. It's why CalHFA works in every county in California, and it's a key component to CalHFA's success.
"We work with a network of approved lenders and brokers across the state," says Johnson. "They're the ones that underwrite the loans, take the applicant's information and then send it to us to make sure their income and home price comply with federal regulations that we have to follow. Everything gets funded by the bank, and then they sell it to us."
Preferred agents are also available to help with new clients. These loan officers have a history of working alongside the agency to get mortgages approved. Each must complete at least six CalHFA mortgages to become a preferred loan officer.
"They know the challenges that first-time homebuyers face, and they're willing to put in for the long haul," Johnson continues. "They like to work with people with low credit scores and want to give them tips on how to get those scores up and how to make their loan applications meet bank standards."
When you contact CalHFA, a representative connects you to a preferred lender who helps get the ball rolling.
"That loan officer can look at each individual situation," Johnson says. "They'll look at your savings and income, and any gifts you may have. They'll look at all of the prospects you have and analyze what kind of loan they think will be right for you. We want to make sure people get personalized attention, and that's why we use these preferred loan officers."
Save on Your Utility Bill and Roll the Costs of Upgrades Into Your Mortgage Payment
After your mortgage, the biggest expense in any home each month is typically the utility bill. With the cost of energy increasing throughout the state, making your home as efficient as possible is an investment that can pay dividends for years to come.
To make that part of your new-home plan, CalHFA created its Energy Efficient Mortgage program that allows clients to upgrade their homes with no upfront costs.
"The program lets homebuyers roll the costs of energy upgrades — new windows, insulation, water heater, solar, or anything like that — into the cost of the mortgage," says Johnson. "In addition to the loan part, we also have a 4% grant that's like free money for upgrades. We just did a loan in Southern California where the homeowners got $24,000 in improvements that only cost them about $14,000 that went into their mortgage. They added about $60 a month to their mortgage, but their energy costs went down by about $140 a month. They're saving $1,000 a year with essentially no upfront costs."
There are always little changes and upgrades needed to make a new home feel like it's truly yours. Whether it's a fresh coat of paint or new appliances, total costs can add up. Taking advantage of an Energy Efficient Mortgage reduces the initial cost of important upgrades and saves you money while you future-proof your home.
Invest in Homeownership and Reap the Rewards of Your Hard Work
It's never too early to start talking to a mortgage loan officer about what you need to be approved for a mortgage. Johnson suggests that the process begin early and be comprehensive. Don't wait until you're ready to buy to get serious.
"You want to find a mortgage lender who gives you a good vibe," he adds. "We always recommend that people talk to three or four before they choose somebody. When you're buying your first home, you want a good team, including a good real estate agent and a good loan officer. You want people who have your best interests at heart."
Buying a home is a waiting game — from turning in all the paperwork to the anticipation as an underwriter scrutinizes every page. It can seem like an eternity goes by without an answer. Don't attempt to go at it alone. Agencies like CalHFA have experts on hand who close thousands of first-time mortgages every year. It has programs that can eliminate most of your down payment and roll exorbitant closing costs into your loan.
With offers like the Energy Efficient Mortgage, that allows upgrade costs to be added to the mortgage total, you could potentially start saving money off currently high rental rates, while building equity in a property you can call your own. Although it was a tense month that led to my mortgage being approved, I expect many years of happiness inside my new home. If I can do it, anyone can. Your new home could be closer than you think.