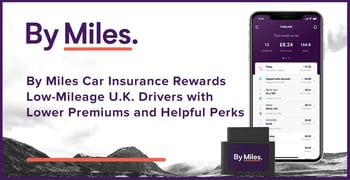 Experts share their tips and advice on BadCredit.org, with the goal of helping subprime consumers. Our articles follow strict
editorial guidelines
.
In a Nutshell: With so many accessible mass transit platforms in the U.K., many drivers don't often get to use their personal vehicles. But they are still charged insurance premiums that don't reflect their reduced risk. By Miles disrupts that model with policies that reward drivers for driving less. The more time a vehicle sits parked, the less risk it incurs, and the company's policyholder premiums reflect that. In addition to savings, By Miles drivers enjoy other perks, including onboard diagnostics and toll road notifications that help them stay alert when they venture onto the road.
James Blackham and Callum Rimmer crossed paths around 2013 while working at Goldman Sachs. At the time, Blackham was an experienced managing director, while Rimmer was a software consultant, and the two met while collaborating on a project.
But beyond working together at the same institution, the pair discovered they had something else in common: They both overpaid for insurance on their cars — which were parked most of the time. But instead of just lamenting the problem, they decided to do something about it.

"They realized there was a gap in the market," said Oliver Baxter, Head of Brand and Product at By Miles, a company that takes an innovative approach to insurance. "They saw people being underserved by existing traditional car insurance companies because their pricing didn't properly take into account that some people only use cars occasionally. So they came up with a unique concept."
By Miles offers U.K. drivers a new model of car insurance designed specifically for lower-mileage drivers. The insurance is offered in England, Scotland, and Wales, and includes some coverage when driving in Northern Ireland and the E.U.
But it's not By Miles' reach of coverage that's the draw. Instead, it's the company's auto insurance premiums, which are based on the exact number of miles a vehicle is driven per year. The fewer miles driven, the lower the monthly premium. Other perks help drivers save more money and reduce their risk on the road, while transparent and flexible pricing and policies keep things simple.
"People are amazed that it never existed before," Baxter said. "And, as we're the only company doing it, they appreciate it. We've designed a policy that's loved by lower-mileage drivers."
An Innovative Insurance Model that Reevaluates Driver Risk
Commuters and travelers in the U.K. enjoy a robust mass transit infrastructure that includes trains, subways, and iconic city buses. At times, the government even imposes traffic restrictions to encourage people to use these resources to reduce pollution and congestion. Fortunately, drivers have access to many other options that will get them where they need to go.
Relying on the bus or subway to get around may mean using a car only once in a while. But with a typical insurer, drivers won't pay the same premiums they would if they drove every day. As counterintuitive as it may seem, they can actually end up paying more for driving less.
"One of the things the insurance industry, certainly in the U.K., has been defensive about for a long time is that, if you don't drive much, you're less experienced. Therefore, you're more likely to have an accident," Baxter said.
When drawing up a policy for a vehicle, the insurer will estimate the vehicle's annual mileage. Their working assumption is that the less you drive, the higher your risk. But that assumption isn't necessarily correct.
"You might have a family car that you drive 25,000 miles per year. You might even do a job where you professionally drive," Baxter said. "But then you've got this second car that you only drive 1,000 miles a year. At the moment, insurers are saying, '1,000 miles, bad experience.' But actually, that person may drive 60,000 miles in different vehicles, so they're actually a good driver."
In cases like that, people who drive less may be better insurance risks due to their experience on the road, but that isn't reflected in their premiums. That is precisely the problem Blackham and Rimmer set out to solve with By Miles.
Per-Mile Rates Encourage Policyholders to Drive Less
By Miles policyholders pay a base, fixed annual fee that provides comprehensive coverage on their vehicle while it's parked. If they don't drive at all in a year, that is the only cost they pay. But when they do drive, they'll pay an additional per-mile rate to reflect the increased risk to the policyholder and vehicle.
"It's not about you; it's about every single other person on the road," Baxter said. "Mileage is inextricably linked to risk. The more time you spend on the road, the more likely you are to have an accident. If your car is just parked there, the nature of that claim is going to be completely different. If you're on the road, no matter how experienced you are, you're much more likely to have an accident if you're moving, and you're much more likely to make a claim."
By Miles policies are designed for people who drive less than the U.K. average, which is 7,134 miles per year. The agency pulls a driver's mileage from the Ministry of Transport (MOT) database, and an initial quote is based on that figure. The actual cost is measured with a plug-and-play miles tracker that customers quickly and easily plug into the onboard diagnostic socket of their car. Alternatively, some smart vehicles (like Teslas) can provide mileage data directly from the onboard computer.
Beyond saving money on insurance, the By Miles policy structure encourages users to consider personal and ecological health. Driving less saves additional money on gas, incentivizing drivers to seek out other transit options besides cars.
"When they're thinking, 'Should I take the car?' we can help them see the financial benefit of leaving it at home," Baxter said. "And it rewards them for doing that."
Onboard Diagnostics, Toll Notifications, and Transparent Policies Make Car Ownership Easier
"Our company mission is about trying to make car ownership easier," Baxter said. "We want to make it easier for everyone, and we're just starting with lower-mileage drivers."
By Miles and its app — available on iOS and Android — can certainly help make driving cheaper, but the insurer also offers additional perks that improve driver experiences behind the wheel. One of these is the Miles Tracker, which can also read warning codes for alert lights on the dash.
"It's something we're looking to improve in the future, but it's just a bonus that you can check the health of your car at the same time, and decipher what those lights on the dashboard mean if you're not sure," Baxter said.
Driving in certain areas, including ultra-low emissions zones, can also incur drivers additional charges that must be paid within 24 hours. But if drivers don't realize they're being charged, a fine of a few pounds can balloon closer to £100. Luckily, the By Miles tracker incorporates a GPS that alerts drivers when they've incurred charges.
"When you park, we'll send you a little push notification on your phone and say, 'By the way, you drove into his area and you may owe a fee,'" Baxter said. "So you can quickly go onto their website, pay the fee, and avoid a fine."
In addition to increasing driver awareness of those fees, By Miles prides itself on its own internal transparency. Its policies and other official documents are written in straightforward language that was recognized in 2018 with the prestigious Plain English Campaign Award.
"We were the first insurance company in the U.K. to win that in 30 years for our policy documents. We are very transparent and open, and we don't communicate in legal jargon," Baxter said.
By Miles: Insurance for the Evolving Needs of U.K. Drivers
The By Miles risk and pricing model holds clear potential for low-mileage drivers around the world who are looking for a cheaper, more equitable insurance alternative. And the By Miles team has had opportunities to see how its technology functions far from home.
"An investor's daughter was driving to Mongolia from the U.K., and he asked if she could borrow one of our Miles Trackers," Baxter said. "It tracks the GPS location so it can measure the mileage. It meant that he had peace of mind because he could see where the car was on the app. We didn't insure her, we have to add, because we don't insure as far as Mongolia. But we saw that the technology works across the globe."
For now, though, By Miles is focused on optimizing its offering for U.K. residents before considering the intricacies of international insurance markets. And the company has been hard at work ensuring more equitable practices at a time when almost everyone has become a low-mileage driver.
In the midst of COVID-19 pandemic lockdowns, By Miles has put pressure on other car insurance providers in the U.K. to offer refunds to their customers. Since they're not driving and there's less risk to the vehicle, they should not pay the same premiums.
"Traditional car insurance models, unlike ours, do not reward you for driving less, and they're not flexible like ours is," Baxter said. "We were trying to challenge the rest of the industry to be fair."