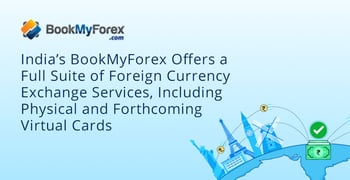 Experts share their tips and advice on BadCredit.org, with the goal of helping subprime consumers. Our articles follow strict
editorial guidelines
.
In a Nutshell: BookMyForex conveniently delivers foreign currency exchange services to India at the best rates available. The company facilitates foreign exchange transactions and international money transfers with just a few mouse clicks via its website. BookMyForex also offers physical prepaid forex cards and has announced plans for virtual cards. With virtual cards, customers who are not comfortable providing online merchants with their information can use a card for one or two transactions then simply dispose of it. Virtual cards are also convenient for traveling abroad in the event that the physical card is lost or stolen. BookMyForex is aiming to expand its convenient foreign currency exchange services into a full suite of banking products and services in the near future.
Although the Himalayas create a natural border between India and the rest of the world, the country is very much a part of the global economy. Indian companies have made their marks on the global economy, as have individuals.
With a diaspora of 17.5 million people, India has the most international migrants of any country in the world. And many of those who have left India remain in close contact with their families back home.
Needless to say, access to high-quality financial services that include foreign currency exchange (forex) and international money transfers is extremely important for a wide range of reasons.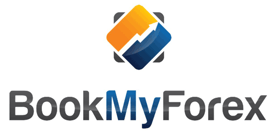 BookMyForex is India's first e-commerce platform operating in the retail foreign exchange and international money transfer space. The company provides customers with a full suite of forex products, including currency notes, prepaid travel cards, traveler's checks, and wire transfers with a focus on convenience and fair prices.
"When we started out, we were pretty much just a foreign exchange platform," said Nitin Motwani, Founder and CTO of BookMyForex. "The whole idea was just to make the concept of ordering for an exchange online possible."
In early 2013, BookMyForex launched with its service that consisted of one partner bank that had about 3,000 branches across India, Motwani explained. While the service was valuable to many, the founder said it proved very challenging to implement deep tech integrations with brick-and-mortar banks.
BookMyForex learned from its initial endeavor and pivoted to provide services much more far-reaching, innovative, and useful than Motwani had initially planned.
We recently spoke with Motwani about BookMyForex's path to providing the comprehensive suite of services it has today and what the future holds for the company.
Conveniently Exchange Currency and Transfer Funds at the Best Rates
Motwani said that, when BookMyForex pivoted to become a marketplace in 2014, the company started with two partners. Today, it has about 60 partners for currencies and around 5,000 locations in 650 cities across India that service BookMyForex customers.
"Customers can buy forex for several purposes such as personal travel, business travel, education, emigration, employment, medical, and maintenance of close relatives staying abroad," according to the company. "Our website sifts through the quotations of our different channel partners in real-time and provides customers with the best exchange rate that is available in their area."
BookMyForex makes transactions as simple as possible through its hybrid model that combines automation into its original marketplace concept. With its automated processes, customers can easily access the best exchange rates available.
"Select your city, enter your forex requirements, and complete a forex order booking online," according to a tutorial on the BookMyForex website. "The bank or money exchanger with the best and the most reliable service standards around you will be selected."
Next, the bank or money exchanger that was selected will schedule delivery to the customer's door or the customer can choose to pick up the order from the business location.
"Track your forex order online all the way until the final delivery or pick up is completed," according to the company.
Customers can also transfer money abroad and save between 2% and 5% over bank rates. Funds are typically delivered between 12 and 48 hours of transfer. BookMyForex also provides special rates for students.
BookMyForex.com claims to be the only platform that charges "exactly zero hidden charges on forex orders," according to the company website.
"BookMyForex.com is the only platform which charges exactly ZERO hidden charges on forex orders," according to the company. "Zero margin rates (above 1 lac INR), zero commission, zero service charge, zero reloading or unloading charge, and zero bank charges on all products."
Make Online Purchases and Travel with Confidence Using the Company's Forthcoming Virtual Cards
In addition to easily facilitating foreign currency exchange and international money transfers, BookMyForex also has prepaid card options available for its customers.
Motwani said that, in 2016 BookMyForex partnered with a bank to resell forex cards.
"We did that for about a year and a half, and at that point we figured that if we really wanted to offer the next level of experience for our customers, we should create our own card products," he said. "So, we got in touch with Visa and a bank to create our own bank-sponsored forex card model."
He said this allowed BookMyForex to have deep tech integrations with the payment processor, the bank, and Visa.
"As a result, we could offer a much better user experience so customers could now seamlessly reload and unload money from their cards," Motwani said. "They can convert from one currency to another currency instantly on the card."
More recently, BookMyForex announced its forthcoming virtual card solution. These virtual cards will be used to make online purchases and can essentially be used as disposable cards if the customer chooses, Motwani explained.
"If you're not comfortable giving your card number online or you just want to use them for one or two transactions, these virtual cards will help give you that extra peace of mind," he said. "You can create a new card, make a transaction, then get rid of it."
The card will draw from the same balance kept on the customer's physical card.
Motwani said the other main use case for the virtual cards will be when customers are traveling abroad.
"If you lose your card for whatever reason, instead of requesting a replacement card and waiting a week or 10 days, you can still access your funds online using the virtual card," he said.
Building a Comprehensive Platform of Banking Products
BookMyForex pivoted in its early days to find the best solution to deliver its high-quality services to the most customers.
As with so many businesses affected by the COVID-19 pandemic, BookMyForex is once again shifting its future focus.
"Before the COVID outbreak, our focus was on building the perfect payment instrument for international use, but now we probably won't see international travel picking up for another good six to 12 months," Motwani said.
That's why BookMyForex is focusing instead on expanding to offer more banking functions for its customers.

"We're moving toward building a comprehensive financial suite of products, similar to the neobanks across Europe," Motwani said. "The idea is that we'll partner with a bank to allow us to open a savings account with them, and then we would link it with our forex card. Or, we don't have to link it — that's just one option that's out there."
He said that, once the account is opened, the bank would send out an actual debit card to the customer.
"The idea is that, once we have that account and relationship with the customer, we can start offering them a whole bunch of different products and services," Motwani said.
The company is also exploring how to allow Indians to invest in international stocks, he said, using the financial ecosystem generated by BookMyForex as the central hub for the service.
"We are still in the exploratory phase right now and trying to figure out what approaches will best serve the user base that we have," Motwani said. "But the idea is to keep moving in that direction."