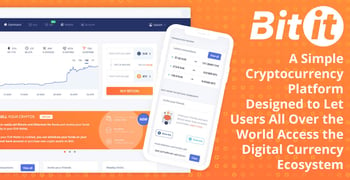 Experts share their tips and advice on BadCredit.org, with the goal of helping subprime consumers. Our articles follow strict
editorial guidelines
.
In a Nutshell: In cryptocurrency's early days, buying, selling, and trading was limited to a few people with highly technical skills and knowledge. Bitit launched in 2015 with the mission to make cryptocurrency accessible to all. The platform accomplishes this through its clean and easy-to-use interface, keeping the end-user experience as its highest priority. The company also maintains high security standards and offers two-factor authentication for an added layer of protection. Bitit users can purchase crypto using a variety of methods, including credit cards, bank transfers, or their local currency.
When Bitcoin entered the finance scene a decade ago, knowledge about blockchain technology and cryptocurrency was limited to a very small niche of techies and digital currency enthusiasts.
Accessibility to the tech was limited, and not only because it was new. For several years, mining, buying, selling, and trading crypto required a high level of technical knowledge (and equipment, in the case of mining) because the infrastructure to support widespread crypto transactions didn't exist.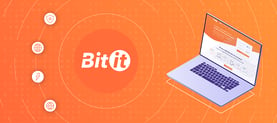 Eventually, crypto exchanges that gave access to a wider range of users began coming online, but many of them were still not accessible to the everyday consumer.
Then in 2015, three friends — Nicolas Katan, Ugo Mare, and Simon Potier — who had been following the evolution of cryptocurrency since its beginning founded Bitit. Their philosophy was that "everyone, even those in the most remote areas on earth, should be able to access cryptocurrencies through a simple platform to protect and manage their financial well-being."
In its early days, Bitit's primary focus was on selling Bitcoin gift cards that could be sent to others or cashed in. The company then evolved into selling predetermined amounts of Bitcoin, based on its fiat value. But eventually, the platform expanded to the wide-ranging exchange that it is today, enabling users to buy, sell, and trade an array of cryptocurrencies.
We recently had the chance to speak with Mathieu Ladier, Bitit's Operations Manager, about the Paris-based company's attention to user experience, crypto security, and some of the main features of Bitit.
Bitit's Main Focus is on Providing a Quality User Experience in an Easy-to-Use Platform
"We're really focused on the user experience because we know that the cryptocurrency sector is not always friendly for people who are just beginning to purchase Bitcoin or other currencies," Ladier said. "We provide customers with a simple way to make that purchase, including passing through verification smoothly."
Among the ways Bitit helps keep things simple and accessible is by not overwhelming users with a lot of information that is difficult to decipher.
"The interface is very simple and a lot different from other exchanges," Ladier explained. "We only have one place where there is a graph — it's not an exchange with tons of graphs and lines and tons of text; we're not like that."
Ladier said Bitit is still a small company compared to a number of other crypto exchanges, and he said he believes that is an appealing quality for many of its users.
"I think people like that. To my mind, I think I would prefer being with a small company that is doing a great job rather than being with a big company that is doing a good job," he said.
Bitit also provides in-depth customer support at any time.
"We are here for you," according to the website. "We provide all the resources you need to seamlessly flow through the experience of buying and selling crypto 24/7."
The platform also upholds transparent pricing with commissions as low as 1%, and Bitit integrates with the leading OTC brokers enabling it to source the best rates available for its users.
"Cryptocurrency exchanges are for traders," according to the company website. "Bitit is the easiest, most convenient platform for both beginners and cryptocurrency enthusiasts."
Maintaining the Highest Security Practices and Following Regulatory Guidelines
Ladier explained that Bitit's founders understood that security would be crucial to the success of the platform, so they created high standards and procedures at its inception.
"As you know, selling Bitcoin by credit card is not the same thing as selling a pair of jeans," Ladier said. "There is a lot of fraud and scam, so we need to remain focused on security. That's why we created the risk management platform from the beginning."
He said the risk management platform helps Bitit remain compliant with standards to prevent money laundering or the financing of terrorist organizations.

Also, Bitit has been taking the necessary steps to comply with France's PACTE law of 22 November 2019, meaning they'll soon be one of the first fully regulated platforms in France under the PSAN status.
The majority of Bitit users are approved to transact on the platform within 10 hours of submitting their documents, Ladier said. Soon it will take no more than five minutes to start buying on Bitit, thanks to their new onboarding process, he added.
"Bitit is developed, hosted and regulated in France," according to the company. "We maintain the highest standards for privacy and regulatory oversight."
Bitit is a non-custodial platform, which also helps keep things straightforward for the user. Ladier said the platform does not store its customers' coins. Instead, Bitit accepts user payments and sends the cryptocurrency to the user's own crypto wallet.
The company also provides users with the option to use two-factor authentication.
"Two-factor Authentification (2FA) provides much stronger security compared to using only a username and a password," according to the company. "2FA uses your mobile phone to verify your account with an OTP (One-Time Password). 2FA is strongly recommended at all times for your account security."
Purchasing Crypto with Local Currencies or Credit Cards
Although it started out as a platform that trafficked exclusively in Bitcoin gift cards, Bitit is now fully functional as an exchange that allows its users to purchase a wide range of cryptos using a credit card or their local currency.
"We are constantly expanding our global footprint, supporting a wide range of countries, local payment methods, and currencies," according to the company website.
This includes purchasing via bank transfer as well.
"Access the future of money in minutes. Connect your payment method to buy and sell crypto in real-time," according to Bitit. "Pay online instantly and securely using credit or debit cards, the world's most popular payment methods. Looking to make a purchase? Use your European bank account to transfer euros to your EUR Wallet."
Users can also sell their crypto holdings and receive funds directly into their EUR Wallet.
For users who prefer to purchase crypto using cash, they can do so at their nearest point-of-sale location using Cashlib and Neosurf cash vouchers available in more than 150,000 stores.
"We decided to provide access in 15 different currencies to reach more people," Ladier said. "For example, if I'm in France and I want to buy a pair of shoes made in South Korea, I can pay in euros rather than paying in Korean won without being charged a conversion rate by my bank. I think people like that."
Conversely, he said that when Bitit received an influx of new South Korean users, they were very happy to be able to pay in won using the platform, rather than having to pay in euros.
Adding New Coins and Focusing on Educating Users
Ladier said that Bitit continues to expand its offerings, including the recent addition of several crypto coins now available for purchase. The platform is also increasing its focus on educating cryptocurrency traders.
"We're writing our blog and putting a lot of content in it, and all that new content is coming online very soon," he said. "We're going to educate people on Bitcoin and other cryptocurrencies and how to use them. The majority of our users are beginners so we want to make sure they have the knowledge they need."