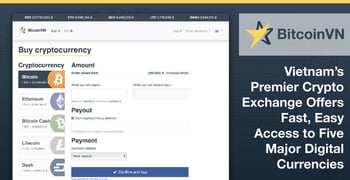 Experts share their tips and advice on BadCredit.org, with the goal of helping subprime consumers. Our articles follow strict
editorial guidelines
.
In a Nutshell: BitcoinVN is a fast, easy way for people in Vietnam to invest in Bitcoin and other major cryptocurrencies. Its usage tiers offer staggered know your customer (KYC) protocols, saving time on verification, and the exchange doesn't require registration for occasional, low-value transactions. The platform is well suited for the Vietnamese market, where the national currency has seen substantial inflation over the past 60 years. Although social and legal barriers present a challenge to expanded usage for remittances, BitcoinVN is dedicated to establishing the digital and physical infrastructure that will make crypto a helpful financial tool.
The Japanese Bitcoin exchange Mt. Gox launched in 2010, and by the end of 2013, it accounted for 70% of all Bitcoin transactions worldwide. But suddenly, a few months later, in March 2014, the platform's market dominance came crumbling down. Mt. Gox filed for bankruptcy and began liquidation, announcing that 850,000 coins — valued at more than $450 million — were missing and likely stolen, never to be recovered.
That massive collapse shows how a national cryptocurrency exchange can crumble without the right leadership, vision, and security. But those values were at the foundation of the successful launch of BitcoinVN, a Vietnamese exchange that opened shortly after Mt. Gox's spectacular downfall — and has been thriving ever since.

"We launched around that time and built the first Bitcoin exchange in Vietnam," said Dominik Weil, COO of BitcoinVN. "And after being around for six years now, the platform is trusted by the public. Today, there aren't a lot of platforms and businesses in this industry, and we have been around since early on."
BitcoinVN enables users to easily buy and sell cryptocurrency, including Bitcoin, Ethereum, Bitcoin Cash, Dash, and Litecoin, using Vietnam's currency, the dong. And relatively small transactions do not even require an account, a feature that makes the platform — and cryptocurrency — more widely accessible.
That puts BitcoinVN in a prime position to serve a population ready for new financial solutions. And it also helps those who want to transact easily with friends and family members living in other Asian nations, or even around the world.
Tiered Accounts Save Users Time on Protocols
Using BitcoinVN is fast and intuitive, especially for those who only make occasional low-value transactions, because they aren't required to register. Additional membership tiers, based on frequency and number of transactions per month, accommodate advanced users who are more engaged with the crypto market.
Tier 0 users don't need an account to use the platform, but they will be limited to exchanging a maximum of 250,000 dong and one transaction each day. At Tier 1, users must register, but they do not need to supply any identity verification documents. At that level, they can exchange up to 20 million dong per month and up to 5 million dong per day.
At Tier 2 and beyond, users must comply with various levels of know your customer (KYC) protocols. By providing their full name, passport or other ID, and a recent photo, users can increase their transaction cap to 200 million dong per month and 50 million dong per day. At Tier 3, users must also provide proof of residence, and they can exchange 800 million dong per month, with a 200 million dong per day maximum. Finally, at Tier 4, all transaction limits are lifted, and the service fee rate drops from 0.2% to 0.1%.
"There's a lot of suspect money flowing around in the Vietnamese banking system. Even if you require ID, that doesn't always help, because, often, people just buy identities," Weil said. "I think, after six years, we've seen that a lot of common sense applies to this. We understand the patterns to a large degree, and that's just something you gain by experience. And if we suspect something fishy going on, and we contact the customers and ask them additional questions and so on."
A History of Inflation Makes Crypto a Desirable Asset
Although cryptocurrency has gained a foothold in the West, a large portion of investors maintain a healthy skepticism toward it. And for those who grew up in relatively prosperous economies with financial systems that often flourish, crypto's volatility may make it less desirable than other assets and investments.
"Speculation plays a big role in Vietnam, even if the mindset is a bit different than in the West," Weil said. "A lot of people here don't have enough long-term thinking, so they look for basically what doubles their money in the next week, which is not really sustainable. You see a lot of popularity with those types of investments."
But astute Vietnamese investors see long-term value in crypto, contrary to many Westerners — especially in light of the nation's history of inflation. In 1960, the dong-to-U.S. dollar exchange rate was 97:1. In 1990, it had risen to 6,500:1. As of mid-Feb 2020, it had ballooned to 23,236.50:1. Because of this ongoing devaluation of the national currency, affluent families and individuals in Vietnam tend to move their money offshore to protect its value — and cryptocurrencies represent an expeditious way to do so.
"People don't have much trust in the fiat currency, and they also may not have trust in the banks," Weil said. "That's a much different situation than you have in the West. In Vietnam, people who have money traditionally save it in gold or real estate. But Bitcoin's a very new case, and it makes inherently more sense for them than for most people in the West."
Building an Alternative to Informal Remittance Networks
Working-class Vietnamese families often have members employed abroad who send money back home — commonly called remittances. Some families also support children who are studying abroad in the U.S., Switzerland, Australia, and many other nations. Vietnamese businesses also compete in the global marketplace and engage in cross-border commerce.
In each of those situations, fast and easy cryptocurrency transactions via blockchain are ideal solutions.
However, barriers exist to crypto gaining a foothold in those use cases. Some of the biggest obstacles are pre-existing informal networks through which people commonly move money across borders.
"Often, they have these well-established underground networks where they shift balances from left to right and back. It's hard to break into these communities," Weil said. "If you are in California, it may cost 0.5% to send money back to Vietnam, and it's delivered in cash to the door within an hour. That's very hard to break into, especially if you then also count that it's all family relations and networks that are already in place."
One of crypto's most promising use cases is in places where these networks are not yet established — or are relatively inefficient. However, in some cases, government regulation presents an additional barrier. Weil said that, for a while, BitcoinVN users were conducting transactions across the South Korean border. Now, transfers to and from South Korea can only go through licensed remittance companies, while licensed Vietnamese remittance companies can't transact in crypto.
"At the moment, if we comply with the Korean regulations, we would be breaking Vietnamese law, and if we comply with Vietnamese law, we are violating Korean regulations. That's why there's a bit of a hold on it," Weil said.
While the Vietnamese government currently disallows cryptocurrency use for payments, purchasing and trading them as digital assets is still acceptable. So, for communities that lack other means of transferring money across the Vietnamese border, BitcoinVN represents a fast and efficient alternative.
BitcoinVN: Focused on Cryptocurrency's Longevity
As of 2020, BitcoinVN has already outlasted Mt. Gox, boasting a lifespan 50% longer than its Japanese predecessor. And it has endured despite the volatility of crypto exemplified by the boom of early 2017 and abrupt bust mere months later.
Those fluctuations are something that crypto holders — and crypto exchanges — must weather while still moving forward.
"Where we go depends on the market when we start entering all-time highs," Weil said. "I wouldn't be bothered if it stays relatively flat for one or two more years. We can build more infrastructure, but we have to take it as it comes."
For now, BitcoinVN maintains a focus on operating its trading platform and working in-depth with existing crypto protocols so it can offer traders more options and make crypto more accessible to consumers. One example of this is its new payment processing platform.
"We launched our payment processing merchant platform a few months ago, and we will make a larger push once the regulatory situation becomes clear," Weil said.
With such a wide variety of cryptos on the market, platform users may wonder if the exchange will expand its offering of coins in the future. But for now, BitcoinVN is sticking with the proven coins it has.
"It doesn't make much sense to put a lot of resources into supporting other altcoins," Weil said. "All the flow right now is going through Bitcoin, USDT, and Ethereum. And the rest just don't matter as much. We want to put our resources in the few that matter."