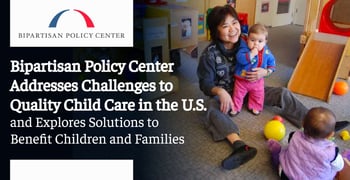 Experts share their tips and advice on BadCredit.org, with the goal of helping subprime consumers. Our articles follow strict
editorial guidelines
.
In a Nutshell: Access to quality child care is a major challenge to many American families. The Bipartisan Policy Center (BPC) — a think tank in Washington, D.C. — explores this and many other topics and offers solutions in the interest of the well-being of Americans. We recently spoke with Linda Smith, the Director of BPC's Early Childhood Initiative, to learn more about the challenges surrounding child care. She said the first five years of a child's life are crucial for brain development and future success. And unfortunately, the current market-based child care system is not successful in providing affordable, quality care to families in all income ranges. Smith said the solution may lie in a combination of public and business investments to support an affordable system that works for families and for the youth of America.
My wife and I are both college-educated and fortunate enough to hold full-time positions in professional careers. We aren't rich, but we are more financially secure than many Americans.
Yet, each month, when I open my son's child care tuition statement, my heart flutters a little bit at just how expensive it is. Of course, every parent wants what's best for their children. But, wow.

Certainly, cheaper child care options are available in our town. There are plenty of more expensive ones, as well. We felt that our choice of school provided the right balance of educational resources, creative play, a supportive and caring environment, and cost.
As fortunate as we are, we definitely still feel the impact of child care services in our monthly budget. I can't imagine how difficult that expense would be for single parents or families earning significantly less.
"For parents working at minimum wage in this country, reasonable quality child care is going to take maybe a third of your income," said Linda Smith of the Bipartisan Policy Center (BPC). "If you're a single parent, it's completely unaffordable. You're forced into some kind of lower-quality program where children could be in jeopardy, development-wise."
Smith studies these issues closely as the Director of BPC's Early Childhood Initiative.
"The Bipartisan Policy Center is a Washington, D.C. based think tank that actively fosters bipartisanship by combining the best ideas from both parties to promote health, security, and opportunity for all Americans," according to the organization's website.
Its policy solutions are the result of collaborative processes involving former elected and appointed officials, business and labor leaders, and academics and advocates representative of both dominant political parties in the U.S.
And education — specifically early childhood and higher education — is a primary topic of study for the BPC.
The First Five Years of Development are Crucial for a Child's Success Later in Life
Smith said the most vulnerable children in the U.S. come from low-income families. And they are the same children whose parents — because of costs — often have to put them in lower-quality child care services. These are the types of places where the child might sit in front of a TV or in a swing, just swinging back and forth, all day long, she said.
"And we wonder why we have a problem with our school test scores and the social and emotional development of our children," Smith said. "This stuff all relates."
More people and organizations than ever are now recognizing the science that states how important the earliest years of a child's life are for brain development, she said.
"Children's experiences in their first five years have a profound impact on their long-term outcomes," according to the BPC website. "Early care and education programs, including child care, play a key role in ensuring that every child has the opportunity to build a quality foundation that will prepare them to learn, grow, and succeed."
The First Five Years Fund similarly reports that children's brains are the most flexible during their first five years of life, and it is a critical period for learning and growth.
"Science tells us that children who face adversity in the first years of life, often related to living in poverty, are more at risk for experiencing lifelong effects from toxic stress," according to the fund.
Additionally, prolonged stress in childhood can negatively impact a child's brain architecture, which can lead to learning, behavioral, physical, and mental health problems for the rest of his or her life.
The Market-Based Day Care System Does Not Work for Many Low-Income Families or Single Parents
"We have a variety of producers of child care in the U.S.," Smith said. "They can be for-profit, not-for-profit, they can be small businesses in homes or big corporate chains, and everything in between."
She said the wide variety of options gives parents a choice, which is a good thing because different children thrive in different environments. But overall, it is a market system with some major flaws.
"What we have — in a nutshell — is a market system that is purely broken. There's no other way to describe it," Smith said. " When the cost to produce a reasonable quality, not even high, but a reasonable quality of child care is more than the average parent can afford, the market doesn't work."
She said a conservative estimate to produce a reasonable quality child care space is between $12,000 and $15,000. Then there are the salaries of the child care workers to consider.
"The average ratio to take care of infants and toddlers is one adult for every four children. You do the math on the salary on that one and therein lies the problem," Smith said. "They are making on average between $11 and $12 an hour. They are in poverty themselves."
Even with child care workers making low wages, many families simply cannot afford to pay for decent child care.
"For low-income families, it's really almost impossible for them to budget for this," she said. And, sadly, the consequences of this common situation is that people are forced to put their children in child care situations that are not ideal — and, as the science shows, leads to lifelong impacts, she said.
Unfortunately, the solution is not as simple as increasing the child-to-adult ratio because that would dramatically decrease the level of care that providers are able to give the children — to potentially perilous degrees.
BPC Explores Solutions, Including Third-Party Investments to Supplement the Early Child Care Industry
As a think tank, the Bipartisan Policy Center strives to get to the heart of these types of matters that are integral to the current and future well-being of Americans.
Smith said there are some federal subsidies, through programs like the Child Care and Development Block Grant which provides child care assistance to low-income, working families with children under 13 years of age.
This still doesn't address the problem as a whole, or the very crucial first three years of a child's life, she said.
"I think as a nation, we've been really stuck in terms of closing that gap between what it costs to produce quality child care and what parents can afford to pay," Smith said. "And that's what we're working on at BPC."
As with so many things, there is no magic solution.
"It's going to take a third-party investment of some sort," she said. "Whether that comes from some kind of public investment or a business investment — because businesses benefit from child care — we're going to have to figure that out."
In May, Smith wrote a blog post on the Bipartisan Policy Center website that explores further options, including looking outside of traditional approaches. She wrote about Fannie Mae's Sustainable Communities Innovation Challenge, and how it promotes affordable housing for the underserved.
Fannie Mae's initiative highlights "how this effort can use housing to increase availability of and access to high-quality early childhood care and education that meets the needs of families in underserved areas," Smith wrote.
BPC has also recently shined a light on successful examples of how communities and organizations have delivered quality child care across the country, as potential models to be emulated. The organization released a catalog collecting these instances.
"These examples range from garnering support for full-day child care programs from local businesses by helping them understand the immediate benefits to their employees, to opportunities for co-locating child care programs in commercial and residential space near major transit hubs," Smith wrote.
The catalog also takes a look at promoting child care as part of community development efforts.
"While child care challenges are still widespread, community leaders are creating new solutions to invest in child care and early learning that meet the unique needs of their children and families," Smith wrote.
Looking at an Array of Issues that Impact American Families
Education is just one of several focus areas for the Bipartisan Policy Center.
"The Bipartisan Policy Center has been in the arena for more than a decade, fighting for progress on issues that matter to American families," according to the organization's website.
In addition to education, the think tank works on developing actionable solutions in the areas of governance, the economy, infrastructure, energy, health, campus free expression, and immigration.
Organizations like BPC perpetuate the American spirit to deliver equitable solutions to improve the lives of all.